Issue Date: May 16, 2003
BRIEFS
NATION
Seminarian enrollment drops while lay ministry rises
For the first time in five years, the number of students in U.S. Catholic seminary theologates dropped in 2002-03, according to data released by the Center for Applied Research in the Apostolate. The number of high school and college seminarians also declined, as did the number participating in permanent diaconate formation programs.
The nation's Catholic lay ecclesial ministry formation programs, however, registered an enrollment increase of more than 1,000, from 34,414 in the 2001-02 school year to 35,448 in the current year. CARA reported that most graduates of lay ministry programs use their formation for volunteer ministry, but substantial numbers are hired full time or part time in catechetics, pastoral administration or other church ministries.
CARA, a Catholic research agency based at Georgetown University, published the new data in its CARA Catholic Ministry Formation Directory 2003. The 410-page directory provides detailed information on all Catholic priestly, diaconal and lay ministry formation programs in the country as well as an overview and analysis of national data and trends. Among seminary figures, the theologate, or postgraduate, enrollment is the most significant indicator of future ordinations. In the fall of the 2002-03 school year there were 3,414 postgraduate students, down 170 from the year before.
Mothers, kids fare best in Sweden, worst in Niger
Save the Children's annual "Mothers' Index" finds that mothers and children fare best in Sweden and worst in Niger. The fourth annual index, released May 6, ranks the status of mothers' well-being in 117 countries.
"The index confirms what 70 years of experience have taught us -- the health and well-being of children is directly linked to the health and well-being of their mothers," said Charles MacCormack, president of the global development and relief organization based in Westport, Conn., in a statement.
The United States did not place in the top 10 countries -- it ranked 11th -- because higher-ranked nations, on average, have lower infant and maternal death rates.
The index compares the status of mothers in 19 industrialized nations and 98 countries in the developing world based on factors related to women's and children's health, education and political status. The index identified a mother's level of education and her access to family planning services as the factors most strongly connected with infant survival and well-being. It found a huge gap in literacy among highest and lowest-scoring countries. In Sweden, 99 percent of women are literate, but in Niger, just 8 percent are.
---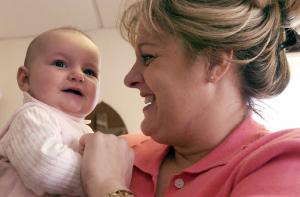 Work and play
Kim Hoogeveen works in her office while daughter Sophia plays at the rectory of St. Mary Church in Griffith, Ind. The parish made arrangements so that Hoogeveen can care for her newborn and continue as director of religious education and youth ministry.
-- CNS/Karen Callaway
---
Judge prevents child from ingesting sacramental peyote
A family court judge has ruled that a 4-year-old boy cannot take peyote at American Indian spiritual ceremonies. In his decision April 22, Judge Graydon Dimkoff of White Cloud, Mich., ruled that "peyote is dangerous, and in general should be avoided." But the judge also said the boy could ingest the substance when he is fully aware of its implications, is emotionally and physically ready and has the permission of both of his parents, the Associated Press reported.
Jonathan Fowler, 36, the father of the boy and a member of the Grand Traverse Band of Ottawa and Chippewa Indians, asked Dimkoff to overturn a previous decision and permit his son to ingest sacramental peyote with him at the Native American Church of the Morning Star.
The request was fought by Fowler's ex-wife, Kristin Hanslovsky. She said she did not want to violate religious freedoms but thought the substance could cause long-term neurological defects in the boy. Peyote, a bitter-tasting cactus that grows in northern Mexico and southern Texas, has been a part of Indian culture for centuries. Those who ingest the plant believe it provides physical and spiritual benefits such as enlightenment.
Helping others can benefit health, many people believe
Many Americans believe that helping others on a regular basis can be good for your health, according to a new poll sponsored by Spirituality and Health magazine. The study, conducted on the Internet by Equation Research, revealed that 58 percent of the 1,413 participants think that face-to-face volunteer work can produce health benefits such as stress relief and decreased sensitivity to physical and emotional pain. The poll had a 4 percent margin of error.
Although 77 percent of respondents said they volunteer in some form, only 13 percent volunteer consistently in a personal contact situation, meaning they spend at least four hours a month helping others face-to-face. The consistent volunteers said they perform such services as tutoring, aiding the sick and working with the homeless, as well as informal acts like helping a neighbor or giving advice.
According to Allan Luks, who wrote about the study in the May/June issue of Spirituality and Health and is head of Big Brothers Big Sisters of New York City, the health benefits of volunteering, such as reduced stress, are experienced only when people work consistently and personally with strangers, not just family or friends.
Encourage students' prayers for peace, activist says
A peace activist urged Catholic educators April 22 to find ways both to help their students get along in the classroom and to seek peace in the world, particularly in times of war. "In dire times, we need to look to the words of the pope and other prophets" who urge peace, said James McGinnis, president of the St. Louis-based Institute for Peace and Justice, a nonprofit group that provides religious education resources for teaching about peace.
McGinnis, a workshop presenter at the annual National Catholic Educational Association convention April 22-25 in St. Louis, had spent the week prior to the convention in front of the White House protesting the war in Iraq. During the war, he has spoken at more than 20 schools about the urgent need for peace.
McGinnis said he is careful in school visits to get the students to think for themselves about the situation in Iraq and said he tells them that, whether or not they thought the war was necessary, they should pray for the children of Iraq who have been hurt, killed or simply scared by what has happened in their country since the U.S. attack began.
Coalition launches defense fund for accused terrorists
A coalition of Muslim civil rights groups has formed a legal defense fund to help represent Muslims who are accused of having links to terrorism. The National Liberty Fund, sponsored by the American Muslim Council, will "focus its initial attention" on the case of Sami Al-Arian, a former University of South Florida professor who prosecutors say is a member of Palestinian Islamic Jihad, which has been linked to terrorist attacks against Israel.
Al-Arian has long proclaimed his innocence. Since the Sept. 11 terrorist attacks, Muslim groups say Al-Arian has been subjected to harsh prison conditions, and innocent Muslims have been profiled for possible terrorist connections.
The American Muslim Council said in a statement that "the government has never proved its allegations of 'terrorist financing' by Muslim charities." The statement said Al-Arian is not a terrorist and pointed out that he met with former President Clinton and President George W. Bush.
WORLD
British report cites state collusion in violence
NORTHERN IRELAND: A report by Britain's most senior police officer revealed that the British army colluded with loyalists in Northern Ireland to murder civilians. The 3,000-page report by Sir John Stevens, metropolitan police commissioner, said senior police and military officers were involved in plots to kill civilians, including Pat Finucane, a Catholic human rights lawyer who represented members of the Irish Republican Army.
The report, released April 17, focuses on Finucane, who was shot 14 times in 1989 in front of his wife and children, and the 1987 slaying of Protestant teenager Brian Adam Lambert as crimes that should have been prevented. In a 20-page summary, Stevens said he was investigating 26 other murders that allegedly involved collusion between British security forces and loyalist paramilitary squads. Many of the murdered civilians were targeted after their police files were deliberately leaked to loyalist paramilitaries, the report charged.
Stevens also accused members of the military and police with obstructing his investigation. "None of us are above the law, and no future inquiry should have to be conducted in the way we have conducted ours," he said. Among the obstacles he had to contend with was a fire at his offices. The fire damaged computer files, and he called it "deliberate arson."
Legislation on homosexuality elicits varying responses
SOUTH KOREA: Christian leaders in South Korea have expressed conflicting views on homosexuality after the Natural Human Rights Commission called for a youth protection act to remove exposure to homosexuality from a list of harmful situations. The National Human Rights Commission of Korea has recommended that the prime minister's Commission on Youth Protection delete the word homosexuality from Article 7 of the Enforcement Decree of the Juvenile Protection Act. The act sets standards to protect children from abuse and harmful environments.
The rights commission concluded April 2 that by listing exposure to homosexuality as harmful, the law discriminates against homosexuals and violates constitutional rights to equality, freedom of expression and the pursuit of happiness
Fr. Paul Lee Chang-young, a moral theologian and undersecretary of the Catholic Bishops' Conference of Korea, said April 16 that the church's approach toward homosexuals has shifted from one of trying "to oust them" to one of providing pastoral care to them as persons while guiding them to live a celibate life.
Presbyterian minister Hwang Phil-kyu, director of the Human Rights Committee of the National Council of Churches in Korea, views the matter differently. "Homosexuality is a natural orientation," he said. "The church has to change its views on homosexuality, complying with the changing world," he said.
Survey of priests finds dissent from church teaching
ENGLAND: A survey of Catholic priests engaged in parochial ministry in England and Wales has found that 43 percent of them oppose the church's official teaching that artificial contraception is wrong and a further 19 percent are unsure about the teaching. The survey was carried out by Leslie Francis, an Anglican priest who is a professor of theology at the University of Wales, Bangor, and a Catholic priest, Fr. Stephen Louden. Their findings are contained in a book, The Naked Parish Priest, due to be published in September.
The researchers sent questionnaires to all 3,581 priests working in parishes in England and Wales and received responses from 1,482 of them, or 41.4 percent. Their survey also found that 40 percent thought the church's stance on divorce and remarriage should be liberalized, while 25 percent thought a woman could be ordained not just to the priesthood but to the episcopate. Overall, 21 percent thought that being an active homosexual should not be a bar to serving as a priest. The survey found attitudes increasingly liberal among younger clergy.
In a statement the Catholic bishops' conference of England and Wales noted the research was carried out in 1996 and 1997. "Since then, the views and understanding of priests on certain issues may have changed," it said.
---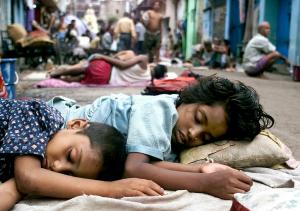 Sleeping on the streets
Homeless children sleep on a roadside in Calcutta, India, May 6. More than 1.2 million destitute, homeless or orphaned children in India beg on the streets or work up to 18 hours a day in quarries, restaurants and factories.
-- CNS/Reuters
---
Pope denounces terrorism after 10 hostages killed
COLOMBIA: Pope John Paul II again condemned terrorism and the use of violence for political purposes after 10 hostages were killed in Colombia. In a May 6 telegram, the pope condemned the "abominable attack" May 5 that led to the deaths of a provincial governor and a former Colombian defense minister held hostage for more than a year, as well as eight soldiers held hostage, some for as long as four years.
The hostages, held by the rebel movement known by the Spanish acronym FARC, were killed during a rescue attempt by the Colombian army. The Colombian government and the three hostages who survived said the rebels shot the 10 men and fled when the rescue mission began.
Rebel leaders, in an e-mailed statement, claimed the 10 were victims of crossfire during the rescue attempt. FARC is believed to be holding more than 70 other hostages, including congressmen, a former presidential candidate and three U.S. civilians employed by the U.S. Defense Department, captured when their surveillance plane crashed in February.
Cardinal pleads for peace after sectarian violence
INDIA: Catholic bishops in the Indian state of Kerala were among those pleading for peace after Hindu-Muslim violence killed nine people in a southern Indian fishing village. The violence May 2 started when alleged Muslim extremists attacked Marad, a fishing village in Kerala state's Kozhikode district, in southern India. Eight of the people killed were Hindus and one was Muslim. Police said the attackers, armed with swords and knives, entered the village while most of its men were fishing at sea.
Cardinal Varkey Vithayathil of Ernakulam-Angamaly, chairman of the Kerala bishops' council and head of the Syro-Malabar Catholic church, called the violence inhuman. In a May 3 statement he said people of all religions have been living in peace in Kerala. The church leader called for strict measures against anyone trying to spread sectarian hatred in the state and appealed to the government to take steps to restore communal peace.
Kozhikode Police Commissioner T.K. Vinod Kumar told reporters May 5 that police arrested some 65 people for the incident in the village. He said the May 2 incident is the latest in a series of sporadic clashes since the 2002 violence.
Two seminarians among 25 killed in rebel attack
PHILIPPINES: Two seminarians were among 25 people killed when Muslim rebels attacked a remote coastal town in the southern Philippines, a seminary rector said. Fr. Gregorio Canonigo, rector at Sacred Heart Seminary in Dipolog City, said two seminarians working in a summer program were killed in a May 4 pre-dawn attack on Siocon, about 35 miles south.
Marino Acedo and Rhuby Mar Buagas had been assigned to Holy Cross Parish in Siocon as part of the summer pastoral exposure program. Canonigo said Acedo and Buagas had recently graduated from college and would have begun their theology studies in June.
Military reports said some 70 Moro Islamic Liberation Front guerrillas attacked Siocon, in Zamboanga del Norte province. Clashes between government and guerrilla forces since February have led more than 100,000 villagers to flee their homes in central Mindanao, on the main part of Mindanao Island. The Moro Islamic Liberation Front, formed in 1977 to fight for an Islamic state in the southern Philippines, began peace negotiations with the government in 1997. The negotiations stalled in April 2000.
Briefs, gathered from news services, correspondents and staff, are compiled and edited by Gill Donovan.
---
DEATHS


-- CNS

Toronto Cardinal G. Emmett Carter
Helped institute reforms of Vatican II

Canadian Cardinal G. Emmett Carter, former archbishop of Toronto and a participant in the Second Vatican Council, died April 6 after a brief illness. He was 91. The cardinal headed the Toronto archdiocese for 12 years, from 1978 to 1990, when he retired at age 78. He had suffered a stroke in 1981. Pope John Paul made him a cardinal in 1979. Before his appointment to Toronto, the cardinal had served 16 years first as auxiliary bishop and then as bishop of the London diocese in Ontario, Canada.

According to the Toronto Star, Carter was author of several influential books on education, a friend of John Paul, and known for "moving comfortably in political and business circles, claming friends among the province's powerbrokers."

Gerald Emmett Carter was born in 1912, in Montreal to a family of eight children. After attending Montreal's Sulpician-run Grand Seminary, he was ordained a priest in 1937 at the age of 25.

In 1965, at the Second Vatican Council in Rome, he was named a member of the Council for the Liturgy. He was also made president of the Canadian bishops' liturgy office, and later of the bishops' doctrinal commission.

Carter was an outspoken leader whose positions occasionally led to criticism from some conservative voices in the church, especially regarding Humanae Vitae, Pope Paul VI's encyclical opposing artificial birth control. Carter wrote the Canadian bishops' response to the document, and said that if Catholics found they were unable to follow the teachings in the letter, they were to follow their own consciences.

During his episcopacy in Toronto, salaries and benefits were improved for lay ministers. Carter often received praise for his efforts at improving race relations, and he led a successful effort to bring funding from the Ontario province to Catholic high schools.

From 1973 to 1975 he served as vice president for Canada's bishops' conference. Throughout his career, he was known as a proponent of the reforms of Vatican II that helped modernize the church. Among his accomplishments, he helped establish a well-known street youth shelter in Toronto, Covenant House. According to the Star, he described his experiences at Vatican II as among the greatest privileges in his life.

Franciscan Sr. Dulce de Guzman
Social action coordinator, peace activist

Franciscan Sr. Dulce de Guzman, one of 15 people killed when a bomb went off near the gate of the passenger terminal of Sasa Wharf in Davao City, southeast of Manila, Philippines, was remembered April 10 as a zealous advocate for peace. She was 40. De Guzman was social action coordinator for the Zamboanga archdiocese. Some 500 nuns, clergy, relatives and friends of de Guzman attended the funeral at St. James Parish church in the late nun's hometown in Santiago.

No one has yet claimed responsibility for this latest bombing in a country that is in the midst of fighting between Philippine forces and separatist Islamic guerillas (NCR, April 11).

At the funeral Mass, Fr. Efren Tomas descibed the significance of her violent death. "Peace was Sr. de Guzman's real aspiration, and she died for it," he said, citing her reflections for the Pax et Bonum bulletin of the worldwide Franciscan Movement for Justice, Peace and Integrity of Creation.

For the March issue of the newsletter, unpublished at her death, de Guzman had written, "In the midst of poverty, terrorism, hatred and anger, we need to pause for a moment. God, what is going on with the life you gave us? I am disturbed about what is happening to our surroundings. We have to do something. We have to start with our own selves, let peace begin with me, begin with us."

National Catholic Reporter, May 16, 2003