Issue Date: May 16, 2003
UNDERDOG STORIES
Spirited humor livens films about the down-and-out
By JOSEPH CUNNEEN
Those who fear that a foreign art film will be dismal and incomprehensible should try Aki Kaurismäki's wistful comedy, The Man Without a Past. The title is quickly explained when its central character (Markku Peltola) is savagely beaten and left for dead after arriving at night in Helsinki, Finland. Totally swathed in bandages and apparently a goner, he suddenly gets up in bed, stumbles out of the hospital and collapses on the riverbank.
Although he has lost everything, starting with his memory, he is not overwhelmed by depression but seems to have discovered a special kind of freedom. Living in an abandoned shipping container and making friends with the down-and-out of society, he exhibits an instinctive practicality, and his minimalist conversation with those who befriend him suggests a kind of morose lyricism. When he is taken in by a family that itself possesses nothing, he takes a while to speak. "You can talk then?" the wife says. "Sure," he replies, "I just didn't have anything to say before."
The initially depressing atmosphere changes into wistful hilarity when the amnesiac wins over the "attack" dog that the dictator-landlord of the shantytown (Sakari Kuosmanen) leaves behind to guard him. Even better, he gradually wins the love of Irma, an earnest Salvation Army blonde (Kati Outinen), who works in a nearby soup kitchen; their romance, played out with great restraint and minimal dialogue, is funny, believable and oddly moving.
Kaurismäki, a world-class director ("The Match-Factory Girl"), is a minimalist who wanted "to make a film that will make Robert Bresson seem like a maker of epic action pictures." "The Man Without a Past" is probably his most available movie. Always avoiding sentimentality, he combines striking shots of the Nordic sky and considerable use of what his central figure calls "rhythm music" as he suggests the rich humanity of life among the squatters.
The central figure's most notable achievement is his transformation of the Salvation Army band into a group that can do a passable version of rhythm and blues, with the woman who managed their thrift shop (Annikki Tähti) transformed into their lead singer.
His ironic philosophy of life makes the morose amnesiac credible and endearing, a deeply humane oddball. Critical purism would find a degree of contrivance in its ending, but the movie earns its sense of triumph. Its laconic sophistication conveys such a sense of generosity and nobility that some will make a contemporary parable out of its wacky and often hilarious details.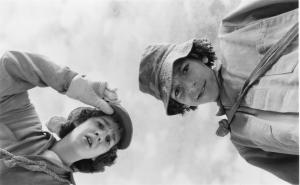 Shia LaBeouf plays Stanley Yelnats and Khleo Thomas is Zero in "Holes."
-- Tony Barbera
Holes is that rare movie made by Disney for kids that may actually entertain their parents. Written by Louis Sachar from his own Newberry award-winning novel, it has more plot than I could follow, and a 13-year-old hero with whom both children and adults can readily sympathize.
Stanley Yelnats (Shia LaBeouf) comes from a family that has suffered from a generations-old curse originating in Latvia. His latest piece of bad luck comes when a pair of sneakers falls from the sky into his hands just before the police arrive to arrest him for stealing. He is sent to Camp Green Lake, a Texas correctional facility full of rattlesnakes and lizards, where there is no water for miles around and the boys are forced to spend their days digging large holes in the desert. The camp, of course, is a perfect children's nightmare, where work is supervised by dictatorial Mr. Sir (Jon Voight) and two-faced Dr. Pendanski (Tim Blake Nelson). The boys' endless task is defended as a way to build character, and there is no point in running away since one would die of thirst before getting anywhere. A further plot thread is that the camp's warden (Sigourney Weaver) is hoping the boys will unearth some mysterious treasure she believes to be buried in the sand.
Director Andrew Davis wisely makes Stanley's development the emotional center of the movie. The boy gains in resourcefulness and develops a needed toughness as he learns to deal with the other boys at the reform facility. Stanley befriends the smallest kid in the camp, Zero (Khleo Thomas); when he teaches Zero to read, it becomes a source of power. Initially, it's difficult to see the connection between Stanley's story and the family curse, even though the latter is repeated several times by Madame Zeroni (Eartha Kitt). But "Holes" even manages to weave together a non-sensationalized interracial romance and a legend about the 19th-century kissing bandit Kate Barlow (Patricia Arquette) before rescuing all the kids from Camp Green Lake.
The camp villains overact shamelessly, but the audience with whom I saw "Holes" couldn't have cared less. The movie is confident and upbeat, and it's hard not to get excited when Stanley and Zero run away and have to climb those majestic cliffs in order to make their escape. A leisurely underdog story with a social conscience, "Holes" will keep you wondering what will happen next.
I don't want to be declared an Iranian agent, but Marooned in Iraq -- its original title, "Songs of My Homeland," would be more appropriate -- is the best movie so far this year. Directed by Bahman Ghobadi, who made the memorable "Time for Drunken Horses," it celebrates the indomitable spirit of the Kurdish people, and is set in the time just after the Persian Gulf War when Saddam Hussein was bombing his own Kurdish population.
Amazingly, Ghobadi doesn't concentrate on war horrors -- though we see abandoned villages and an endless stream of refugees -- but instead tells the deeply moving yet often hilarious story of a near-epic journey from Iranian Kurdistan to Iraqi Kurdistan, made by an elderly husband searching for his ex-wife, Hanareh (Iran Ghobadi), whom he understandably believes is in danger in Iraq. The old man, Mirza (Shahab Ebrahimi), who is a locally famous singer, insists that his two adult sons, Barat (Faegh Mohamadi) and Audeh (Allah-Morad Rashtian), who are also musicians, accompany him. Their mother had left for Iraq after the Iranian revolution because she was no longer allowed to sing in public. Audeh is reluctant to make the trip because, whereas Barat is unmarried, Audeh has seven wives and 11 daughters. Both sons are rewarded for obeying their father because during their journey Barat hears a young woman sing and falls in love with her voice, and Audeh adopts a son.
Everywhere the three men go they are asked to perform; their wildly rhythmic numbers inspire spontaneous dancing. Ghobadi's nonprofessional actors convey the irrepressible spirit that he wishes to celebrate, though they do not cancel out our awareness of mass graves under the snow-covered fields.
The movie shows us weddings and funerals; each tumultuous stop at another refugee camp reminds us that these people are a family that can never be destroyed.
Though the ending of "Marooned in Iraq" is emotionally wrenching, its defiant human spirit makes one want to cheer, especially when a young Kurdish woman delivers an impassioned speech declaring that women should be allowed to sing in public.
Man on the Train, set in a small town in the Rhone valley, is a provocative and subtle psychological study of two very different characters who begin to be drawn, almost in spite of themselves, to exchange roles. Milan (Johnny Hallyday, the French rock star), the only passenger getting off a deserted train, wanders by chance into the run-down chateau of Manesquier, a retired schoolteacher (Jean Rochefort) who offers him a glass of water. Though Manesquier is somewhat suspicious of the newcomer, when Milan returns, after finding the local hotel closed, he invites him to stay for a few days. In fact, Milan is a professional thief planning to hold up the bank on Saturday with the help of friends who are expected soon. It is also the date scheduled for Manesquier's open-heart surgery.
Director Patrice Leconte finds suspense and quiet humor in the relationship that develops between the two men: Manesquier has seen too many Western movies and daydreams about being an action hero; Milan, long disillusioned with his criminal career, finds himself attracted by the teacher's books and piano. One insightful scene shows the two men eating in a local café, and becoming annoyed by the loud talk of a couple of patrons.
When Manesquier works up the nerve to ask one of them to tone it down, the latter recognizes his former teacher, whom he still respects for instilling him with a love of poetry. When Manesquier resumes his seat, Milan quietly declares, "That took courage."
We become emotionally involved with both men and worried about the outcome. Leconte, usually known for his sense of inevitability, offers a positive note by weaving their dreams together. Despite this somewhat artificial ending, the performances of its stars as two aging men considering alternative lives make "Man on the Train" an original and memorable film.
Joseph Cunneen is NCR's regular movie reviewer. His e-mail address is SCUNN24219@aol.com
National Catholic Reporter, May 16, 2003