Issue Date: May 23, 2003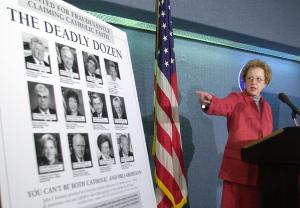 Judi Brown, president of the American Life League, points to a sign labeled "The Deadly Dozen" as she announces Jan. 22 that the organization will draw attention to Catholic politicians who support abortion rights. The 12 U.S. Senators pictured included Ted Kennedy (D-Mass.), Tom Daschle (D-S.D.), presidential hopeful John Kerry (D-Mass.) and Barbara Mikulski (D-Md.), among others.
-- Getty/Mike Theiler
Analysis: Public life, public dissent
Bishops seek to bring pro-choice Catholic politicians in line
By JOE FEUERHERD
Washington
Frustrated that their antiabortion message is consistently ignored by scores of their most influential and high-profile members, Catholic church leaders are sending an unmistakable message: Personally opposed but publicly supportive is simply not acceptable for elected officials who call themselves Catholic.
The list of Catholic public officials subject to potential public rebuke is formidable, a veritable Who's Who of the country's political leadership. Among them: Senate Minority Leader Tom Daschle, D-S.D., House Minority Leader Nancy Pelosi, D-Calif., Govs. Gray Davis, D-Calif., and George Pataki, R-N.Y., dozens of members of Congress, plus scores of less well-known state legislators and mayors, many of whom will eventually seek higher office.
Those who question the wisdom of church-led confrontation over abortion frequently cite a host of other issues -- efforts to fight poverty at home, debate over the death penalty and reluctance to resort to military force abroad among them -- as areas where Catholic pro-choice officials more often than not agree with the church's leadership. Not good enough. "Being right" on such issues as "racism, poverty, hunger, employment, education, housing and health care," the U.S. bishops declared in 1998, "can never excuse a wrong choice regarding direct attacks on innocent human life."
If recent history provides any indication, making the church's case will not be an easy sell.
In 1979, reports The Catholic University of America sociologist William D'Antonio, 57 percent of Catholic Democrats in the Senate could fairly be called "pro-life." By 1996, only 15 percent could. The trend is similar in the House, says D'Antonio. The "pro-choice" politicians, while clearly out-of-step with the hierarchy, generally reflect the views of Catholic voters, said D'Antonio, the majority of whom favor few restrictions on abortion rights.
It is that very disconnect that is drawing increasing attention from the church's leadership.
A January "doctrinal note" from the Vatican's Congregation on the Doctrine of the Faith on the "Participation of Catholics in Political Life" states clearly that "those who are directly involved in lawmaking bodies have a grave and clear obligation to oppose any law that attacks human life." It continued: "For them, as for every Catholic, it is impossible to promote such laws or to vote for them."
The U.S. Catholic bishops, meanwhile, have already said as much: "Catholic public officials who disregard church teaching on the inviolability of the human person indirectly collude in the taking of innocent life," according to the U.S. bishops' November 1998 statement on "Living the Gospel of Life: A Challenge to American Catholics." Bishops "have the duty and pastoral responsibility to continue to challenge those officials" who "exclude themselves from the truth by refusing to open their minds to the church's witness."
And challenge them they have.
Very great error
In January, Sacramento Bishop William Weigand took California Gov. Gray Davis, a pro-choice Catholic, to task from the pulpit of the Cathedral of the Blessed Sacrament. "People need to understand that you cannot call yourself a Catholic in good standing and at the same time publicly hold views that are contradictory to the Catholic faith," said Weigand. "I have to say clearly that anyone -- politician or otherwise -- who thinks it is acceptable for a Catholic to be pro-abortion is in very great error, puts his or her soul at risk, and is not in good standing with the church." Davis should refrain from receiving Communion "until he has a change of heart," advised Weigand.
Maryland Democratic Sen. Barbara Mikulski, a leading pro-choice Catholic, was recently urged by Baltimore Cardinal William Keeler to support legislation to ban partial-birth abortion. Though the bill passed overwhelmingly, Mikulski voted against the measure. "I am deeply troubled by your continuing insistence that such a heinous procedure should be available in the United States of America," Keeler told the three-term senator in a March 21 letter.
In the most recent dustup, Senate Minority Leader Tom Daschle was reported by the conservative Weekly Standard to have received a letter from Sioux Falls, S.D., Bishop Robert Carlson directing him to remove references to his Catholicism from his official and campaign biographies. Facing heightened media scrutiny after the Standard's April 17 report, Carlson and Daschle did not acknowledge that such a letter had been sent, though neither denied it.
To some, these rebukes represent the usual tension between the bishops and the pro-choice Catholic political leadership in their communities.
"I don't know if there's anything new here," said former New York Gov. Mario Cuomo, no stranger to tussles with the hierarchy (see related story below). "I think it's as old as the Catholic church's presence in this country," Cuomo told NCR.
Presidential candidate John Kerry, D-Mass., meanwhile, dismissed the Congregation for the Doctrine of the Faith instruction: "As a Catholic, I have enormous respect for the words and teachings of the Vatican, but as a public servant I've never forgotten the lasting legacy of President Kennedy, who made clear that in accordance with the separation of church and state no elected official should be 'limited or conditioned by any religious oath, ritual or obligation.' "
Chastisements overdue
Others see a positive trend. Such public chastisements are "long overdue" and represent a welcome "first step toward the hierarchy in the U.S telling prominent Catholics if they are going to continue down these paths advocating things the Catholic church thinks are immoral, then they should not publicly associate themselves with the church," said Faith and Reason Institute president Robert Royal.
"I get the impression that since the [congregation's] instruction came out there's been more discussion of the obligation [of elected officials] and some church spokespeople speaking out," said Nassau County, N.Y., District Attorney Dennis Dillon (see related story, Page 3). That's a good thing, said Dillon, given that abortion is "intrinsically evil."
At the heart of the dispute between the church and the political leaders are two views: one that places abortion out of the realm of "prudential judgment" -- those areas of public policy where Catholics can hold different views on how best to achieve the "common good"; the second, voiced frequently by pro-choice Catholics, argues that it is not realistic or desirable to use the blunt instrument of law to settle societal disputes that place different traditions within a pluralistic society at odds.
"It is clear for the Vatican and at least some of the bishops that the life issues are trump issues and are viewed as more important than the prudential judgments on a particular economic policy or tax policy or something like that," said Notre Dame University History Department chair John McGreevy, author of the recently published Catholicism and American Freedom. "In some ways, I think that is unfair, but on the other hand … there is [understandable] frustration [on the part of some bishops] with politicians who say they are personally opposed to abortion but who never do anything to limit any abortions."
Still, said McGreevy, there is room for prudential judgment on abortion. Because there is "no way" to "eliminate all abortions in this country," those who oppose it should be challenged to answer "to what extent it should be legal." Such nuance is difficult, said McGreevy, in an environment where abortion rights have become "an absolute cornerstone for the Democratic Party that no one would have predicted 30 years ago."
Cuomo, for one, sees inconsistency in the church's position.
"[At] all times [the church] insists that you, the Catholic, live up to [its teachings], but sometimes it goes beyond that and says 'and you must see to it to the extent that you can that everybody else lives up to it.' Now they don't do that with divorce laws, of course, and a lot of other rules that are not regarded as fundamental. But the life issues like contraceptives, death penalty and abortion have all been handled differently, and differently at different times."
Less inclined to oppose
While challenging Catholic politicians on abortion, said Cuomo, the hierarchy appears less inclined to take on those who oppose its positions on other life issues, such as embryonic stem cell research and capital punishment.
The president's decision not to call for a ban on embryonic stem cell research, while allowing government-funded research only on existing stem cell lines, is inconsistent with church teaching, said Cuomo.
"What the president would have had to do to agree with the church position is to say: 'I am for a banning of all stem cell killing, period,' " said Cuomo. "He should have said, 'This is murder and therefore I'm against it.' That would be the logic of it. And to the extent the logic didn't get followed [and failure to do so was not condemned by the church] it's a prudential judgment by the church, with which I don't quarrel … [and] which you do all the time."
Cuomo, whose opposition to the death penalty is thought by many to have contributed to his 1994 election defeat, sees similar inconsistency in this arena.
With such prominent Catholics as Supreme Court Justice Antonin Scalia and former Oklahoma Gov. Frank Keating -- now chair of the bishops' committee investigating clerical sexual abuse scandals -- supporting capital punishment, said Cuomo, church inconsistency is highlighted.
"You have Nino Scalia saying the pope is wrong on the death penalty. You have almost all the Catholics -- not all of them but almost all -- [implicitly] saying the pope is wrong … by supporting the death penalty. You have Keating -- who fought me on it in a race and helped beat me by announcing that I should send him a prisoner so that he could execute him … being supported by all the bishops.
"I don't understand. What is their position there? What line in the sand have they drawn there? On the death penalty, the pope writes it in his book. We put it in the catechism.
"You [death penalty supporters] argue it, you deny it, you mock it. And we [the bishops] support you."
Said Cuomo: "It gets confusing for some of us."
While Democrats are the most visible targets of the church's pro-life vigilance, they are not alone. Former Pennsylvania Gov. Tom Ridge, for example, was widely perceived to be George W. Bush's likely vice-presidential choice in 2000, a selection that could well have helped Bush avoid the messy Florida electoral debacle by guaranteeing victory in the electorally rich Pennsylvania. A prime consideration in passing Ridge over: He is a pro-choice Catholic who had been chastised by church leadership in his state.
Likewise, Health and Human Services Secretary Tommy Thompson -- architect of the Bush administration's embryonic stem cell research policy -- told Vatican reporters last month that he has "to minister to the needs of citizens, the majority of whom are not believers in the Catholic church. I can't do my job, carrying out the policies of this administration and previous administrations, by solely relying on Catholic teachings."
Just prior to the 2002 midyear elections, Cuomo, now a lawyer in private practice, said, "Religious convictions -- at least mine -- are not a serious impediment to efficient and proper service by a public official in today's America."
Whether what was true for Cuomo remains the case for Daschle, Kerry, Pelosi, Mikulski, Ridge, Thompson and other Catholics in powerful positions on the political landscape is an issue for them, their bishops, and, ultimately, the voters.
Joe Feuerherd is NCR Washington correspondent. His e-mail address is jfeuerherd@natcath.org
National Catholic Reporter, May 23, 2003