Issue Date: May 23, 2003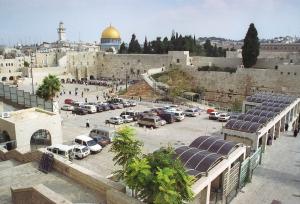 View of the Old City in Jerusalem
-- Itar-Tass/Dmitry Gusarin
Proposal for dual Catholic jurisdictions in Jerusalem has critics, supporters
By JOHN L. ALLEN JR.
Rome
A bitter debate within Israel's tiny Catholic community focuses on whether its future lies in becoming a separate Hebrew-speaking ecclesiastical jurisdiction, with its own bishop and clergy, or in deepening its ties with the predominantly Arab Latin patriarchate of Jerusalem.
The number of faithful involved is minimal, perhaps only a few hundred, but as with much else in the Holy Land, the debate takes on symbolic importance because it is swept up in broader tensions, both Israeli-Palestinian and Jewish-Christian.
Proponents say a separate jurisdiction would allow Hebrew-speaking Catholics to better pursue dialogue with Judaism and to address Israeli civil society from within, while detractors say it would divide Christians in an already fractured environment. They also argue a split would serve Israeli interests by weakening the patriarch of Jerusalem, Michel Sabbah, an Arab who has criticized Israel's policies with respect to the Palestinians.
While the issue surfaced in a May 19 article in America magazine, which argued against a new jurisdiction, sources say the idea has been around since the late 1980s.
According to proponents, the jurisdiction could take the form of a personal prelature along the lines of Opus Dei, or an apostolic administration similar to what was recently created for traditionalist Catholics in Campos, Brazil. Though sources in Rome tell NCR the proposal is on hold, they also say support for it is not going away.
That support comes from at least two divergent sources that agree on the need for a jurisdiction but not the logic for it.
First, there is a community in Israel called "The Work of St. James," founded in 1955 to serve Hebrew-speaking Catholics and to pursue dialogue with Judaism. It is under the authority of the Latin patriarch of Jerusalem, and claims some 250 members. Its leader is a French Benedictine abbot, Fr. Jean-Baptiste Gourion of the Monastery of the Resurrection in Abu Ghosh.
The other chief proponent is Franciscan Fr. David Jaeger, a member of the Vatican's negotiating team with Israel and spokesperson for the Franciscans, who are the custodians of the holy sites. Jaeger is based in Rome, teaching canon law at the Antonianum University, though he travels regularly to the Holy Land.
Both Gourion and Jaeger are converts from Judaism to Christianity. The two men have different visions for a Hebrew-speaking church, sources tell NCR, and their rivalry complicates the debate.
Gourion and the "Work of St. James," sources say, are attracted to a separate jurisdiction as part of a larger project of building a Christian community that reflects the early church of Jerusalem as described in the Acts of the Apostles, fully immersed in Jewish life and culture.
"Christianity arises from the Jewish people and should continue to be grafted on the true olive tree," Gourion argued in a January 2002 presentation to a delegation of presidents of episcopal conferences in Jerusalem.
Jaeger, meanwhile, told NCR that the Catholic church needs a voice within Israeli civil society, and a leader who can speak to the culture in its own language. At present, he says, Sabbah is incapable of playing that role.
"The church in Israel is in the absurd position of being absent from the society," Jaeger said. Noting that Catholic bishops in Israel are Arab-speaking and minister largely to Palestinians, Jaeger said, "It's as if the only bishops in Spain were Basque, or the only bishops in the United States spoke Navajo Indian."
"There are important debates going on in Israel right now over labor, over the economy, over family law, and the church is not part of those debates because it has no voice," Jaeger said.
Jaeger also makes the canonical argument that according to the Second Vatican Council's document Christus Dominus, ecclesiastical jurisdictions should correspond to natural human communities.
Opponents argue that new divisions are the last thing the Christian community in the Holy Land needs.
"Our future is as one church, or not at all," said one Christian source in Jerusalem.
In his article in America, Jesuit Fr. Drew Christiansen, who advises the U.S. bishops on Middle East issues, suggests that the Israeli government is backing the plan to split off Hebrew-speaking Christians as a way of weakening Sabbah and "discrediting the Palestinian cause."
A church source in Jerusalem agreed. "The Israelis want a national church that will swear allegiance to the State of Israel," the source told NCR. It is analogous, the source said, to the way the Israeli government has long attempted to prevent the Greek Orthodox church in the Holy Land from electing patriarchs perceived as hostile to its interests.
"Forming a separate church in Israel could invite government control, like the Patriotic Association in China," a Vatican official told NCR May 14.
Jaeger rejected that claim, telling NCR the debate over a Hebrew-speaking jurisdiction "has nothing to do with the government. This is an internal church decision."
Sources in Jerusalem also told NCR that ecclesiastical tensions exacerbate the situation, in part between the Franciscans who govern the holy sites and the Jerusalem patriarchate over who best represents the "local church."
Exactly how many people might be the subjects of a Hebrew-speaking jurisdiction is disputed.
Jaeger told NCR the potential membership is in the tens, if not hundreds, of thousands. At its core would be a few hundred Jewish converts. Then come Christian immigrants from the former Soviet Union, estimated by Jaeger to number in the tens of thousands. While most are Orthodox, there are a few Catholics. There are also recent Catholic migrants living in Israel for economic reasons, such as Filipinos and Poles. Jaeger says there are tens of thousands of these people, many undocumented, whose children will grow up in Israel speaking Hebrew as their principal language
Other sources in Jerusalem, however, told NCR that most of these immigrants are temporary workers who will not put down roots, and whose most pressing need is pastoral care in their own language, not a separate church structure in Hebrew.
Vatican sources told NCR that no move to create a jurisdiction should be expected soon.
"We are awaiting resolution of the political situation," one official said. "We need to see what happens with the road map and the peace process. As long as the intifada is underway, there certainly will be no decision."
John L. Allen Jr. is NCR Rome correspondent. His e-mail address is jallen@natcath.org
National Catholic Reporter, May 23, 2003