Issue Date: May 23, 2003
BRIEFS
NATION
Senator to propose insurance for uninsured U.S. citizens
Sen. Jeff Bingaman, D-N.M., has announced plans to introduce legislation to help 41 million uninsured Americans obtain health insurance. Bingaman, in a recent speech in Albuquerque, said his proposal would increase federal funding to states willing to offer Medicaid to those whose household income is at the federal poverty level or less. The legislation would also include tax credits to help purchase insurance and state-organized insurance pools that would market insurance to the uninsured.
"More than 40 million of our friends, family members and neighbors lack health care coverage," Bingaman told NCR. "This is a crisis that is crying out for the attention of Congress. It is my hope that we can pass this legislation or something similar to it."
Bingaman is a member of the Senate Finance Committee, which has jurisdiction over the federal government's two largest health care programs: Medicaid and Medicare. New Mexico has about 370,000 uninsured residents. Depending on the source, that means New Mexico either leads the nation or is second only to Texas in the percentage of residents who lack health insurance, according to statistics supplied by Bingaman's office. Nationwide, one out of every three Hispanics are uninsured.
-- Demetria Martinez
Bishops' approval numbers slip among U.S. Catholics
The number of American Catholics who think their bishops are doing a "good job" has fallen nearly 25 percentage points in the past 18 months, according to a new poll. Fifty-nine percent of Catholics said bishops are doing a good job leading the U.S. church, but that figure is down from 84 percent in the fall of 2001. The decline was particularly sharp among those who "strongly agree" with the bishops' performance, which dropped from 43 percent to 21 percent.
The rating in the Contemporary Catholic Trends poll conducted by LeMoyne College and Zogby International is the lowest in the poll's history. Pollsters blamed the drop on "continuing concern over [the bishops'] handling of the clerical sex abuse scandal." The percentage of Catholics who want the pope to discipline bishops who failed to stop the scandal rose from 89 percent last fall to 94 percent in the spring poll.
In other findings, President Bush's approval rating has fallen slower among Catholics than in the general population -- in the fall of 2001, Bush scored a 78 percent approval rating among Catholics; that figure stands at 67 percent today. The LeMoyne/Zogby poll is based on interviews with 1,500 Catholic adults and has a margin of error of plus or minus 2.6 percentage points.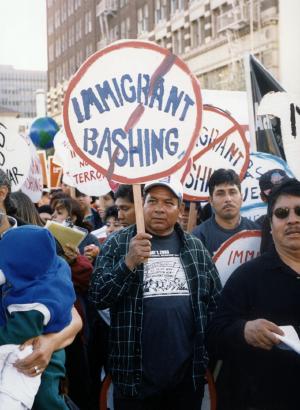 Rally for immigrants
Immigrant workers and labor activists number more than 3,000 rally in downtown Los Angeles May 1. The event was sponsored by the Multiethnic Immigrant Workers Organizing Network.
-- CNS/Michelle Gahee
Immigrants protest unfair work conditions
On May 1 more than 3,000 workers and labor activists participated in the third annual May Day march and rally in downtown Los Angeles. Sponsored by the Multiethnic Immigrant Workers Organizing Network, the event called for a stop to immigrant bashing, detention and deportation, and amnesty for illegal immigrant workers.
"In the past we saw numerous raids and the deportation of immigrants from Latin American countries," said Mayron Payes, a member of the organizing network. "Because of last year's INS raids at Los Angeles International Airport, 40 percent of screeners lost their jobs because they were not U.S. citizens. This year it's Middle Eastern immigrants who are being persecuted."
The network criticized an April U.S. Supreme Court decision that holds that the government can imprison and deny bail to immigrants it is seeking to deport. That decision came on the heels of an announcement by Attorney General John Ashcroft that illegal immigrants with no known links to terrorist groups can be detained indefinitely for national security reasons.
East Timorese bishop seeks support for development
A fledgling, undeveloped judicial system and lack of human resources has delayed the progress of justice in East Timor, said Bishop Basilio do Nascimento of Bacau. He said justice for victims of past violence was among several issues facing East Timor, which officially became an independent nation in May 2002.
The bishop, visiting the United States May 4-10 to promote development, said justice has eluded the Timorese because of the lack of resources. "The general feeling of the East Timorese is that we need reconciliation, but this doesn't mean we have to avoid justice," he said May 5.
Do Nascimento, who was named apostolic administrator of Dili last November following the retirement of Bishop Carlos Filipe Ximenes Belo, said East Timor has struggled with its transition to a democracy. "Democracy is a new concept to us. We have no idea of the duties of each other in this new society," he said. While in the United States, do Nascimento met with church, government and nongovernmental organization officials, seeking support for several development projects that the church is promoting.
Bishop urges reversal of Haitian detention policy
The decision by Attorney General John Ashcroft to deny release of an 18-year-old Haitian asylum seeker sets a dangerous precedent and should be overturned, according to the chairman of the U.S. bishops' Committee on Migration in a May 1 statement. Ashcroft ruled in late April that David Joseph and other asylum seekers like him can be held in jail indefinitely, no matter their individual circumstances, because as Haitians they pose a potential security threat.
Miami Auxiliary Bishop Thomas Wenski said the national security argument for keeping Joseph in detention uses nationality-based criteria without consideration of whether the individual actually presents a security threat. An immigration judge and the Board of Immigration Appeals had ruled that Joseph could be released on bond, but Ashcroft's order said that doing so would "tend to encourage further surges of mass migration from Haiti by sea, with attendant strains on national and homeland security resources."
Joseph was among more than 200 Haitians who waded to shore near Key Biscayne, Fla., in October and were promptly detained. Ashcroft's order said it is not clear that asylum seekers are entitled to the due process rights that would allow them to seek release on bond.
Muslim group offers guide to Islam for police
In an attempt to stave off the profiling and unfair treatment of Muslims by law enforcement officials, a national Muslim group has published a booklet aiming to educate the law enforcement community about Islam. "A Law Enforcement Official's Guide to the Muslim Community" was released May 1 by the Council on American-Islamic Relations, a Washington-based Islamic civil liberties group.
The guide contains basic information about Muslim beliefs and practices and addresses issues like sensitivity in body searches and entering Muslim homes, given the modesty requirements of the faith. Also included is advice on outreach to the Muslim community and the workplace rights of law enforcement officials who are also Muslims.
Leaders of the American-Islamic council say the booklet is meant to foster more open lines of communication between Muslims and law enforcement and prevent disrespect and profiling. "A number of recent interactions between law enforcement agencies and the Muslim community have resulted in misperceptions and miscommunications based on a lack of basic information about Islamic beliefs," said Mohamed Nimer, who is the research director at the council and the booklet's author. "We hope this booklet will serve as a tool to be used in facilitating cooperation on security issues in an atmosphere of mutual respect," he said.
WORLD
Catholic peace activist among seven arrested
ISRAEL: A Catholic peace activist was among seven International Solidarity Movement members arrested by Israeli authorities in a crackdown on foreign volunteers. Police raided the movement's headquarters in Beit Sahour, West Bank, May 9 and arrested foreign activists in Beit Sahour and Tulkarem, West Bank, and in Gaza.
Among those arrested in Tulkarem was 27-year-old Charlotte Carson, a Catholic student from Belfast, Northern Ireland. Also among those arrested was Miranda Sessions, an employee of the New York-based Human Rights Watch. "We were expecting this," Carson said May 12 after her release on bail the previous evening. She said no date had been set for a deportation hearing, but she was expecting it to be held sometime within a week. If deported, she would not be allowed back in Israel for 10 years, she said.
Israel maintains that the two British Palestinians involved in a Tel Aviv seafront pub suicide bombing that left three people dead April 30 entered the country while posing as International Solidarity Movement volunteers. Huweida Arraf, 27, a Melkite Catholic and Palestinian-American who is a co-founder of the year-old International Solidarity Movement, denied that the two men had any connection with the group.
Catholic sentenced to life in prison on blasphemy charge
PAKISTAN: A Pakistani Catholic has been sentenced to life in prison for violating the country's blasphemy law. Ranjha Masih, 52, also was fined $900 at his April 26 sentencing in Faisalabad. Ranjha had been in prison since May 8, 1998, after being arrested during a memorial procession for Bishop John Joseph of Faisalabad, who had committed suicide two days earlier in protest of the country's treatment of Christians.
Prosecutors charged that Ranjha, a Catholic, threw stones at Quranic verses written on an outdoor wall. Within those verses was the name of the Muslim prophet Muhammad. Under the law, anyone insulting Muhammad can be executed or jailed for life. Khalil Tahir, a Catholic lawyer representing Ranjha, said, "We knew the decision would be against Ranjha Masih, but we must keep up the struggle. I am not disappointed."
The defense said Ranjha was framed by the son of the former Faisalabad mayor; the son demanded that Ranjha, a sweeper at city hall, work in his home without pay. The defense also said Ranjha's arrest was used for political purposes. A church source said that following Ranjha's arrest, police demolished his house built on government land, displacing his wife and six children. Ranjha, who is illiterate, was routinely beaten in prison by other inmates and prison guards, his lawyers said.
---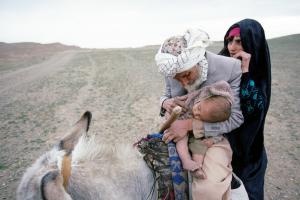 Afghan drought
A family of the nomadic Kuchi tribe rides a donkey through the dry, barren land of western Afghanistan in the province of Herat in March. Drought had killed off the family's livestock in an area where Catholic Relief Services was planning to establish water projects.
-- CNS/Martin Lueders
---
Security, funding issues delay work, official says
AFGHANISTAN: Security concerns and lack of funding have hindered the reconstruction of Afghanistan, said a Catholic Relief Services official. Security issues have either stalled or shut down CRS projects in the former Taliban stronghold of Kandahar, said Lyn Gilliland-Garber, CRS' regional representative for South Asia. CRS staffers have not been able to visit work locations in Kandahar for several months, she said in early May. "Security is deteriorating."
Another major problem has been a lack of funding. She said as the war in Iraq concludes, the world's attention has turned there, and along with it much-needed funding for countries such as Afghanistan. Gilliland-Garber said aid staff in Afghanistan have been frustrated by the lack of progress. "The needs are so huge that our staff struggles with ... how few the resources are," she said. "Everyone's forgetting Afghanistan."
CRS has fallen seriously short in its funding goals for Afghanistan, said Joe Carney, communications associate for Europe, North Africa, Middle East and Asia. A month after the U.S.-led bombing of Afghanistan began in October 2001, CRS announced a $50 million fundraising campaign to assist reconstruction projects in the country. To date, the agency has raised only $7 million from private donors, Carney said.
Lendu militias kill ethnic Hemas, including three priests
CONGO: After Ugandan troops withdrew from northeast Congo, members of ethnic Lendu militias went on a rampage, killing an unknown number of people, including three Catholic priests. Fr. Raphael Ngona, a member of the Hema ethnic group, was shot twice in the head during the night of May 6-7, reported Fides, the news agency of the Vatican's Congregation for the Evangelization of Peoples. Ngona was one of the first to bring to the world's attention the early April massacre of some 300 Hema people near the town of Drodro.
Fighting continued for a week during which two more priests and at least 48 people who took refuge at their parish in Nyakasanza were killed May 11, Fides reported. The bodies of Fr. Francois Xavier Mateso, the Nyakasanza pastor, and his assistant, Fr. Aime Ndjabu, both Hemas, were mutilated, Fides said May 12.
"It was an ethnic vendetta," a Missionary of Africa priest told Fides. "Both priests and the others were members of the Hema ethnic group and were killed by Lendu guerrillas. The international community must take notice of what is happening in [the northeast region of] Ituri, because there is the risk of a tragedy similar to what happened in Rwanda in 1994" when ethnic fighting led to genocide.
Pope criticizes crackdown, asks mercy for dissidents
CUBA: The pope criticized a recent political crackdown in Cuba and appealed to President Fidel Castro for more lenient treatment of 75 dissidents sentenced to long prison terms. The pope made the plea in a letter April 13 to the Cuban president. Vatican sources said Castro had not responded. The letter was made public at the Vatican April 26.
The letter, written in the pope's name by Cardinal Angelo Sodano, Vatican secretary of state, said the pope wanted to express his "deep sadness" at the harsh sentences recently handed out to the dissidents, including the death penalty in a few cases. On April 11, Cuba executed three men who attempted to hijack a ferry to the United States. Castro defended the executions and accused the United States of trying to trigger a migration crisis in an effort to subvert his socialist government.
At the same time, Cuban prosecutors tried scores of dissidents in one-day trials and sentenced them to prison terms ranging from six to 28 years. The dissidents were engaged in such activities as running free libraries, an independent news service and an independent financial association and promoting other reforms.
Vatican invites Buddhists to join prayer for world peace
VATICAN CITY: The Vatican invited Buddhists May 9 to join Christians in prayer for peace at a time of "bloodshed, violence, confrontation and crisis" in the world. Archbishop Michael Fitzgerald, the new president of the Pontifical Council for Interreligious Dialogue, issued the invitation in a warm message marking the Festival of Vesakh, which Buddhists celebrated May 14. Vesakh, Buddhism's most important festival, marks the major events in the life of Buddha.
"I would like to invite you, my dear Buddhist friends, to join in prayer for the cause of peace in the world," Fitzgerald said. "Observing the current international situation, we cannot but be aware of the acuteness of the question of peace in our world.
"Since the beginning of this new millennium, marked by the dramatic events of Sept. 11, 2001, we witness every day fresh scenes of bloodshed, violence, confrontation and crisis in almost all parts of the world. In the midst of this grave situation, we cannot lead our lives without committing ourselves to advancing the cause of peace in the world. … I am convinced that by persevering in prayer we will contribute to advancing peace in the world both now and in the future."
Rebels kidnap 41 boys from minor seminary
UGANDA: Members of the rebel Lord's Resistance Army in northern Uganda kidnapped 41 boys from a minor seminary May 11 after a gunfight with members of the Ugandan military. A boy from the town of Lachor, one of dozens of children who had sought refuge at the seminary out of fear of the rebels' rash of kidnappings, was caught in the crossfire and died, reported Fides, the news agency of the Vatican's Congregation for the Evangelization of Peoples.
Fides said the kidnapped seminarians were all in the first or second year of their high school studies. The 95 other students at the Lachor seminary of the Gulu archdiocese managed to escape, Fides said May 12.
"It was about midnight when the rebels attacked the seminary," Fr. Guido Oliana, superior of the seminary, told Fides. Government forces tried to stop the rebels and "unleashed a gunfight that lasted about two hours." The 41 were led off tied to each other in a long chain, "following the procedure used by the LRA when kidnapping children and adolescents," he said. The Rome-based missionary news agency MISNA reported that it had received an anonymous phone call May 11 saying, "The kidnapped seminarians are well and we plan to release them as soon as possible."
Briefs, gathered from news services, correspondents and staff, are compiled and edited by Gill Donovan.
National Catholic Reporter, May 23, 2003