Issue Date: May 23, 2003
HOUSING HEAVENS FIRE: THE CHALLENGE OF HOLINESS
By John Haughey, S.J.
Loyola Press, 203 pages, $16.95
Holiness is done unto us, not by us
Author's insights make Easter hope a reality
HOUSING HEAVENS FIRE: THE CHALLENGE OF HOLINESS
By John Haughey, S.J.
Loyola Press, 203 pages, $16.95
Reviewed by ANDRÉ DELBECQ
Lent is a time when many of us increase consciousness of our sinfulness and the forgiveness of sin wrought by the mystery of the cross. This is fitting to the spirit of the Lenten season and as a protection against spiritual pride.
But apropos of an Easter/Pentecost celebration, John Haughey turns our attention to another important perspective -- our received gift of holiness.
He sounds a theme: "Holiness has been misconstrued. We've come to see it as something other than what has been revealed. In our ignorance we see it as something that we have to perform ourselves. But holiness as performance is simply not true! Holiness is being done unto us, not by us."
And on this cheerful note, we embark on a spiritual trek with a post-Easter flavor. In his book Housing Heaven's Fire: The Challenge of Holiness, Haughey teaches us that while we are "works in progress" (so acts of repentance are never inappropriate), we are at the same time already filled with the Spirit.
However, his inspiring treatise does not commence simply with a New Testament perspective. While Chapter 1 places holiness in a resurrection context, in Chapter 2 Haughey reaches back into the Old Testament to locate the origins of the call to holiness. For example, in Genesis all that was created is seen as good; Abraham teaches us how to be right with God; Exodus relays the commissioning of a kingdom of priests, a holy nation; Deuteronomy clarifies the covenant of the heart.
His scriptural review in Chapter 2 was the highlight of the entire book for this reader. In a few pages, with great insight, Haughey traces Israel's understanding of and response to Yahweh's call to holiness. He highlights both human progress and failure to understand the summons. In a remarkably succinct 32 pages, I found unique illumination of the call to holiness, traversing the whole of the Hebrew scriptures.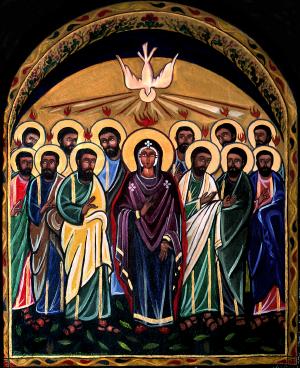 A depiction of Pentecost shows the Holy Spirit decending upon Mary and the twelve apostles of Jesus Christ.
-- CNS/Crosiers
But more provocative insight is forthcoming. In a surprising Chapter 3, Haughey provides a fresh treatment of Jesus' journey into holiness by focusing on Jesus' life development. (He calls this a "low Christology," centered on Jesus' true humanity.) This allows us to better understand our own journey into wholeness. Recounting familiar scripture but adding fresh perspective, he re-teaches how the Spirit acts within the human condition.
I realize as I write these words how inadequately they capture the power of Chapters 1, 2 and 3. Here Haughey's reflections re-framed familiar scripture, providing me entirely new insight. There is also the passion of his personal experience behind the words, making Easter hope more than an abstraction. Haughey persuades his reader that the call to holiness is the fulfillment of a covenant, reaffirmed and renewed throughout salvation history, and perfected in the Easter/Pentecost mystery.
Chapter 4 tells the story of the desire for holiness lived out in the life of Ignatius of Loyola, providing the reader with a short excursion into the Spiritual Exercises. Then he briefly treats the dangers of false perfectionism (the need to anchor perfection in the encounter with Christ, not in our own progress); angelism (reminding us that our journey unfolds encountering war, divorce, addiction, poverty, suffering, crime, floods and so on); and the gift of spiritual longing.
In Chapter 5, Haughey uses the Pauline notion of "stretching" (straining forward to what lies ahead, Phil. 3:13) as a way of capturing self-emptying and surrender as part of the spiritual journey. He includes insightful exemplification of how to undertake daily tasks (such as reading the newspaper) prayerfully and with intentionality. He discusses the transformation of erotic love into eros love. He ends discussing how all persons carry within themselves some unique aspect of the immeasurable glory of God, illustrating from the life of Elizabeth of the Trinity.
Finally, in Chapters 6 and 7, Haughey takes up the theme that true spirituality is not individualistic. Using John Paul's insights regarding solidarity, he shows that increasing spiritual maturity connects the personal journey into wholeness with concern for justice, human rights and ecology.
Jesuit Fr. John Haughey, is a writer who always adjusts my spiritual perception with a twist of his theological kaleidoscope. This short book is a worthy post- Lenten reflection, particularly noteworthy in its first three chapters.
André L. Delbecq is the Thomas J. and Kathleen L. McCarthy University Professor at Santa Clara University.
National Catholic Reporter, May 23, 2003