Issue Date: June 6, 2003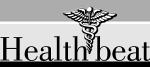 Catholic aim: aid poor, survive
In fight for survival, U.S. Catholic health care juggles multiple issues
By ARTHUR JONES
Catholic health care and Catholic teaching have a major role in the discussion of U.S. health care needs, and a major role in the not-for-profit health care delivery sectors.
The bare surface facts are that 11 percent of America's community hospitals today are Catholic -- which makes Catholic health care a multibillion dollar entity in a $l.54 trillion dollar a year industry. Catholic hospitals account for 16 percent of all American community hospital admissions.
By acute care bed count, three of the 10 largest health care systems in the United States are Catholic, as are seven of the 10 largest not-for-profit systems.
Today's record is that Catholic health ministry nationwide includes 625 Catholic hospitals and 1,796 continuing care ministries (nursing facilities, home care, hospice care). The U.S. Catholic Health Association has 2,000 members.
Note from the Editors:


This is a premium content page.



During the initial launch of Health Beat coverage, NCR will make these articles available for all Web site visitors.
The underlying fact, however, is that the very survival of Catholic health care is threatened by both external and internal trends and dilemmas.
First, in a for-profit world, not-for-profit health care systems, seriously impacted by rising costs and government cutbacks, are fighting to survive.
Next, there is growing opposition to a Catholic institutional presence as recipients of federal and state funds for health and social services.
Opposition hinges on but is not limited to "conscience clauses" granted to Catholic institutions to exempt them from the provision of contraceptive and sterilization services, including in their employee benefits coverage.
Mobilized against the Catholic agencies are associations such as Catholics for a Free Choice, Planned Parenthood of the Americas, the National Women's Law Center, Merger Watch, and the National Abortion and Reproduction Rights Action League (NARAL).
Finally, the Catholic networks and providers themselves have to wrestle with two elements of their mission not fully resolved. One is governance, in the transition from their religious community foundations to lay trusteeship. The other is their operating style as they have shifted from a service organization approach to the fully corporate model.
To explain these latter two elements requires a little Catholic history.
Almost two centuries ago, Catholic health care began as a mission-driven ministry directed toward the poor. Only in the past two decades has it metamorphosed into a multiplicity of corporations. Which raises the question: Can it be both?
When Elizabeth Ann Seton, a widow with five children, founded the Sisters of Charity in 1809, it was the first religious congregation to sprout up from the U.S. soil. She knew about health care -- [her father, brother-in-law and a maternal uncle] were physicians.
In 1823 -- two years after Elizabeth's death -- five Sisters of Charity, in cooperation with physicians at the University of Maryland, agreed to manage and staff the new 50-bed Baltimore Infirmary. The almost two-centuries-long association of U.S. women religious with American hospitals and health care delivery was underway.
In the 19th century, a surge in U.S.-founded congregations of women religious was augmented by small bands of new arrivals from overseas congregations in France, Germany, Ireland, Italy and elsewhere.
These religious sisters usually were teachers, eager to help women and children among the burgeoning, mainly Catholic, immigrant populations, and keep them close to their faith.
Then as now, other pressing social realities interfered with the education work: poverty, homeless children and abandoned, destitute elderly. And sickness.
Many congregations opened orphanages for the young and almshouses for old people. Their home visits to the sick led to locally built modest structures, the first hospitals. Those small beginnings grew into today's huge medical complexes, which in turn are now grouped into Catholic health care systems that produce multi-billion-dollar revenues.
Today, U.S. Catholic health care, as measured by Catholic Health Association membership, amounts to 61 health care systems. Of 20 Catholic mega-systems Ascension, the largest, had $6.5 billion in 2001 revenues.
In the early 19th century, the sisters' mission motivation was clear.
Historian Christopher Kauffman ends his landmark Ministry and Meaning: A Religious History of Catholic Health Care in the United States (Crossroad) with a quotation from St. Vincent de Paul.
St. Vincent's directive in France to the Daughters of Charity, whose rule the Seton sisters followed, was: "When you leave your prayers for the bedside of a patient, you are leaving God for God. Looking after the sick is praying."
In 2001, in the United States, 88 million Americans were "looked after" in Catholic health care facilities.
By the 1980s, individual hospitals and small congregation-based systems were realizing the need to combine for cost-savings.
But by then, the founding religious communities, faced with aging sisters and shrinking numbers, were seriously developing new forms of governance -- systems governed by lay people dedicated to keeping the founding charism and Catholic contribution and sensitivities alive.
Mercy Sr. Mary Roch Rocklage, chair of the American Hospital Association and the Sisters of Mercy Health System's board, surveyed the rapid consolidation of Catholic hospitals in the past 15 years and said, "Maybe in some areas we [sisters] passed the baton too quickly. I think there may be some remedial work to do."
In Cincinnati, an example of the remedial work was explained by Mercy Sr. Doris Gottemoeller of Catholic Healthcare Partners. She said the organization has made "a tremendous investment in our leadership people" to create the next generation of leadership.
Gottemoeller, Catholic Healthcare Partners' senior vice president for mission and values integration, and for social service ministries, said that last year the organization brought together 20 of its "high potential women and men from within the system, people already facility CEOs, to inaugurate a new two-year program.
"I said to them when they began the twice-a-year, five-day sessions, plus closely supervised continuing action projects on their own time, 'Some of you will be promoted to new responsibilities, some will have greater responsibility in your present positions, some of you will leave us -- but we hope you'll stay in Catholic health care.' "
Gottemoeller believes this is how Catholic health systems can build a cadre of people who believe in the mission.
Rocklage, as chair of both the secular American Hospital Association board and the Catholic Mercy Health System board knows the clash between the corporate and the Catholic better than most.
"When we [Catholic institutions] took on the mindset of corporate America," she said, "we began to talk that way, we looked that way, we acted that way and we alienated our own selves and our employees. We were acting like 'we are market-driven,' versus, 'we are in that market but it doesn't apply to us.' "
Rocklage means that while the Catholic systems must structure their corporate operations with an eye to satisfying, for example, the bond market from which they gain long-term financing, inside the hospitals and clinics the emphasis has to be on the Catholic mission of providing care, not least to the needy.
Said Rocklage, "I think what we're saying among ourselves is we may need to talk the corporate language on the street [Wall Street], but among ourselves we have a different language. We need to be strong in the market, but it doesn't define who we are. We are about stewarding and ministry."
There are three "downside" emerging trends that threaten the survival of the Catholic hospital: rising costs; rising opposition to Catholic health care's ethical practices that could threaten future federal and state reimbursements to Catholic hospitals; and the most restrictive and conservative interpretations of the U.S. bishops' "Ethical and Religious Directives for Catholic Health Care Services."
The Vatican-mandated directives are a wide-ranging analysis of do's and don't's and explanations of topics ranging from abortion and artificial insemination to the destruction of embryos and genetic counseling.
Pain management, natural family planning, reproductive technology, sterilization and the provision of contraceptive services are dealt with, and it is these latter two that present a major area of contention as Catholic hospitals enter into merger agreements with non-Catholic hospitals.
On the financial front, not until the 1960s, with the advent of Medicare and Medicaid -- when Catholic and other hospitals and physicians regarded as "voluntary" institutions began to be paid for services they previously gave for a minimal or no fee -- did Catholic hospitals suddenly find themselves actually making money.
Then Americans' use of hospitals grew dramatically and expansion became the new order. The new money in medical services triggered growth, but it also triggered corporate America's realization there was a previously unrealized buck to made in health care.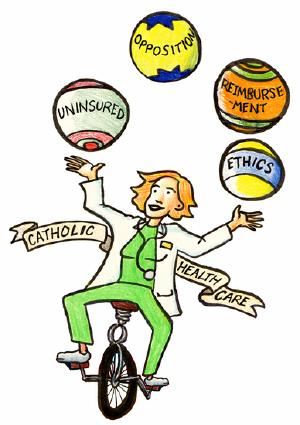 -- Ian Jones
The for-profit hospital and care corporations came into being. What had been a social service turned into a Wall Street profit center. Profitable examples: For-profit HCA has grown into an $18 billion annual revenues corporation; now beleaguered Tenet Healthcare to $11.5 billion.
However, another trend was underway in the 1980s.
The Reagan administration instituted programs that made inroads into health care provision profit margins. Medicare and Medicaid reimbursements were cut -- or held at par as costs rose. Patient stays were drastically reduced.
Twenty years later the Bush administration is continuing to cut reimbursements and is accelerating its plans to revamp the entire Medicaid and Medicare structure.
The screws have tightened to the point that much of the not-for-profit delivery system, Catholic and otherwise, is again under serious duress.
Which leaves Catholic health care like a doctor on a unicycle in the main ring of an ideology-riven circus tent.
She juggles the balls of social commitment, Vatican-mandated ethical directives, nonprofit system economic challenges, and the needs of the uninsured.
Meanwhile, around the ring, she's dodging the thrusts of members of Congress and the pro-choice community who want to poke a stick in the unicycle wheel.
It's a neat trick to remain balanced.
Arthur Jones is NCR editor at large. His e-mail address is arthurjones@attbi.com
National Catholic Reporter, June 6, 2003 [corrected 06/20/2003]