Issue Date: June 6, 2003
NATION
Mahony dedicates chapel to sex abuse victims
Dedicating a chapel in the new Cathedral of Our Lady of the Angels to the victims of clergy sex abuse, Cardinal Roger Mahony of Los Angeles said it would help the church heal from a devastating sex abuse scandal. "We need to get this resolved," he told reporters after the surprise dedication.
The chapel, one of 10 alcoves in the $189 million cathedral, includes a prayer table, candles and bulletin board where the photos of victims can be posted. A painting of a farmer tending crops includes the words, "Justice shall look down from the heavens."
"The stories filled us with anger, sadness and disappointment," Mahony said during the Mass. "It also filled us with a resolve to do all that is humanly possible to eliminate the scourge of abuse from our church and to ensure the safety of all of our people."
Some victims' advocates, however, dismissed the dedication as a public relations stunt. Mary Grant, regional coordinator for the Survivors Network of those Abused by Priests, said she was never told about the new chapel. "I think Cardinal Mahony knew that if victims were aware of this ahead of time, they'd be here telling parishioners that real change needs to happen -- and that the priests who abused them are not yet behind bars."
One court to handle California clergy sex abuse civil suits
Upwards of 300 civil lawsuits against four California dioceses for clerical sexual abuse will be handled in a single courtroom under the jurisdiction of one judge, according to a decision made May 28 by Los Angeles County Superior Court Judge Elihu M. Berle.
But no decision has been made yet on whether the Catholic church has a right to withhold documents on the grounds of priest-bishop confidentiality, a claim made by lawyers for the Los Angeles archdiocese, the Los Angeles Times reported.
The cases involve the archdiocese of Los Angeles and the dioceses of Orange, San Bernardino and San Diego. The San Diego diocese requested a separate hearing in a San Diego court for its and San Bernardino's potential suits. The request was denied. All cases will be heard in a Los Angeles court.
Criminal cases are still pending for 13 priests and a seminarian from the four dioceses.
-- Arthur Jones
Prosecutors fight Cincinnati archdiocese over records
Prosecutors in Cincinnati have complained that Catholic officials have not cooperated with a court mandate to release internal documents related to sexual abuse by priests.
In briefs submitted to the 1st Ohio District Court of Appeals, Prosecutor Mike Allen said, "Representations made by the archdiocese [of Cincinnati] with respect to this matter are at best seriously misleading, and in fact appear to be outright false."
Archbishop Daniel Pilarczyk has wrestled with prosecutors over the release of church files, which he says are private. Last year he said he would not release documents until he saw a subpoena; he was one of the first to be called in front of a criminal grand jury investigating the scandal.
As part of a compromise last year, the church agreed to the appointment of a "special master" who would determine which files should be released. Allen complained that the church has not granted the mediator access to all the files. "Any suggestion along those lines is absolutely false," church lawyer Mark VanderLaan said.
---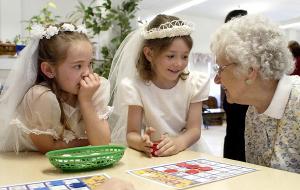 Nursing home visit
Amelia Bitant and Carina Sowinski chat with Frances Grace, a resident of Mitchell Manor nursing home in West Allis, Wis., May 22. The second-graders from St. Mary School in Hales Corners visited the home, wearing their first Communion outfits, and played a game of "Bible Jingo" with residents.
-- CNS/Sam Lucero
---
Fewer Americans tithing, research group says
The number of Americans who give a full tenth of their income to the church "dropped by 62 percent in the past year, from 8 percent in 2001 to just 3 percent of adults during 2002," the Barna Research Group said. Of Catholic respondents, none reported giving 10 percent of last year's income to his or her church.
Barna, a Ventura, Calif., firm that specializes in religious research, said among born-again adults, 14 percent reported tithing in 2001, but only 6 percent said they did so in 2002. Among evangelicals, nearly 9 percent of those surveyed reported tithing.
Charles Zech, a Villanova University economics professor and expert in Catholic giving issues, said, "It doesn't surprise me that few or no Catholics tithe, because that's not what they've been taught as tithing. A lot of pastors preach a percent of income and call it tithing. They don't say, 'Give us 10 percent.' "
Zech said his first reaction to the Barna findings "is to attribute it to the economy." George Barna, founder and head of the research group, cited the soft economy as one of the most likely factors behind a drop in tithing. He also said the Catholic clergy scandals "reduced some people's confidence in church leaders and, consequently, reduced their giving as well."
Harvard Divinity School may return gift from Arab leader
Harvard University is discussing whether to give back a $2.5 million gift from the president of the United Arab Emirates, citing "extremely offensive" statements from a center that the president directs. Sheikh Zayed bin Sultan Al Nahyan leads the Zayed Center for Coordination and Follow-Up, an Abu Dhabi-based organization that sponsors lectures and reports on topics involving Islam, Israel and the Arab world.
A group of Harvard Divinity School students and professors complained to Dean William A. Graham in March about the organization, saying the Zayed Center's Web site contained anti-Semitic and anti-American material.
The center's Web site says it aims to "to promote solidarity and cooperation among the Arab nations in the light of the principles and objectives of the League of Arab States." The Harvard Crimson reported that links on the Web site lead to the writings of Holocaust deniers and several writers who have been accused of anti-Semitism.
A school spokesperson says acceptance of the gift, which was to endow a professorship in Islamic religious studies, predates the center and its Web site. While the professorship has officially been established, the divinity school has not yet spent the money. A decision is expected in a couple of weeks.
Congress upholds military hospital abortion ban
The chairman of the U.S. bishops' Committee on Pro-Life Activities hailed congressional votes to maintain a ban on elective abortions in military hospitals overseas. Cardinal Anthony J. Bevilacqua of Philadelphia had written to members of the House and Senate a few days before the May 22 votes, urging support for continuing the policy. The Senate voted 51-48 to defeat an amendment to the National Defense Authorization Act that would have required U.S. military hospitals overseas to provide abortions on demand.
The House defeated a similar amendment in a vote of 227-201 the same day. The ban includes exceptions permitting abortions in cases where the mother's life is in danger or the pregnancy was the result of rape or incest.
WORLD
Security risks in Iraq frustrate relief effort
VATICAN CITY: As relief organizations gear up long-term operations in Iraq, they are being frustrated by rampant lawlessness and looting, an official of Caritas Internationalis said. "Unless the security issue is resolved, there will be no resumption of social life and it will be difficult to implement relief programs," said Karel Zalenka, head of the International Cooperation Department at Caritas headquarters at the Vatican.
"Right now, Iraqi people are afraid to come to our centers, and our own workers' fear being attacked," he said. Zalenka spoke in an interview May 27 after returning from a five-day visit to Baghdad and other Iraqi cities. Caritas Internationalis is an international confederation of Catholic charitable organizations.
Zalenka said he found that damage from the war was not as heavy as predicted, but that destruction from looting was massive. The disintegration of civil security in Baghdad and other large cities is thwarting humanitarian efforts, he said.
He said two Caritas convoys, each carrying more than $300,000 worth of medical and food supplies, recently went overland to Baghdad. The first made it through without incident, but the second was stopped in a Baghdad suburb and partially looted before soldiers were found to escort it to a guarded Caritas warehouse.
Priest arrested in India for sexual assault case in U.S.
INDIA: Indian police have arrested Fr. Sleeva Raju Policetti on May 23 in his native village in Andhra Pradesh state. They presented him the following day before a Metropolitan Sessions Court judge in the state capital of Hyderabad, 1,500 kilometers south of New Delhi. The magistrate ordered the priest held in judicial custody.
A year ago, Interpol issued a "lookout notice" for the priest of Hyderabad archdiocese. A police source said the Interpol notice reported the charge against the priest as having sex with a 16-year-old American girl. Police say the girl's parents filed a case against him in Illinois on May 6, 2002.
Hyderabad archdiocese had sent Policetti to the United States four years ago. He worked in St. Tarcissus Parish in Chicago. Policetti denied the charge to the Indian police but admitted he and the girl were in love.
Under the law, U.S. authorities must prove the charges against the priest in an Indian court to extradite him.
---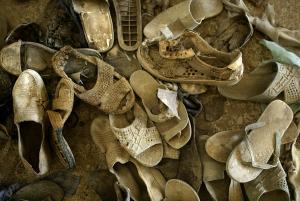 Mass grave unearthed
Shoes found in a mass grave are set out for identification in Al Mesayeb in central Iraq May 22. Relatives are attempting to identify the remains of family members whose bodies were exhumed from several mass graves. Local residents believe the graves contain the remains of hundreds of Shiite Muslims executed by the regime of Saddam Hussein after an uprising in 1991.
-- CNS/Reuters
---
Bishops say use of part-time workers is destabilizing
CANADA: Employment trends such as the growing use of part-time employees and short-term contracts have a destabilizing impact on society, Quebec's bishops said. In their annual May Day message, released by the bishops' Social Affairs Committee, the Quebec bishops said a drop in the province's and country's unemployment rates was due to the creation of more part-time jobs and the proliferation of short-term contracts, a worrying source of job insecurity.
"The number of full-time jobs available continues to fall, and those jobs are often short-term contracts calling for highly specialized skills and are thus accessible to a limited number of people," the bishops said. "Is access to stable and well-paid employment becoming the privilege of a minority?"
The bishops lamented the fact that 60 percent of Quebec's workers are not unionized, and within this category, some 200,000 earn the Canadian minimum wage of $7 (US$5) per hour. Provincial labor laws do not guarantee equal rights to those without a regular full-time job, which can lead to conditions "akin to slavery," the bishops said, observing that often employers avoid providing benefits by taking on free-lance workers.
Israel visa policies hamper religious, peace workers
ISRAEL: While Israel suffers the biggest tourist slump in its history, Christians who still dare to come for prolonged stays and visits, including clergy, volunteers and seminarians, are having greater problems than ever in obtaining legal permission to remain in the country.
The visa policies affect a cross-section of church institutions -- Catholic churches that serve a primarily Arab and Palestinian laity and recruit clerics from across the Arab world, as well as ardently "pro-Israeli" organizations like Bridges for Peace that seek to build bridges between Christians and Jews.
Within the Catholic church, more than 100 priests, nuns, monks and seminarians are currently in legal limbo because the Israeli government has failed to renew or review visa requests, according to a recent report of a Catholic committee. These foreign-born clerics are critical to the operation of dozens of churches, charities, schools, old age homes, and cloistered monasteries or nunneries that have been fixtures in the Holy Land for centuries.
Uncertainties have placed in question the future of the Catholic seminary in Beit Jalla, a West Bank suburb of Bethlehem. Visas of 22 Jordanian seminarians, the majority of Beit Jalla's student population, are to expire between May and September.
---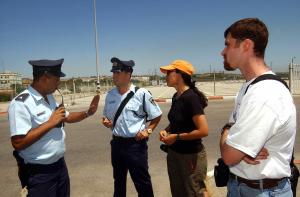 Turned back
Israeli police block World Vision members Liz Satow of New York and Allyn Dhynes of Portland, Ore., from entering Gaza at the Erez checkpoint May 26. Foreign aid workers from 41 nongovernmental organizations protested recent curbs on travel by the Israeli army and called for unrestricted movement in the West Bank and Gaza Strip.
-- CNS/Debbie Hill
---
European bishops promote ecological awareness
EUROPE: "Through projects for preserving the environment, the church can gain credibility and, at the same time, give witness to its belief in creation," said a statement from the Council of European Bishops' Conferences, which met in Wroclaw, Poland. "The solution to global environmental problems can be found only through an ecological conversion," it said.
It added that Catholic universities offer environmental studies and monasteries provide "models of an alternative lifestyle," among a "great variety of church-driven initiatives." The Council of European Bishops' Conferences includes presidents of 34 episcopal conferences, representing around 1,400 European bishops.
In a statement this March, the continent's bishops called for a system of global governance capable of "promoting and sustaining peace and the common good" under United Nations' direction.
The Wroclaw statement said the European Union was failing to identify areas of development that "combine social, economic and ecological goals." European agricultural policy fails "on both economic and ethical grounds," the bishops said. "Its highly subsidized export policy is destroying markets in developing countries and is partly responsible for world hunger."
Pope decries legal hurdles to conversion in India
VATICAN CITY: Pope John Paul II has expressed concern over laws in several Indian states that require prior permission from officials for people to change their religion. The pope brought up the matter while talking to 20 Latin-rite bishops from eastern India at the Vatican May 23, the end of their ad limina visits, which bishops make every five years to report on the status of their dioceses.
The pope lamented that some converts to Christianity in India have been deprived of social assistance and family support, while others have been driven out of their villages. He noted that the church there has been serving the local people for centuries, especially in the fields of education and social services. Against such a history of dedication, the pope said, he finds anti-conversion laws disconcerting.
The pope's comments come after two Indian states in recent months introduced laws banning forcible conversion. The states of Gujarat and Tamil Nadu introduced laws requiring a person performing a ceremony formalizing conversion to obtain prior permission from the district magistrate, the highest civil authority in a district. A person who converts also is supposed to inform the same authority about changing religion. At least three other states have similar laws.
Relief groups study genetically modified food in aid programs
EUROPE: The Lutheran World Federation, the World Council of Churches and the aid organization Action by Churches are forming a team of experts to address food safety, justice and theological issues arising from the use of genetically modified food in countries facing famine and other hunger-related emergencies.
"Often the question is not what type of food we can offer to the hungry, but rather whether we have anything to offer them at all," said the Rev. Enos Moyo, the Lutheran Federation's aid representative in Zambia.
"The use of genetically modified food in food aid programs is extremely problematic," said Rudolf Buntzel-Cano of the Church Development Service, consortium of German Protestant aid agencies, where the issue first arose. Opinion on the safety of genetically modified food varies. Some European countries bar the import of such food while other nations have strict labeling requirements.
Buntzel-Cano also said small-scale farmers, who normally set aside a portion of their harvest for seedlings, would not be able to replant seeds from their harvest without infringing on the patent rights of the five companies that control the market.
He called for all food aid to have a certificate specifying the origin of food used and for the right of countries in need of aid to reject genetically modified food.
Briefs, gathered from news services, correspondents and staff, are compiled and edited by Dennis Coday.
National Catholic Reporter, June 6, 2003