Issue Date: June 6, 2003
ADDENDA
TWO DOZEN BICYCLISTS from 15 states are riding cross-country this summer in a quest to raise awareness about poverty, and another 10 will ride from Connecticut to Washington on a smaller version of the trip. The Catholic Campaign for Human Development, the U.S. bishops' domestic anti-poverty program, is sponsoring the bike tour beginning June 1 in San Francisco. The "Brake the Cycle of Poverty" cyclists will participate in poverty education programs along their route. Details of the cyclists' schedule is available online at: www.brakethecycle.org

PARENTS TELEVISION COUNCIL reports a marked decrease in sexual content on almost every broadcast network during the evening "family hour" between 1998 and 2002. With the exception of WB, every broadcast network decreased its sexual content from 8 to 9 p.m. in recent years. All the networks except WB and UPN also showed a reduction in such content during the hour from 9 to 10 p.m.

THE REV. WILLIAM SINKFORD, president of the nation's most liberal denomination has touched off a theological firestorm by suggesting that the Unitarian Universalist Association needs to reclaim a "vocabulary of reverence" by not being afraid to talk about God. Sinkford, in a series of sermons and articles in the past five months, said the creedless denomination needs to reexamine its beliefs because its principles "contain no hint of the holy." Sinkford's call has worried some atheists and humanists who fear that the tradition may no longer have room for the liberal theology that has been its hallmark for 250 years.
THE REV. JOHNCY ITTY was elected the Episcopal church's first "Generation X" bishop, a sign of hope for young clergy in a church where only 4 percent of priests are under the age of 35. Itty, 40, was elected the new bishop of Oregon, He will lead 21,000 parishioners in 78 congregations in western Oregon. Itty was born in Bhopal, India, and currently serves as the canon residentiary at the Cathedral of the Incarnation in Garden City, N.Y. Itty has also served on the national staff of the Episcopal church headquarters in New York.
MOTHER TERESA and her fight against poverty, hunger and sickness are the unlikely protagonists of a stage production gaining popularity across Italy. "Mother Teresa -- The Musical" combines songs, dance and a plot woven around episodes from the life of the Albanian-born nun, who will be beatified by Pope John Paul II in October. The play depicts Mother Teresa as a scrappy fighter on the side of justice. According to critics, one of the high points of the production comes when young Giada Nobile, who plays Mother Teresa, belts out the solo, "I Will Succeed."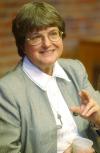 SR. HELEN PREJEAN, the best-selling author of Dead Man Walking, received the 45th Franciscan International Award May 9 in Burnsville, Minn. The award has been presented annually since 1959 by the Conventual Franciscans. Prejean, a Sister of St. Joseph of Medaille who has ministered to death-row inmates, their families and their victims' families since 1981, was honored for practicing, among other things, the "ancient Franciscan tradition of reconciliation."

USCATHOLIC.ORG, the Web site of U.S. Catholic magazine, a publication of the Claretians, won the annual "Best in Class" award from the Associated Church Press, believed to be the oldest religious press association in North America, with almost 200 members. Religion News Service national correspondent Kevin Eckstrom won six awards for coverage of the Catholic sex abuse scandal, a biographical profile of the president of Catholic Charities USA, and other writing.
RABBI RON KRONISH and religious studies professor Elaine C. MacMillan have been named scholars-at-large for the year 2003-04 at the Graymoor Ecumenical and Interreligious Institute, an agency of the Franciscan Friars of the Atonement. Kronish has directed the Interreligious Coordinating Council in Israel, an umbrella group for 70 Jewish, Christian and Muslim institutions, since its founding in 1991. MacMillan, who has been teaching at Salve Regina University in Newport, R.I., recently accepted a position at the University of San Diego, which is sponsored by the Religious of the Sacred Heart and the San Diego diocese. MacMillan said she expects to focus on ecumenical theology and the contribution of women to the ecumenical movement. Kronish said that in his writing and lecturing he will reflect on developments such as the visit of Pope John Paul II to Israel and the effort of the interreligious council to develop ties among Jews, Christians and Muslims in Israel and the Palestinian areas.
~ ~ ~
DEATHS
Fr. Kilian John Healy
Two terms as Carmelite prior general
Fr. Kilian John Healy, who served two six-year terms as Carmelite prior general beginning in 1959, died May 18 in Beverly, Mass. He was 90. He had entered the Carmelite order in 1929.
Dave DeBusschere
Named to Basketball Hall of Fame
Dave DeBusschere, the only player from Detroit's Catholic High School League in the national Basketball Hall of Fame, collapsed May 14 from a heart attack on a Manhattan street and died at NYU Downtown Hospital. He was 62. DeBusschere led Austin Catholic High School in Detroit to a state championship in basketball in 1958. He excelled in basketball and baseball at the University of Detroit, pitched for the Chicago White Sox and played and coached pro basketball for the Detroit Pistons and the New York Knicks. In 1996, he was picked as one of the greatest 50 players of all time in the National Basketball Association.
Holy Ghost Fr. Antoine Adrien
Haitian human rights activist
Holy Ghost Fr. Antoine Adrien, a tireless campaigner for democracy and human rights in Haiti, died May 13 from complications of a stroke. He was 81. Adrien, a staunch supporter of President Jean-Bertrand Aristide, was superior of the Holy Ghost Fathers in 1969 when he and nine other congregation members were exiled by Haitian dictator Francois "Papa Doc" Duvalier, who accused the order of plotting against him. Adrien had been incapacitated for several years after a stroke in 1996.
National Catholic Reporter, June 6, 2003