Issue Date: June 6, 2003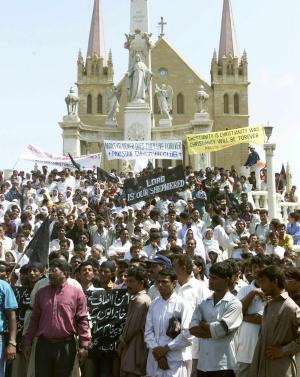 Pakistani Christians gather at St. Patrick Church in Karachi, Pakistan, Sept. 29, 2002, for the funeral of John Monezes, who was killed in the massacre of the staff of the Institute for Peace and Justice.
-- CNS/Reuters
U.S.-Pakistan alliance ignores persecuted Christians' plight
By TIMOTHY L. TOWELL
Imagine for a moment the following scenario: You come to work in the morning thinking it's going to be another ordinary day. Within hours, however, armed gunmen force their way into the office, tie you up in your chair, blindfold you and then proceed to shoot most of your colleagues in the head at point-blank range. Some are spared their lives, but beaten badly.
That's exactly what happened Sept. 25, 2002, in the offices of Idara-e-Amn-o-Insaf (Institute for Peace and Justice), a Christian charity located in Pakistan's port city of Karachi. All the victims were Christians. The attack, according to police reports, was carried out by members of Lashkar-e-Jhangvi, a militant outfit active in sectarian attacks on Christians and Hindus.
This incident is not an isolated case. As a story in the April 8 issue of The Christian Science Monitor points out, since the United States launched military operations in Afghanistan against the Taliban regime, Christians in Pakistan have been routinely singled out for attacks of retribution. In October 2001, 16 worshipers were gunned down as they attended the morning service at St. Dominic's Parish in the city of Bahawalpur, in Pakistan's Multan district.
On March 17, 2002, a grenade attack that killed five people took place at a Protestant church in a heavily guarded diplomatic quarter of Islamabad. In August last year, religious militants hurled grenades at worshippers leaving a church in Taxila, near Islamabad. Four nurses were killed and many people were wounded. Even schools haven't been spared: Just four days before the Taxila attack, militants had attacked a Christian school killing six people. The list goes on.
While Christians, who constitute some 2.5 percent of Pakistan's total population, had previously been persecuted at the personal or family level, the latest attacks have taken place on a public level, at schools, churches and the workplace. With the war in Iraq and the toppling of Saddam Hussein, a figure much revered in Pakistan, the situation has become even graver. Local officials and the police have turned a blind eye to the growing crisis and in some cases refused to take any action at all. It has been alleged that Pakistan's powerful secret service, the Inter Services Intelligence, and al-Qaeda operatives are actively involved in these attacks. It is not surprising that most of the culprits for these attacks are still at large. Perhaps most alarming, several militant groups such as the Harakat ul-Mujahedeen Al-Almi and Lashkar-e-Toiba have now begun cooperating with each other in coordinating and carrying out these attacks.
According to the State Department's 2002 International Religious Freedom Report, the Pakistani government has routinely failed to protect the right of its religious minorities. Its unwillingness to take action against social forces hostile to those who practice a different faith have made matters worse. Specific government policies, such as the Hudood Ordinances, which apply different standards of evidence to Muslims and non-Muslims and to men and women for alleged violations of Islamic law, are misused by local officials to persecute Christians and seize their property, in most cases on fabricated charges. The dreaded blasphemy law, which prescribes the death penalty to non-Muslims for insulting the Quran, the holy prophet or Islam, is also often misused to target the Christian population.
Pakistan's Gen. Pervez Musharraf has often pledged his government's commitment to protect the right of the nation's Christian citizens, but apart from occasional lip service to such actions, he has done almost nothing. Christians constitute the poorest section of the society. Due to widespread religious prejudice, there are very few openings for them in the mainstream public and private sector of the Pakistani economy. Most live in poor neighborhoods and work in charity-run mission hospitals and schools, which provide the only means for social interaction.
The reaction from Washington to the spate of violence has been muted. The Bush administration is anxious to keep President Musharraf firmly aligned with the United States. But that alliance is extracting a heavy toll from innocent civilians who are victimized because of their faith. For a start, the United States must demand from Pakistan that it repeal all discriminatory laws against religious minorities, ratify human rights treaties such as the International Covenant on Civil and Political Rights and provide independent observers full access so that they can make full and impartial assessments of these terrorist acts.
Until Musharraf can prove that he is serious about stopping these atrocious attacks on Christians and other religious minorities, the United States should continue to treat with skepticism his demands for new aid, especially military aid. Pakistan's leadership should be held strictly accountable for the acts of violence it unofficially sanctions. We cannot claim victory in the war on terrorism if the price for that triumph is the terrorization of innocent civilians and children.
Now retired, Timothy L. Towell was U.S. ambassador to Paraguay.
National Catholic Reporter, June 6, 2003