Issue Date: June 20, 2003
18 months of turmoil follow release of documents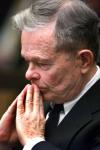 John Geoghan
-- Photos by CNS
In January 2002, Suffolk County Superior Court Judge Constance Sweeney ordered the release of scores of documents related to John Geoghan, a one-time Boston archdiocesan priest accused of molesting dozens of boys during 30-plus years in the clergy. Thus began a series of events that would shake the American church to its foundation and topple its most powerful cardinal.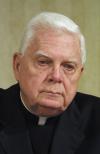 Cardinal Bernard Law
Despite clear indications over more than three decades that Geoghan abused and raped children in the parishes where he was placed, the documents revealed that Cardinal Bernard Law and his predecessors had assigned the "predator priest" to parishes where he would have access to minors. Reports from The Boston Globe would show that the handling of Geoghan was not an aberration, but part of a pattern of management that downplayed clerical crimes while ignoring or silencing (through settlements that contained confidentiality agreements) the pleas of victims and their families. In late January, the paper reported that the archdiocese had previously reached confidential settlements related to abuse charges against 70 or more priests in the archdiocese.

Fr. Paul Shanley
By April, the crisis reached a fever pitch, with the revelations that the archdiocese had coddled Fr. Paul Shanley despite numerous accusations of abuse. Law had appointed Shanley pastor of St. John the Evangelist parish in 1985.
Law traveled to Rome in April 2002. There his offer of resignation was reportedly rejected by Pope John Paul II.
As calls for Law's resignation grew stronger, the U.S. bishops met in Dallas and approved a "zero tolerance" policy designed to ensure that abusive priests anywhere in the United States would no longer serve in "active ministry." Not quite a year into the crisis, on Dec. 13, 2002, Law's resignation was accepted by the pope.
The archdiocese is currently in talks with victims' representatives, working to resolve more than 500 claims of clergy sex abuse.
-- Joe Feuerherd
National Catholic Reporter, June 20, 2003