Issue Date: June 20, 2003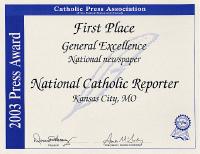 NCR takes top Catholic press award for fourth year, wins 19 total
NCR publisher's book also honored
By PAT MORRISON
Atlanta/Kansas City, Mo.
There was big-time celebration in NCR's newsroom the first week of June. For the fourth consecutive year, National Catholic Reporter won the Catholic Press Association's top award, general excellence, in CPA judging for national newspapers. The newsweekly also garnered a total of 19 awards in the 35 newspaper categories for which it was eligible -- the highest number of awards given to any one publication this year.
The awards, which are given across circulation categories as well as divided by diocesan and national newspapers, were for material published in 2002. They were presented May 30 at the close of the CPA convention in Atlanta.
In awarding the newsweekly general excellence, judges wrote, "NCR provides top-notch reporting, comprehensive treatment of issues, the best blend of in-depth articles on the sacred and the secular. This is a paper that is willing to take risks to give its readers the sharpest analysis of issues facing our faith and the world around us." They also praised the paper's "excellent graphics, creative headlines, cutlines and body copy" that make NCR "attractive and clean."
Later, in the award category for best editorial page/section, judges described NCR as "essential reading for all U.S. Catholics, whether you agree or not," adding that the newsweekly "consistently delivers insightful columns and editorials."
In addition to general excellence, NCR staff, writers and designers took another four first-place awards for
best front page for a four-color tabloid;
best regular column on culture, the arts and leisure, to Jesuit Fr. Raymond Schroth for his television column;
best personality profile, to John L. Allen Jr. for his portrait of L'Arche founder Jean Vanier.
In awarding NCR best front page, the judges wrote, "First place from first glance!" They noted that full-page photos draw readers into the paper and that "color and photo quality are excellent." NCR's front page, as well as inside pages, are regularly designed by layout editor/art director Toni-Ann Ortiz and layout assistant Matt Stoulil.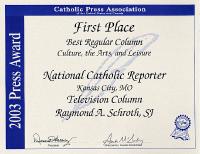 Jesuit Fr. Ray Schroth's column was "the overwhelming choice here," judges wrote in their critique. "Fr. Schroth is the most erudite and insightful writer on the American media in the Catholic press, and he's a graceful writer too."
In the best personality profile award, given to John Allen for his work on Vanier, judges noted, "what comes through is the unsentimental holiness of this apostle to the severely disabled. It creates awe for the subject and inspires the reader."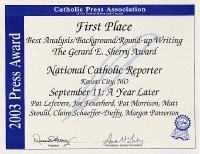 The paper also took first place in the coveted Gerard E. Sherry Award, given for best analysis, background and round-up reporting. That award was jointly presented to staff writers and contributors for the NCR's coverage of the 9/11 anniversary, titled "September 11: A Year Later." NCR recipients of the award were Joe Feuerherd, Margot Patterson, Pat Morrison and Matt Stoulil, and contributors Claire Schaeffer-Duffy and Patricia Lefevere.
Judges for the Gerard E. Sherry Award praised NCR's "good selection of articles giving an overview of the effects of 9/11 on the Catholic community, as well as other religious communities, including Muslims." They noted that the reporters "used a lot of sources and also looked at the issue from many different perspectives. It truly took a look at the impact a year later, including how federal laws had changed in the past 12 months, the impact on civil rights and even popular culture. Comprehensive!"
Six second-place awards were presented for the categories of best editorial on a national or international issue, for "Racism still divides the Catholic family"; best feature writing for Mary Barron's story on the star of Bethlehem, titled "Star of Wonder"; best regular column on the spiritual life, to Fr. James Behrens; best personality profile for Patrick O'Neill's portrait of Stanley Hauerwas, "Theologian's feisty faith challenges status quo"; and best reporting on children, for Sharon Abercrombie's "Catholic schools restore God's garden," a feature on inner-city children that was published in NCR's education issue.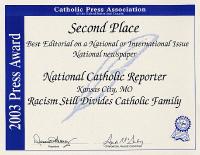 Judges said the editorial on racism offered a "good airing of an important social problem and a problem in the church. It takes on an unpopular issue and offers a new perspective." Mary Barron's feature on the Christmas star had "great phrasing" and a "no-frills approach" and "explanatory technique" that the judges appreciated.
The paper was also awarded second place in the category of best one-shot special section for "Paths to Peace," designed as a resource on peacemaking for schools and parishes. The award was given to the contributing writers: Tom Roberts, Claire Schaeffer-Duffy, Emma Reinhardt, Michel True, Colman McCarthy, Kathleen McGinnis and Patrice Gaines. Judges praised "Paths to Peace" as "a timely topic very well presented. Thoughtful mixture of historical perspectives, resources and various peace and war related issues. Striking cover photo and overall fine design." NCR's Ortiz and news editor Teresa Malcolm designed this section.
In two of the above categories, best column and best personality profile, NCR took two of the three awards in the category, having already won first place.
Four third-place awards went to NCR for best editorial page/section; best reporting on young adults for Renee LaReau's feature on Theology on Tap, titled "God and beer in the summertime; and best feature writing, for Claire Schaeffer-Duffy's "One in Sorrow," an interview with families of 9/11 victims.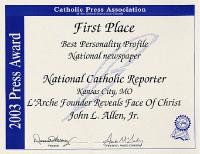 NCR also received a third-place award for best news writing on an international event. This award was given for three pieces of separate reporting on the Middle East conflict. Writers honored were Margot Patterson, Pat Morrison and Claire Schaeffer-Duffy. In their critique, judges said the package took an effective approach to an old story and "sheds new light on the festering politics and conflicting ideologies that make peace [in Israel/Palestine] so difficult. It was very well organized and written, and the Bethlehem story, in particular, was excellent."
Four honorable mention awards were also presented to NCR for best investigative news writing, for Margot Patterson's reporting, titled "Will fundamentalist Christians and Jews ignite Apocalpyse?"; best news writing on an international event, for Gary MacEoin's story "Cuba: Cold War Pawn"; for best headline, "Bishops forcefully deliver ambiguous message," on the U.S. bishops' statements and decisions on the sex abuse crisis; and in the category best analysis, background, and round-up writing Tom Fox's "What the bishops knew in 1985" also won.
In two of these categories -- best writing on an international event and the Sherry award -- NCR won other awards.
NCR also had more cause for celebration. A new book by NCR publisher Tom Fox, Pentecost in Asia, received an honorable mention in the book award categories. Fox's book, published by Orbis Books, N.Y., was honored in the category of best popular presentation of the Catholic faith.
The Catholic Press Association, which serves members throughout the United States and Canada, represents 626 publications among newspapers, magazines, newsletters and foreign-language publications. Their combined circulation is close to 27 million. There are 215 member newspapers, which include national and diocesan publications, with a combined circulation of 6,673,207. Winners among the newspapers alone were selected from more than 2,000 entries.
Pat Morrison, NCR managing editor, accepted the paper's awards at the CPA convention in Atlanta. Her e-mail address is pmorrison@natcath.org
National Catholic Reporter, June 20, 2003