Issue Date: June 20, 2003
Public battle of conscience
Catholic agencies face challenges to ethical directives
By ARTHUR JONES
In response to growing opposition to Catholic institutions receiving federal and state funds for health and social services, Catholic agencies are increasingly turning to each other to collaborate more closely in service delivery, in state and federal lobbying and to confront the naysayers.
Pitted against Catholic providers across an array of issues are Catholics for a Free Choice, Planned Parenthood, the National Women's Law Center, Merger Watch, the National Abortion and Reproductive Rights Action League, NARAL, and assorted states' attorneys general.
The issues are twofold.
At one level opponents target the consequences of the U.S. bishops' ethical directives, which prohibit Catholic hospitals from providing, for example, contraceptive services and sterilization procedures such as tubal ligations. This becomes a highly sensitive local issue when a Catholic health system takes over a local community hospital. (The issue will be explored in depth next issue in a story by Suzanne Batchelor.)
A second focal point of the opposition is the "conscience clause." This clause, inserted into much federal and state legislation, exempts Catholic institutions from supplying contraceptive and sterilization services to patients and clients, and in their own employees' benefits coverage.
Appraising this opposition was an underlying theme at last year's joint Catholic Health Association/Catholic Charities USA meeting in Chicago.
One of the main considerations was closer coordination at the top among CHA, Catholic Charities and the U.S. Conference of Catholic Bishops.

Fr. J. Bryan Hehir
The theme found its way into the talks given in Chicago by both CHA's president, Fr. Michael Place, a priest of the Chicago archdiocese, and Catholic Charities' president, Fr. J. Bryan Hehir, a priest of the Boston archdiocese.

Bishop Joseph Sullivan
-- Photos by CNS
Also tackling the "opposition" issue in Chicago were California Catholic Charities executive director Rick Mockler, Catholic Health Association's Freedom to Serve project leader, Fr. Sammie L. Maletta, and CHA's episcopal liaison, Brooklyn Bishop Joseph Sullivan.
Said Place, "I think what we're seeing is a game plan, written some time in the last seven to 10 years, being unwound in the public forum. The anti-Catholicism -- the fear of or resistance to Catholic health care and Catholic social services -- is really about the role of the church as a public actor and the role of the church as a provider of social goods.

Fr. Michael D. Place
"We're challenged every time Medicare comes up for reappropriation," said Place. Legislation is pushed in Congress that has as its "goal the eradication of space for us to operate."
Place said, "We are simultaneously dealing with the Congress and state legislatures. State attorneys general are the new power. We have sales of hospitals [that] attorneys general are trying to undo. And we're dealing with the [National] Women's Law Center filing lawsuits all over the country."
The fourth front Catholic agencies are fighting on, he said, is public opinion. Those opposing Catholic agencies, he said, "are fighting on these other three fronts [national, state, local] to force us to withdraw from the public square."
Overall, health care delivery in the United States is at risk, said Place.
Other than the for-profit and U.S. government systems, he said, "the rest is in a very fragile condition." Catholic health care, "with the rest of U.S. health care delivery, is challenged by inadequate Medicare and Medicaid reimbursement, by the complexity of and expanding costs related to managed care, by the expanding costs and expenses of technology, and by the expanding costs and expenses related to labor," he said.
"What [Catholic health systems] have in that context, that the rest of health care doesn't," he said, "is a coherent moral vision. And a sense of motivation and inspiration that the mission comes not just from dedication to humanity and good will, but from seeing it as a work of Jesus."
He told NCR, "I meet with people all over the country, Catholics and others. I find a recognition of diversity of opinion. I think the common sense of the American public cannot be evaluated based on the liberal elite that tends to dominate the East Coast press.
"So if I stand on Wall Street and read The New York Times, or watch the morning talk shows from inside the Beltway," he said, "I'd probably be quite discouraged. I find life [beyond the East Coast] much more complex."
Brooklyn's Sullivan is the U.S. bishops' first liaison to the Catholic Health Association. Before this new position was created two years ago, he was for 19 years the bishops' liaison to Catholic Charities USA. Sullivan, concerned too that the clerical sexual abuse crisis has tarnished the Catholic image as a public entity, said the "conscience clause battle -- that'll be a tough fight. To me," he said, "it's a First Amendment question," by which he means that attempts to eliminate the conscience clause trespass on separation of church and state protections.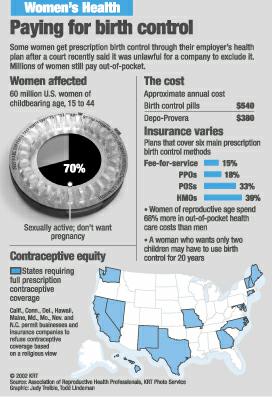 Mockler, California Catholic Charities executive director, said his group is in the forefront of the "conscience clause" protection fray because California law mandates that any employer providing a pharmacy benefit must include prescription birth control coverage.
There is a religious ex-emption, said Mockler, but it is "so narrowly defined it covers only parishes and parish schools." Catholic Charities has lost appeals at the California state superior and appellate court levels. If it loses in the state supreme court, he said, the case will go to the U.S. Supreme Court.
"This is not about religious organizations that receive state funds," he said. "It is about who is Catholic and what does it mean. Less about contraception than abortion."
Mockler said California Catholic organizations might have to drop employee pharmacy coverage. Further, Catholic Charities, he said, because of extensive negative media coverage regarding the "conscience clause," is dealing with a public relations problem. "There is no downside right now to attacking the church. Even our staff members have a mixed reaction. They they don't understand this is part of a larger picture."
Maletta leads CHA's Freedom to Serve project, the Catholic health ministry's response to "a well-organized challenge" to Catholic health delivery systems' "right to serve in a manner consistent with our religious beliefs and ethical commitment." The strategy is to "promote the value of Catholic health care, preempt narrow attacks and protect our freedom to serve as faith-based organizations."
Maletta said Catholics for a Free Choice "is now part of a highly vocal, broad-based, tightly knit, well-funded coalition that effectively opposes Catholic health care."
He said Catholics for a Free Choice has become the "alternative Catholic voice and media expert."
"And facts do not matter. The media reports it all as if it is true, even when it is not; and public opinion could be shifted away from supporting Catholic health care." He gave as an example a "60 Minutes" program segment that attacked Catholic hospitals. "In a focus group we found of those who had not seen the segment, 66 percent thought highly of Catholic health care. Of those who viewed the segment, it dropped to 58 percent -- in just 12 minutes."
Summarizing, Catholic Charities' Hehir told NCR, "There are people taking shots in various places at Catholic health care systems and, to some degree, Catholic social systems generally.
"If you go back to the bishops' conference of the 1970s," he said, "one thing different today is the way in which the social justice agenda and the bioethics agenda crisscrossed. They were fairly independent worlds at that time."
It is the emergence on the bioethical side "of highly complicated issues on which Catholicism has very definite positions -- but is also delivering health care in a consolidating health care system -- that then raises opposition from some groups," he said.
"From my perspective," Hehir said, "the church in the United States has to be confident of its role as a player in American society with every right to use the constitutional and other resources to give us freedom to carry out the gospel."
Arthur Jones is NCR editor at large. His e-mail address is arthurjones@attbi.com
Related Web sites
Catholic Charities USA
www.catholiccharitiesusa.org
Catholics for a Free Choice
www.cath4choice.org
The Catholic Health Association
www.chausa.org
National Catholic Reporter, June 20, 2003