Issue Date: June 20, 2003
Edited by Dennis Coday
WORLD
No military solution in Liberia
WASHINGTON -- The U.S. bishops' Committee on International Policy has endorsed calls from the Catholic church and the Interreligious Council of Liberia for "an immediate and unconditional cease-fire, and for negotiations leading to the creation of a government of national unity," committee chairman Bishop John H. Ricard of Pensacola-Tallahassee, Fla., said.
As two rebel groups battle with forces loyal to President Charles Taylor, the peace and stability of Liberia's neighbors -- Ivory Coast, Guinea and Sierra Leone -- are threatened, Ricard said. Since 1999, thousands of Liberian civilians have been killed. Another million have been forced from their homes within the country and a half-million have sought refuge in neighboring countries.
"Government and rebel forces have been accused of committing egregious human rights abuses, including the sexual abuse of women and young girls and the conscription of minors for military service, massive looting, ethnic massacres and other atrocities," Ricard said in a May 29 statement.
He urged the international community to prepare for deployment of an international military stabilization force, which would be necessary to guarantee security for the people of Liberia. He also asked all parties in the conflict "to provide safe corridors to allow for urgently needed emergency relief assistance for Liberians, refugees from neighboring countries and third country nationals."
Philippine bishop, facing sex harassment charge, goes to U.S.
QUEZON CITY, Philippines -- Bishop Teodoro Bacani, 63, said he was going to the United States for up to two months "to allow the ecclesiastical and civil authorities to look into the claims" of sexual harassment filed by his former secretary.
Bacani was an auxiliary of Manila for 18 years before his installation Jan. 16 as the first bishop of Novaliches, which was carved out of the northern part of the Manila archdiocese.
National newspapers June 7 reported allegations that the bishop embraced and tried to kiss his secretary while the two were alone in his office in March. In a June 7 letter, Bacani said he was "deeply sorry for the consequences of any expression of affection to my secretary on the 26th of March 2003."
The bishop said he has put himself in the hands of the church, "ready to leave the diocese if necessary."
"I also ask the pardon of Mother Church, and of all of you and my secretary who felt hurt," Bacani said.
Gabriela, a nongovernmental organization specializing in women's issues, demanded in a June 8 news release that the Philippines bishops' conference conduct a fair and open investigation and that Bacani remain in the country and face investigators.
Bishop hails Tiananmen martyrs
HONG KONG -- Addressing a Catholic prayer meeting for democracy in China June 4, Bishop Joseph Zen Ze-kiun of Hong Kong used the word "martyrs" to describe the hundreds of pro-democracy people who suffered in Beijing's Tiananmen Square June 4, 1989. He urged that the unfinished task of bringing freedom and human rights to China be continued.
"Let us raise our heads to see the Tiananmen Square martyrs seated beside our Father, the 120 canonized Chinese martyrs and innumerable heroes who died for their faith and ideals," he told the 300 meeting participants, mostly Catholics.
Tens of thousands of Hong Kong residents have gathered every June 4 at Victoria Park to remember the victims and to call for democratic reforms in China. This year 50,000 people turned out for the commemoration, although this year's date fell on a traditional Chinese holiday. The event took place despite lingering fear of SARS, severe acute respiratory syndrome.
The rally had a new protest focus -- pending national security laws, which the Hong Kong's Legislative Council is expected to pass on its third reading July 9. The laws would prohibit foreign political organizations from conducting political activities in Hong Kong and would forbid political groups from establishing ties with such groups in other countries. Religious leaders fear the new law would hinder church activities.
Brazil's reform president promises economic justice
SÃO PAULO, Brazil -- Brazilian President Luiz Inacio Lula da Silva wrote Pope John Paul II to say that he will introduce a new "social contract" in his country. "I want a more socially just country, integrated in the international community and able to generate jobs and economic activity," da Silva said.
In the letter, da Silva promised to change the country's path to obtain economic growth. He told the pope that he has been fighting to guarantee equality and justice for all Brazilians through the new Economic and Social Development Council, created so that all sectors of society would be heard by the administration.
The letter was delivered to the Vatican June 3 by a top Brazilian cabinet official.
The Brazilian bishops' conference has criticized da Silva for caving in to pressure from the financial community. The president raised the country's already-high interest rates and is promoting a fiscal-reform package that would trim pension benefits and increase taxes.
While the bishops have been critical, administration officials have said that the church's relationship with the president is not strained. Da Silva told the pope that the participation and criticism of the church is essential to his government.
Aussies say 'G'day Baby Jesus'
LONDON -- Most Bibles present the baby Jesus as a "babe wrapped in swaddling clothes." In a new Bible from Down Under, the babe of Bethlehem is "a nipper wrapped up in a bunny rug, and lying in a food trough."
The Aussie Bible (Well, bits of it anyway!), a new 90-page volume to be published in August by the Australian Bible Society, also presents the Three Wise Men as "three eggheads from out east." "We saw his star out east, and we've come to say 'G'day Your Majesty,' " according to the new translation. The initial print run is 30,000.
The Good Samaritan becomes "a grubby old street sweeper you wouldn't look twice at" who uses his first aid kit to patch up the bloke left as good as dead by a bunch of bushrangers who had attacked him and stolen his dough. He puts him on his old nag and takes him "to the nearest pub."
A year ago the Australian Bible Society launched the Surfers Bible. It has sold more than 35,000 copies.
---
Shared pilgrimage
Melkite Archbishop Emile Shoufani visits students at St. Joseph Seminary and High School in Nazareth, Israel, June 3. The students' teacher, Rula Jarroush, accompanied the archbishop on a trip to the Nazi death camp at Auschwitz, Poland. Shoufani organized a joint Israeli-Arab pilgrimage to experience the Holocaust through the eyes of the Jews.
-- CNS/Debbie Hill
Congo at war
Missionary of Africa Fr. Joe Deneckere looks down the street as U.N. peacekeeping forces patrol in Bunia, Congo, in early June. The priest has been shot at, intimidated and forced to flee his parish since war first broke out in eastern Congo. Two priests were among the hundreds killed during a battle for the city in May.
-- CNS Declan Walsh
---
Hindu group criticizes pope for 'challenging pluralism'
NEW DELHI -- Rashtriya Swayamsevak Sangh (RSS), a right-wing Hindu group that is closely tied to the ruling Bharatiya Janata Party, has accused Pope John Paul II of challenging the country's pluralism with his remarks against anti-conversion laws in the country (NCR World Briefs, June 6) and has asked the government to register a protest with the Holy See.
A spokesman for the group, Ram Madhav, told a news conference June 6 the pope's statement was "misplaced" and amounted to "a total disregard for India's cultural plurality."
Madhav justified the laws against conversion as necessary, alleging that Christian missioners have been "aggressively wooing the poor with allurements." He said Christian missionaries cause "tensions" and pose "a serious threat to peace and harmony" in India.
Vishwa Hindu Parishad, the World Hindu Council, considered the religious wing of the RSS, also criticized the pope.
Under the Indian Constitution, the country is secular and treats all religions equally. The RSS leads the movement to make India a Hindu nation. Opposition parties and others accuse the Vishwa Hindu Parishad of carrying out attacks on Christians and Muslims.
Pope warns against imposing family planning in Asia
VATICAN CITY -- Speaking June 3 to a group of bishops from central and western India, Pope John Paul II decried attempts to impose "morally unacceptable" types of family planning and reproductive health measures on Asian countries. He also warned that India "finds itself caught in the movement toward a culture of death," particularly citing the "menacing threats" directed at unborn children, especially girls.
He encouraged the bishops, in Rome for their ad limina visits, to fearlessly preach the church's teaching on sexual morality and the inviolable right to life of every innocent human being and defy justifications for immoral sexual activity "under the guise of freedom, which in turn has resulted in a commonplace acceptance of the contraceptive mentality."
"The consequences of such irresponsible activity not only threaten the institution of the family but also contribute to the spread of HIV/AIDS, which is reaching epidemic proportions in parts of your country," he said.
Religious advocates criticize G-8 nations on AIDS, trade
GENEVA -- Religious advocates for poor nations have sharply criticized the summit of leaders from the G-8 -- the world's industrialized nations -- saying the leaders failed to respond to the needs of poor nations. The G-8 is "an illegitimate group because they were not elected by anybody to rule the world," Rogate Mshana, an official of the World Council of Churches, told a news conference in Geneva.
The G-8 -- Britain, Canada, France, Germany, Italy, Japan, Russia and the United States -- met June 1-3 in Evian, France, to discuss the world economy, security issues, democracy and the global fight against HIV/AIDS.
The activists also accused the G-8 leaders of claiming to address the AIDS crisis in Africa by backing trade agreements that looked after the rights of pharmaceutical companies before the needs of public health.
Separately, the Roman Catholic bishops of England and Wales and of Scotland issued a joint statement saying that without just trade agreements, Third World countries could not emerge from poverty. The bishops said that trade is not an end in itself. "It is evaluated by its relationship to a more comprehensive human good," they said.
USA
Americans polled on fetal rights
NEW YORK -- A poll conducted for the June 9 cover story in Newsweek, "Should a Fetus Have Rights?" found that nearly half of Americans believe human life starts at fertilization; 11 percent said it does not begin until birth.
More than half of the respondents (56 percent) said that prosecutors should be able to bring separate murder charges in all cases against someone who kills a fetus still in the womb; 28 percent said it should be done only in cases where the fetus is able to survive outside the womb. Only 9 percent said a second murder charge should never be brought in such cases; 7 percent said they did not know.
The survey also asked about the "extra" human embryos created by in vitro fertilization clinics and not used by patients. Twenty-seven percent said they were a potential source of human organs, 33 percent said they were children to be adopted, 22 percent said they were neither, and 18 percent did not know. The Catholic response was similar -- 27 percent, 35 percent, 23 percent and 15 percent respectively.
Of those respondents describing themselves as Catholic, 49 percent characterized themselves as "pro-life," 47 percent said they were "pro-choice" and 4 percent said they didn't know. Those figures were roughly equal to the national responses -- 47 percent "pro-choice," 48 percent "pro-life" and 5 percent didn't know.
Philly archdiocese issues decrees from fall synod
PHILADELPHIA -- Coordinators for adult faith formation in every parish, a lay-led evangelization effort that incorporates home visits, and a program to educate Catholics on today's moral and ethical issues are among 83 decrees issued by Philadelphia Cardinal Anthony J. Bevilacqua as a follow-up to last fall's archdiocesan synod.
Other decrees include potentially allowing the archdiocese's permanent deacons to officiate at marriages and the possibility of converting unused archdiocesan facilities into affordable housing for the elderly.
The cardinal, who was to turn 80 on June 17, also called for new and creative ways to foster vocations to the priesthood and diaconate and for suitable recommendations to emphasize the spiritual growth and physical health of the clergy.
"Our synod served as a concrete model of what happens when individual agendas and personal prejudices are replaced by an attitude of common faith and belief, united in the purpose of increasing the presence of Christ in our families, parishes, archdiocese and, indeed, everywhere," the cardinal said in a pastoral reflection.
The decrees go into effect June 29. The synod was the 10th in the history of the archdiocese, but the first since 1934. Approximately half of its 250 members were laity.
---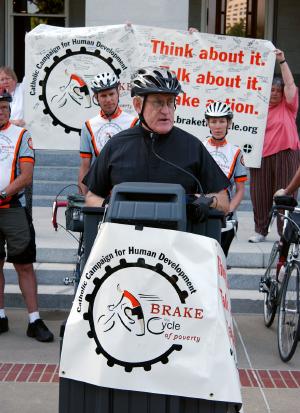 'Braking' cycles
Bishop William K. Weigand speaks about poverty in the United States during the first stop of the Brake the Cycle of Poverty tour in Sacramento, Calif., June 3. The tour, which will run until Aug. 1, is sponsored by the Catholic Campaign for Human Development.
-- CNS/Ken Touchton
---
Gallup finds Americans split on abortion, death penalty
WASHINGTON -- Nearly half of all Americans hold seemingly contradictory positions on the value of human life when asked about their support for capital punishment and abortion, according to a new Gallup survey.
Forty-seven percent of respondents said they support the taking of life in either abortion or the death penalty, but not in the other. Sixteen percent support the "ending of life in the womb" through abortion but oppose the death penalty while 31 percent oppose abortion but support the death penalty.
"Public opinion on abortion and the death penalty appears to be about much more than simply life and death," the Gallup Poll reported.
Half of all Americans hold positions that embody a "consistent" life ethic, pollsters found. Twenty-two percent support both abortion and the death penalty, while 28 percent oppose abortion and the death penalty.
Priests for Life joins Christian voter registration drive
WASHINGTON -- Priests for Life has joined the Christian Coalition of America and the National Pro-Life Religious Council in designating four Sundays over the next seven months as national Christian voter registration Sundays. June 15 was the first designated Sunday. Future dates are Sept. 7 and Nov. 9 in 2003 and Jan. 18, 2004.
"We want to encourage pastors to preach to their congregations the responsibility every citizen has to register and vote," said Fr. Frank Pavone, founding director of Priests for Life. "In the American system of government, followers of Christ have just as much right to shape public policy according to their beliefs as does anyone else," he added.
As long as voter registration drives are nonpartisan, they are not considered a violation of the Internal Revenue Service guidelines under which churches and other tax-exempt organizations fall.
Newly elected gay Episcopal bishop may lose post
WASHINGTON -- A battle royal is brewing in the Episcopal church as conservatives vow to overturn the election of the church's first openly gay bishop. The Rev. V. Gene Robinson was elected June 7 in New Hampshire as the first openly gay bishop in the 2.3 million-member Episcopal church. Robinson's election needs to be certified by delegates and bishops at next month's General Convention legislative meeting in Minneapolis.
Observers say Robinson could easily win approval from lay and clergy delegates, but may have a tougher time from bishops, who tend to be more cautious. Some are worried that rejecting a bishop's election could set a dangerous precedent for the badly divided church. Only one other Episcopal bishop's election has been rejected; that was in 1875.
"We definitely will be fighting this hard when it gets to convention," said Bruce Mason, a spokesman for the conservative American Anglican Council. "The bishops in particular are outraged ... at what this means."
"If Gene Robinson's election is confirmed by General Convention, it would bring through the back door a practice that the Episcopal church has never agreed to bring through the front door," Bishops Edward Salmon Jr. and William Skilton of South Carolina said in a statement.
Presbyterians hope task force can heal divisions
DENVER -- As the Presbyterian Church (USA) wrapped up its annual General Assembly meeting May 31, the 548 delegates put their hopes in a blue-ribbon panel that is charged with bridging the church's deep divisions. One of the most controversial issues facing the 2.5 million-member church is whether to allow actively gay clergy.
The Task Force on the Peace, Unity and Purity of the Church was appointed in 2001 and will make its final report to the denomination in 2006. The panel, with representatives from the left, right and center, has met five times. Delegates were reluctant to make any major decisions until the task force completes its work, concerned that veering one way or the other could complicate the delicate mandate of the committee members.
For most of the last decade, the church has been battered by back-and-forth votes on its most divisive issue, homosexuality. Indeed, the assembly's theme colors of blue and purple seemed appropriate for the bruises and scuffles of the past few years.
Church leaders say there must be a "third way" that does not leave winners and losers. Both sides agree that trying to legislate the problem has only made it worse, and neither side wants to continue lengthy court battles to force compliance with the rules.
Ministry project wins Lilly grant
ST. PAUL, Minn. -- A new lay ministry program at the Benedictine Center in Maplewood, Minn., has been awarded a $644,935 grant from the Lilly Endowment in Indianapolis to sustain pastoral excellence and nurture good church leadership by getting people to think about what sustains them in ministry.
The funded program, "Illuminare: Called for Service, Formed in Christ: The Lay Ecclesial Ministry Project," has a twofold focus: to support existing lay ecclesial ministers and to contribute to the church's understanding of lay ecclesial ministry through research and study, according to Jackie Witter, director of the project.
Lay ministers, Witter said, "get so caught up in the business of ministry that they don't pay attention to their own spiritual lives." Many do not take time for sabbaticals, because they cannot afford the time off from family or give up a paycheck, she said.
The Lilly grant will support the program over five years, as 12 groups of 12 ministers at a time take part in what is a two-year process. The first group was scheduled to meet in June.
U.S. Muslims decry 'Islamic fundamentalists outside Islam'
OVERLAND PARK, Kan. -- American Muslims say they are witnessing something new: "Islamic fundamentalists outside Islam." That was the description Ingrid Mattson, vice president of the Islamic Society of North America, gave to the recent phenomenon of non-Muslims "experts" interpreting to the American public what the Quran "really means."
Such persons, she said, are often uninformed or even biased against Islam. Their taking to the airways and print to announce that "the Quran says such and such" (Islam is violent, urges "holy war," encourages killing, and so on) spreads false information and strengthens stereotypes. "It's a little bit presumptuous for [them] to interpret our scriptures and what the Quran really means," she said.
Mattson spoke in late May at a Midwest conference of American Muslims her society sponsored.
At the event, Jamal Badawi, founder of the Canada-based Islamic Information Foundation, talked about minefields associated with the interpretation of a sacred text by non-experts of any religion. Erroneous translations, linguistic limitations and interpretations of texts out of context are all challenges Islam shares with other world religions that have centuries-old scriptural texts to offer a contemporary audience. But the unfortunate association of Islam and worldwide terrorism has made it more urgent for Muslims to understand and explain their faith, he said.
Two-thirds of immigrants to U.S. are Christian
WASHINGTON -- Nearly two-thirds of new immigrants to the United States are Christian, fueled mostly by Catholics coming from Latin America, according to research funded by the National Institutes of Health, the Immigration and Naturalization Service and the National Science Foundation.
Forty-two percent of immigrants are Catholic, 19 percent are Protestant and 4 percent are Eastern Orthodox, according to a study of almost 1,000 adult immigrants in 1996. Eight percent are Muslim, 4 percent are Buddhist, 3 percent are Jewish, 3 percent are Hindu, and 1 percent claim other religions.
While the percentage of immigrants who are Christian is lower than in the general U.S. population (82 percent), the percentage of immigrants who are Catholic is nearly twice the national percentage of Catholics. The 16 percent of immigrants from non-Judeo-Christian faiths is four times higher than the national average of about 4 percent.
Fifteen percent of immigrants claimed no religion. Countries with the highest percentage of nonbelieving emigrants to the U.S. were China (64 percent), Taiwan (41 percent) and the former Soviet Union (37 percent). The United Kingdom, Vietnam, Canada and El Salvador also had high numbers of nonbelieving emigrants to the United States.
Compiled From News Services, Correspondents And Staff
National Catholic Reporter, June 20, 2003