Issue Date: June 20, 2003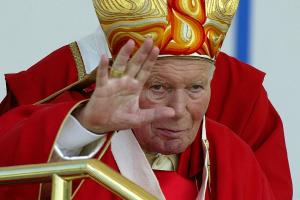 Pope John Paul II waves to Croatians gathered in Rijeka.
-- CNS/Reuters
Pope defies age and heat during 5-day trip
Despite 83 years of age and blisteringly hot summer weather, Pope John Paul II appeared to handle the rigors of his five-day, five-city Croatian trip with relatively few physical problems.
In Croatia, which gets the most days of sun of any country in southern Europe, the early June heat was brutal. During the pope's June 7 Mass in Osijek, temperatures soared to nearly 100 degrees, and news reports indicate two people in the crowd of some 200,000 died.
The pope has certain advantages in trying to beat the heat. His stage is always set up with a large canopy that provides shade, and things are arranged so he has maximum exposure to any breeze. Given the use of rolling platforms and a wheeled throne with a hydraulic lift that raises him to the altar so he can say the Mass from a seated position, the pope's physical exertion is kept to a minimum.
Nevertheless, John Paul still has to preside over complex ceremonies that can drag on for more than two hours, a draining task under any circumstances.
During the Osijek Mass, Dr. Renato Buzzonetti, the pope's lead physician, approached the press gallery in order to snap pictures of nearby Croats wearing native costumes. NCR asked Buzzonetti how the pope was coping with the heat.
"He's coping with it just like you and me," Buzzonetti said. "It's uncomfortable, but you go on."
Asked if the vestments the pope wears during public ceremonies made things more difficult, Buzzonetti responded that these are not old-fashioned vestments, which were legendarily heavy and bulky. They are made out of lightweight materials that "don't create too many problems," he said.
In the end, perhaps the best indication that John Paul was not excessively fatigued is that Buzzonetti felt he had time to be taking pictures while his most important patient was on stage.
John Paul's physical improvement in recent months has led to much speculation about new medicines or exercise routines. When a French doctor announced that he had given the pope a drug based on papaya extract, sales of the extract soared in France despite stern Vatican denials that John Paul had ever taken the drug.
On board the catamaran that ferried John Paul to the island of Krk June 5, Cardinal Angelo Sodano, the Vatican's secretary of state, said the pope's relatively robust condition is unsurprising. "For all of us, things go up and down sometimes," he said.
"It's not papaya," he added, smiling.
-- John L. Allen Jr.
National Catholic Reporter, June 20, 2003