Issue Date: June 20, 2003
Inspired honesty
Realism marks three summer film stand-outs
Reviewed by JOE CUNNEEN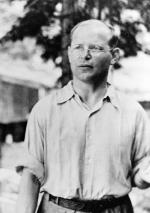 Dietrich Bonhoeffer in the courtyard of the military interrogation prison at Tegel, outside Berlin, in the summer of 1944.
My usual preference in movies is for fictional narrative, but I'm very grateful for the invitation to an advance preview of Bonhoeffer, the new documentary about the German Protestant theologian who was executed by the Nazis just before the end of World War II for his part in a plot to assassinate Hitler. It has played briefly in a couple of cities and opens June 20 in New York.
Directed by Martin Doblmeier for Journey Films, which had earlier made highly regarded documentaries on Cardinal Bernardin and Thomas Jefferson, "Bonhoeffer" is a gripping reminder of recent history and a valuable challenge to conventional Christianity.
To his credit, Doblmeier does not exploit the material for easy emotion or routine piety; he has clearly taken seriously his subject's writing on "cheap grace" -- that is, "grace without the cross." Actor Klaus Maria Bandauer speaks short passages from the theologian's writings, but the film is essentially biographical. It shows how Bonhoeffer, born in 1906 and raised in a prosperous, nonreligious Berlin family, surprised everyone by entering a seminary, perhaps influenced by his older brother's death in World War I. One of the first to resist the growing power of Hitler, he helped organize the Confessing Church, a direct challenge to the Nazi state.
Doblmeier and his assistants have incorporated rarely seen archival footage of Hitler's frenzied speeches at Nazi rallies, as well as interviews with Bonhoeffer family members, former students, Archbishop Desmond Tutu, and Eberhard Bethge, Bonhoeffer's biographer and best friend.
The film follows its subject to New York's Union Theological Seminary in 1931 on a teaching fellowship, and shows him teaching Sunday school in the Abyssinian Baptist Church in Harlem. Bonhoeffer later incorporated Negro spirituals in services used at the illegal seminary he directed in Germany after his return. What he learned about racial prejudice in New York helped him recognize the enormity of the Jewish oppression taking place in his own country.
Preaching nonviolence, Bonhoeffer criticized the individualistic idea of Christianity then dominant in the church, which allowed its leaders to accept Hitler out of a false sense of patriotic nationalism. Bonhoeffer joined an anti-Nazi conspiracy, living a dangerous double life. He was allowed to travel widely in Europe, submitting innocuous reports to the government while visiting key foreign churchmen and keeping them informed.
After the assassination effort failed in 1943, Bonhoeffer was imprisoned, where he wrote some of his most important books and deeply impressed those around him with his serenity and selflessness.
No documentary can do justice to the subtlety of Bonhoeffer's Ethics and Letters and Papers from Prison or explain how his pacifist convictions allowed him to become part of a plot to kill Hitler. His biographer, Bethge, interviewed in the film, says: "A Christian should not kill. ... But there are times you are responsible for human beings around you, and you have to think of all means to stop that man who is killing."
"Bonhoeffer" deserves the widest possible audience; church groups and students should reflect on its contemporary implications.
Spellbound, a first documentary from director David Blitz, manages to make us care about which child prodigy will win the 1999 National Spelling Bee. He had the advantage, of course, of the spontaneity with which the 10 likable finalists he chose reacted to moments of uncertainty, humor, anxiety and disappointment.
Ten million entered the contest; 249 made it to Washington. Blitz obviously spent a lot of time interviewing the parents and teachers of the children. Instead of just exploiting the youngsters' charm, he provides footage that reveals their aggression as well as their complex bonding with parental ambitions.
The movie becomes a joyous tribute to our national diversity, with special emphasis on small-town America. There is Angela, the Texan daughter of Mexican immigrants whose father doesn't speak English; Ashley, the African-American girl from the projects in Washington who has two uncles in prison; Harry, the rubber-faced boy from New Jersey, hilariously uncertain of the spelling of an impossible word; and Neil, the privileged son of Indian parents, whose father has hired several tutors and paid a thousand people in India to chant for his son's success. The father declares with fervor, "There's no way you can fail in this country. … If you work hard, you will make it." The class differences between the entrants are obvious. Emily in well-to-do Connecticut practices polo, while in a rundown town in Pennsylvania April studies with a dog-eared dictionary. Her mother and father are among the most relaxed and amusing of the parents, all of whom support their children in various ways.
Although "Spellbound" recognizes the wide range in the quality of the schools attended by the contestants, it is mainly interested in celebrating the good sportsmanship of the losers and the achievements of all who made it to the finals.
I have serious reservations about the whole idea behind spelling bees, in which contestants nervously wait for the ding of the bell announcing that he or she has been eliminated for not knowing a word the contestant will never hear again. Is this a serious way to measure scholastic achievement?
Nevertheless, as the competition continued, I became increasingly involved with the contestants and parents alike. "Spellbound" has lots more charm than spelling ever had, and participation in this documentary will tend to reinforce hopes -- even of those of us who weren't child prodigies.
Lilya 4-Ever is the deeply moving but downbeat Swedish movie from Lukas Moodysson whose "Together," an ironic comedy on life in a commune, was one of the best films of 2001. Many will want to avoid the film because its subject is the sexual exploitation of a naive young woman from an impoverished city in the former Soviet Union, and there are degrading if judiciously selective scenes of prostitution. Moodysson, however, is deliberately making such material ugly rather than exploiting its false "glamour." We learn a little about love by being taught to care about 16-year-old Lilya (Oksana Akinshina), whose mother abandons her to go to America with a thug boyfriend. As their car is about to leave, Lilya runs downstairs and vainly chases after it. We already know that the mother's promise to send for her daughter once she is settled in the United States is totally empty.
Moodysson doesn't make Lilya some sort of angel. She sasses her teacher and brags to acquaintances that she is going to America. Left without adult friends or resources, her favorite possession is a traditional picture of an angel and child, before which she prays the Our Father. At first she resists the environment: When she goes to a nightclub with Natasha (Elina Benenson), she is appalled that her friend makes herself sexually available for cash. But the aunt who is supposed to help out is callous, Lilya can't buy on credit at the store, and soon she is selling herself at the same nightclub. She can't resist feeling a little smug when she goes back to the store and throws her money on the counter, but shows her true nature by buying a basketball for Volodya, an endearing younger boy who has been thrown out of his home and will sleep on the street if Lilya doesn't let him into her apartment.
The friendship between these two abandoned kids, who sniff glue together, is at the center of the movie. Volodya (Artyom Bogucharsky) is the only real friend Lilya has, and both have been partly corrupted by the invading consumerism of post-Soviet society: Volodya knows about Michael Jackson and sneakers; Lilya brags that she has the same birthday as Britney Spears. Unfortunately, the friends are separated by a good-looking, well-dressed young man named Andrei (Pavel Ponomaryov) who drives Lilya home from the nightclub on a rainy night without making a pass at her. He takes Lilya out and seems to like her; then he suggests she go to Sweden where he can get her a job and she can make good money. Though Volodya is suspicious, Lilya is understandably excited; it is only when Andrei says that he can't leave yet but will have a friend meet her train that her large eyes become troubled.
I will not detail the scenes of Lilya's enslavement in a Swedish sex ring and her final inability to pray before the picture of the angel she has faithfully carried with her. We still believe in her underlying goodness, and one reviewer even suggested a comparison with Robert Bresson's "Mouchette," a small masterpiece about another victimized young woman. But Moodysson can only offer a fantasy of solace, while Bresson, inspired by his source, a novella by Georges Bernanos, can appropriately frame his film with the healing music of Monteverdi's "Magnificat." Nevertheless, "Lilya 4-Ever" is beautifully envisioned and the performance of its young star evokes intense sympathy for those suffering in the emptiness of second-hand capitalism. Though coated with sentiment at the end, it offers a piercing view of contemporary society that is rare in contemporary film.
Joseph Cunneen is NCR's regular film reviewer. His e-mail address is scunn24219@aol.com
National Catholic Reporter, June 20, 2003