Issue Date: June 20, 2003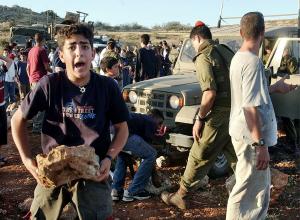 A boy from the Jewish settlement of Ofra in the West Bank joins other settlers trying to block the way of Israeli soldiers who took down a water tower at the outpost of Armona June 9.
-- Reuters/Flash90/Nati Shohat
Obstacle to road map found in U.S. policy
American focus on Palestinian violence fails to address Israeli occupation that spawns it
By STEPHEN ZUNES
After two and a half years of refusing to engage in direct peace talks with the Palestinian leadership, both American and Israeli governments have finally resumed negotiations. These talks are based on a "road map" put together by the "Quartet" -- consisting of Russia, the European Union, the United Nations and the United States -- designed to provide a framework and a process for Israeli-Palestinian peace.
The road map is centered on the principle of a secure Israel alongside a viable Palestinian state. However, as the Israeli press has observed -- though rarely noted by the American media -- Sharon's vision of a Palestinian "state" more closely resembles a Bantustan of apartheid-era South Africa than a modern nation-state.
In return for an end to Palestinian violence and the disarming of radical militia, the Israelis appear willing to withdraw from Palestinian territory that has been reoccupied since the fall of 2000 in violation of U.S.-brokered disengagement agreements. The Sharon government has also agreed to remove some hilltop mobile homes recently brought into the Israeli-occupied West Bank by far right-wing settlers.
However, it appears that the Israelis are not willing to withdraw from the large well-established settlements built between 1967 and 2001, all of which are illegal according to the Fourth Geneva Conventions and must be evacuated according to U.N. Security Council Resolutions 446, 452 and 465.
More problematically, right-wing Prime Minister Ariel Sharon's plans to formally annex these settlement blocs and surrounding lands would divide up a future Palestinian mini-state into a series of non-contiguous cantons consisting of less than half of the West Bank, each surrounded by Israel. The Palestinians already agreed in 1993 to recognize Israeli control of 78 percent of historic Palestine, in which they were the vast majority until the creation of Israel in 1948 and resulting war forced most of the population into exile.
Sharon's plan would leave the majority of the remaining Palestinian population in the West Bank and Gaza Strip under Palestinian control in largely urban enclaves consisting of barely 10 percent of historic Palestine. The Israelis would hold on to Arab East Jerusalem and maintain control of Palestinian airspace, border crossings, and aquifers. Meanwhile, despite explicit calls in the road map for a freeze on new settlements -- reiterating those in the 2001 Mitchell Report and other American efforts going back to the 1978 Camp David agreement -- Sharon continues to create facts on the ground in the occupied territories by building still more illegal settlements as well as Jewish-only highways and other infrastructure to support them.
One way the United States could have curbed these Israeli efforts to sabotage the peace process would have been to condition the recent $9 billion loan guarantee to Israel on a freeze on such construction, as was proposed by moderate Jewish and Christian groups like Americans for Peace Now and Churches for Middle East Peace. However, the Bush administration, along with both Democratic and Republican Congressional leaders, rejected such conditions and, in April, pushed through the loan guarantee unconditionally.
At the same time, Congress approved an additional $1 billion in military aid to Israel, on top of over $2 billion already allocated, despite an upsurge in human rights abuses by Israeli occupation forces.
Both the Democratic and Republican Congressional leadership are adamant that aid will never be used as leverage to push Israel to comply with its obligations under international law, end its human rights abuses or stop efforts to undermine the peace process. Not only have Democrats joined Republicans in praising the Bush administration's strident support for Sharon's policies, they are even pushing the administration further to the right in the rare moments when the rightist Israeli leader is challenged.
In April, following President George W. Bush's call for Israel to make some compromises, including a freeze on construction of new settlements, he was publicly denounced by House Democratic leader Nancy Pelosi.
In March, a sizable majority of House members sent a letter to President Bush insisting that the peace process be based "above all" on an end to Palestinian violence and the establishment of a new Palestinian leadership. There was no mention of any reciprocal actions by the Israeli government, reiterating the longstanding U.S. position that it is not the occupation, but resistance to the occupation, that is the root of the conflict.
Terrorism is never a legitimate form of resistance, even when one's homeland is under military occupation and being colonized. However, the American focus on Palestinian violence confuses cause and effect.
Until a majority of Palestinians have hope that the road map will result in a viable state on virtually all of the West Bank and Gaza Strip -- the 22 percent of Palestine seized by Israel forces in 1967 -- it will be hard for any Palestinian leadership to stop terrorism. As long as the Bush administration and both parties in Congress insist on making Palestinian violence the issue rather than the Israeli occupation that spawns it, the United States cannot be a credible facilitator in the peace process.
Stephen Zunes is an associate professor of politics and chair of the Peace & Justice Studies Program at the University of San Francisco. His latest book is Tinderbox: U.S. Middle East Policy and the Roots of Terrorism (Common Courage Press, 2003).
National Catholic Reporter, June 20, 2003