Issue Date: June 20, 2003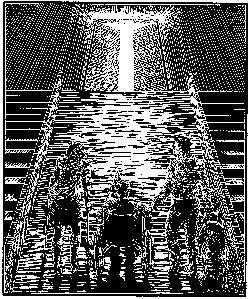 -- Tim Brinton
Dad's constant care reflected heavenly Father's
By BILL ZALOT
I recently found a T-shirt in the bottom of my dresser drawer that aptly described the type of relationship I had with my father. The discovery took me back to a summer by the sea many years ago -- and to a host of memories.
I was born with spastic cerebral palsy, so I was always physically dependent on my father, who was 30 years my senior. Dad became my arms and legs. I have needed others to bathe, shave and dress me; for most of my life, Dad took the responsibility for my care.
One year while we were vacationing at the New Jersey Shore, my eight brothers and sisters (I'm the third-oldest) bought me a shirt that said it well: "When I'm in trouble, I call Dad!" The gag gift really hit home. It reflected my total dependency on my father. But I seldom wore it. Who needs a constant reminder of one's dependency?
I would eventually come to realize that, in many ways, we all need these reminders. My disability allowed me to recognize our heavenly Father in my dad's actions each day. The reality is that none of us could so much as lift a finger if God didn't give us the ability to do so.
My dad was my hero. Although I couldn't play baseball myself, Dad made sure that I felt a part of my brothers' Little League teams. I brought a building block to the baseball games and pretended to broadcast the games. The block was my microphone. My brothers and most of their teammates humored my role-playing as I "interviewed" key players after each game. Dad knew that this role-playing was a great way to develop my language skills and speech.
As a child, I hoped to become the next Vince Scully, the sports announcer who anchored major league baseball's "Game of the Week" on the NBC television network for many years. Dad coached my brothers' teams when he could, and for many of those games, he dragged me along. Eventually I brought a tape recorder to these games and continued to "broadcast" them.
Dad enjoyed watching baseball on TV, but he wasn't too enthusiastic about driving to Philadelphia to watch the major league games in the ballpark. Both the limited parking and the crowds bothered him. However, when I was 7 or 8 years old, Dad purchased tickets for the family to attend a Phillies game. Our seats were high above us in the top row of the stadium, and Dad carried me to my designated seat. I wore braces on my legs then, and it couldn't have been easy for him to carry me all the way up to those top bleachers. His action was something that has stayed with me through the years.
When I was growing up, every Saturday afternoon in spring and summer I watched baseball on TV while we waited for Dad to return home from his milk delivery route. Saturdays were Dad's longest day of the week because he had to collect payment from his customers. On those nights he frequently brought burgers home from the dairy's restaurant. Even after these long days, he would bathe me and take care of my physical needs.
Mom and Dad had been founding members of our parish. In 1966, our church building was completed, but it wasn't accessible to me. From the perspective of a 12-year-old, the building was little more than a monument to the priest who had approved its design. Our founding pastor told my parents, "There's no need to bring him." Thankfully, they didn't listen, and brought me to Mass regularly.
As my father aged, everyone was amazed at the way he continued to care for me. Although we often talked about hiring a home health aide, he refused to entertain the idea. He still had to lift me, and his doctors worried that he would injure himself in the process. I also was frightened for his safety. The risks were very real. I am convinced that the reason Dad could persevere for so long was because of his faith in God and his love for me.
On the day of my father's funeral, March 22, 2001, our Lord granted me a rare privilege. I, the son whom my father covered nightly, pulled the blanket to his shoulders before his coffin was closed. On that day, I saw our roles completely reversed. I received so much comfort in being able to do such a small favor in return.
In the new heaven and new earth, when we are reunited with our now-glorified bodies, none of us will need help. We'll be free from our imperfections and infirmities. This hope is an inspiration for me. As for my life here and now, I know I was privileged to call a man "Dad" who for more than 40 years acted with the compassion of Christ and his heavenly Father.
Bill Zalot, a freelance writer, lives in Levittown, Pa.
National Catholic Reporter, June 20, 2003