Issue Date: August 15, 2003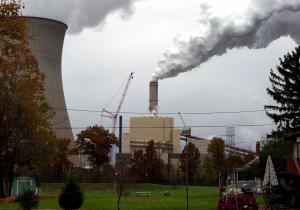 President Bush has pushed to ease air pollution requirements on power plants. Zimmer Electric Power Plant, owned by Cinergy Corporation, is one of many coal-fired power plants on or near the 850-mile Ohio River affected by reduced emission standards and slackened environmental restrictions across the United States.
-- Zuma Press/Ken Stewart/Keystone Canada
The push for ecological conversion
Jersey conference put environment in faith framework
By PATRICIA LEFEVERE
Princeton, N.J.
Like the word "blonde" or "mother-in-law," just say, "New Jersey" and laughter erupts. The state that has proven fodder for funny men for decades gave comedians a boost in 1987 and 1988 when medical waste began to wash up on its Atlantic shoreline and a garbage barge hugged its coast.
But New Jerseyites who care about their future aren't laughing -- especially not when the state has 600 polluted facilities under Environmental Protection Agency regulation. The pharmaceutical, chemical and oil refining industries that have brought jobs and riches to the state have also fouled its air, waterways and landscape.
"We are pretty poor stewards. Our 'Garden State' has become a toxic waste site," in the view of Valorie Caffee, director of organizing at the New Jersey Work Environment Council. She believes the state has built too much of its economy on hazardous products, making its citizens choose between their jobs and their health. The council provides information and referrals on occupational and environmental health problems.
Caffee urged some of the 200 Catholics attending a three-day environmental conference, held at Princeton University in late April, to look at their environment holistically. The New Jersey Catholic Coalition for Environmental Justice in cooperation with Partners for Environmental Quality, PEQ, and other faith traditions sponsored the gathering, which had the theme, "A Vision for Environmental Justice: Our Responsibility for God's Creation."
A basic tenet of environmental justice is that everyone has a right to a safe setting in which to live, work, learn, play and worship, Caffee said. So why is it, she asked, that some children at Sacred Heart School in Camden and at other schools in the city feel it is a form of punishment to have to play in the park or go outside at recess?
Dust and pungent odors abound around Sacred Heart School. The city of 85,000 has everything that no community wants in its backyard -- an industrial laundry, incinerator, a county and municipal sewage plant, a number of scrap metal facilities, 12 contaminated waste sites, degraded soil and a cement plant whose hundreds of daily truck deliveries produce tons of air pollution and spew cement dust on people and cars, she said.
Small wonder that "asthma rates among our kids are epidemic," Bradley Campbell, New Jersey Department of Environmental Protection commissioner, said, noting that the steep rise in the number and rate of cases corresponds directly to diminished air quality.
Starting to pay attention
Campbell is pleased that Catholic parishes and schools are starting to pay attention to ecology. "The language of faith and justice is the frame in which to see environmental issues," he said.
Politicians and business owners have failed to recognize that the burdens of pollution don't fall equally, he said. "They ought to stop pretending that they do." Campbell cited former New Jersey Gov. Christie Whitman, the recently resigned EPA chief in the Bush cabinet, as someone who "reiterated her commitment to environmental justice yet didn't recognize who is bearing the cost. … These issues need to be part of the debate."
Campbell blamed "moral indifference" for the neglect of communities like those in Newark, Camden, Paterson and Jersey City where children are exposed to toxic chemicals, lead paint, polluted air and water.
The neglect of some communities is so systematic, Campbell charged, "it constitutes a breech of civil rights." He pointed especially to the state's urban poor, to farm workers and landscapers, who are mostly non-white, non-English-speaking and non-union.
The environment gives the church the opportunity to "get a life," the Rev. Fletcher Harper told NCR. Harper, an Episcopal priest, directs Partners for Environmental Quality, an interfaith environmental coalition based in Trenton.
If parishes chose to deal with ecological concerns, they must be prepared to take on such issues as environmental injustice, racism and questions of class, as well as be able to ask, "What is the proper place of the corporation and the role of business?" Harper said.
Consumption is a key piece of environment degradation, he noted. Its end product is "greed." This uncomfortable topic needs to be addressed urgently, he said, but watch for it to generate "some heat" in the parish community.
Harper said he hoped that every parish could begin to change the way it consumes resources.
In a workshop titled, "A New Covenant for the Earth," Harper introduced PEQ's "Covenant of Sustainability," designed to help faith-based institutions reduce their energy use, energy bills and greenhouse gas emissions.
Harper praised the Catholic church's teaching on environmental justice, from its long tradition of thinkers and writers such as Hildegard of Bingen, Francis of Assisi and Thomas Aquinas, to more recent statements by Pope John Paul II and the U.S. bishops' 1991 pastoral, "Renewing the Earth."
Where would Jesus build?
Dioceses and regional groupings of bishops have begun to translate such teaching in their own areas. The southern Louisiana diocese of Houma-Thibodeaux has gathered farmers, shrimpers and oil industry leaders to address the problems of subsidence and coastal erosion.
Around the Great Lakes, especially in the Cleveland and Detroit metropolises, dioceses are studying the "where would Jesus build" question by bringing together environmentalists, developers, water districts and others to look at the issue of "sprawl."
In the Pacific Northwest, U.S. and Canadian dioceses have taken joint action to draw public attention to the ecological problems facing the Columbia River system (NCR, June 4, 1999). Dominican Sr. Carol Dempsey, a Garden State native, served as theological adviser to the Northwest bishops writing the river pastoral. The biblical scholar and theologian at the University of Portland in Oregon also gave a keynote address on "Reclaiming a Prophetic Vision for the Dream of the Earth."
Dempsey said she hoped the Bible could still help the world to "focus its Amens" around the stories of creation, redemption and revelation. She turned to Sirach, author of Ecclesiasticus, for his insight: "The glory of the Lord fills all his works."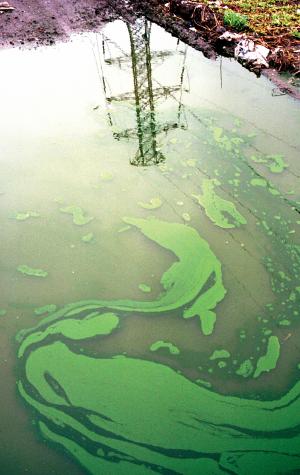 An electrical tower is reflected in a puddle in northern New Jersey.
-- Newsmakers/Spencer Platt
Such a proclamation could still rouse Christians to respond to the "violence and destruction raping our planet and chasing out God," she said. Cleaning up the Columbia, dredging PCBs from the Hudson, saving the rainforests all have something to say about the "holiness of creation," where everything lives in the presence of God.
Dempsey teaches in the University of Portland's environmental studies program, where biology and theology intersect and where questions of medical ethics and human cloning are looked at in the light of biblical ethics and the prophets. The university's Institute of the Holy Cross, which combines the study of science and religion, "is our gift in the Pacific Northwest to the whole church," she told NCR.
While scholars may be cross-fertilized by probing what's under the heavens along with what's under the microscope, the best way to join the "Save the Planet" movement is to get mad, suggested Jeanne Fox, president of New Jersey's Board of Public Utilities and a member of Gov. James McGreevey's cabinet. She pointed to an Ohio environmentalist who woke up one day and said: "This is intolerable," and decided to do something about it. After such a decision one "looks at the same world with new eyes."
A river runs through it
Finding God and a spiritual life in the midst of nature is a tradition that Hugh Carola is handing to his two sons, but also to hundreds of schoolchildren and adults in Northern New Jersey. As a member of a citizens' group called Hackensack Riverkeeper, Carola conducts eco-cruises, canoe excursions, nature walks, hikes and birding tours in the 21,000-acre wetlands, known as the Meadowlands, through which the Hackensack River meanders. The Meadowlands have been called "the Everglades of the North," but also "Jersey's toxic marshlands," he said.
"Our kids know more about the Amazon and the Pacific than they know about the Hackensack River," said Carola, who is trying to change all that with his outings and talks in schools and churches.
The river, which has been heavily polluted by local industries and runoff from construction, lawns, motor oil, even dog-doo, flows through 14 towns in North Jersey. These boroughs house 30 Catholic parishes, a score of Catholic elementary schools, five Catholic high schools, a seminary, and dozens of Protestant churches, synagogues, a mosque and a university -- making the area rife for an ecology tutorial.
Three years ago plans were afloat to build a mega-mall on a parcel of degraded wetlands. But the swift action of Congressman Steve Rothman, D-N.J., and of federal, state and local eco-friendly groups -- such as the nonprofit Hackensack Riverkeeper -- has resulted in appropriations for an 8,400-acre environmental park instead.
Though years of work and funding remain before the park is finished, Carola breathed a sigh of relief for the turtles and herons, the egrets and ospreys, all the diversity of marine life and the 265 species of birds that inhabit the Meadowlands. He is also happy for his neighbors in North Jersey. "People have a right to access water and land," he said, citing a principle enshrined in Justinian's code of Roman law.
Carola believes that Catholics are ready to act to protect the environment. When he talks at churches and schools, "People say, 'Wow!' 'It's about time,' " Carola reported.
His advice: "Find something within driving distance of your home. Start working on whatever ticks you off the most -- water issues, species, waste facilities in poor areas, toxic crabs. … You won't save it unless you love it. You won't love it unless you know it."
Carola, a member of Holy Trinity Parish, Hackensack, where he conducted an energy audit and a recycling campaign in the late 1990s, helped organize the conference, which involved volunteers and grants from the Newark archdiocese and the Camden, Metuchen, Paterson and Trenton dioceses. Bishop John Smith of Trenton opened the "historic gathering," by envisioning that New Jersey could become "a model of how sound economic and environmental policy can be wedded."
For that to happen, Christians and others have to educate themselves and their neighbors about the environment, whose problems are moral and spiritual, he said, though often seen as only economic and technical. Smith urged Christians to alter their lifestyles. "Conversion is needed in the way we think, act, consume and pillage nature."
Support from bishops
Kay Furlani, who directs the Office of Human Concerns in the Newark archdiocese, led the group that organized and ran the environmental conference. She said the idea for the conference began when Greg Mancini, a Princeton graduate, interned with the New Jersey Catholic Conference in 2001 and was asked to research the state's environmental issues from the standpoint of the church. Gradually Furlani, Carola and about a dozen interested Catholics formed the New Jersey Catholic Coalition for Environmental Justice.
The organizers were assisted by an $8,000 grant from the U.S. Conference of Catholic Bishops and by Walter Grazer, who heads the bishops' Environmental Justice Program and has worked with several Catholic groups to facilitate leadership on environmental justice. The Princeton conference represented the first three-day Catholic gathering on ecology in the nation, but benefited from previous diocesan workshops in Connecticut, Florida, Louisiana, Michigan, Ohio and Oregon, Grazer told NCR.
While the field is vast and the problems many, Grazer said, "the good news is that things just happen. At the bishops' conference, we can't keep up with all that's going on. We tell people to take their disciplines and talents and start applying them to local concerns."
Eco-justice is not only an issue for the poor and the professionals, but for seniors and youth too, Grazer said. Saving the earth can be "a moment of evangelization for the young. If the church doesn't address it, they'll turn elsewhere."
"No topic better lends itself to ecumenical sharing," Grazer added. "It's about the whole planet, which none of us owns. It's fairly new so none of the religions has fought over it. We each bring a distinctive theology to the discussion," and should be working together, said Grazer who moderated a panel on the environment with representatives of the Jewish, Muslim and Jain faiths.
He and others at the conference indicated that the environment was an issue waiting for lay leadership, particularly at a time of fewer and more burdened priests. But Pat Mulligan, a parishioner at Sacred Heart in Camden and the development director of the city's Heart of Camden organization, wasn't so sure. "This is a sacred responsibility of the church. I think we should hold the bishops accountable" for raising the issue and taking action. "Priests have the pulpit. That's where consciousness is going to get raised."
As proof of the clergy's not handling the subject, Mulligan said he saw only one priest at the meeting and Trenton's Bishop Smith at its opening. Still he rated the conference "high" for the fact that "it happened," but "low in terms of official church response."
For Fr. Ronald Cioffi, pastor at St. Joseph's in Keyport, N.J., the environment is "a Johnny-come-lately item on the church's social justice agenda." He felt that all New Jersey bishops had "signed on" to the issue by supporting and funding the conference.
Cioffi saw "the works and technologies of war and the execution of war" as the greatest danger to the environment. Ending war, promoting peace and redistributing the goods of the earth could best save the planet, he said. "The gospel is politics and environmental justice is about taking the works of mercy to their logical conclusion."
Whether that message gets to people in the pew on time to retard what many here saw as the rapid "degradation of the planet" remains to be seen. "I'm not pessimistic," Mulligan said, "but we have to get to the generation that's in school right now. They're not getting it from MTV or Disney."
Patricia Lefevere is an NCR contributing writer.
National Catholic Reporter, August 15, 2003