Issue Date: August 15, 2003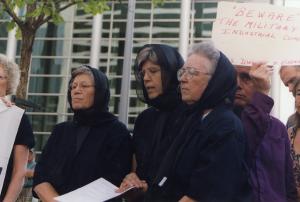 Srs. Ardeth Platte, Carol Gilbert and Jackie Hudson spoke to the press and their supporters prior to their sentencing hearing at Denver Federal Court July 25.
-- Melissa Jones
Nuns sentenced for Plowshares action in Colorado
By MELISSA JONES
Denver
Appearing for their sentencing at a Denver Federal court as "Women in Black," three Dominican nuns convicted by a federal jury of damaging a nuclear missile silo in northeastern Colorado were given sentences that ranged from two-and-one-half to three-and-one-half years.
Sr. Ardeth Platte, 66, received the longest sentence, 41 months in prison; Sr. Jackie Hudson, 68, was sentenced to 30 months; and Sr. Carol Gilbert, 55, received a 33 month sentence. All three women are members of the Dominican congregation of Grand Rapids, Mich.
Platte and Gilbert are both residents of Jonah House, Baltimore's communal residence for pacifists founded by the late Philip Berrigan. Hudson is a member of a similar group in Poulsbo, Wash.
The judge ordered the nuns to pay the U.S. government restitution for property damage totaling $3,080. Supporters of the nuns expressed relief that the sentence was not more harsh and disappointment that the three would have to serve any prison time at all. Although the court offered the women a month to prepare for prison, all three surrendered to the system immediately after sentencing June 25.
In statements read to the press and their supporters, the sisters said they would not speak on their own behalf in the courtroom, and offered their silence as a symbol of solidarity with the international "Women in Black" movement that demonstrates in silent mourning for victims of war.
Speaking to supporters Gilbert said, "I don't fear going to prison. I don't fear loss of freedom to move about. I don't even fear death. The fear that fills me is not having lived hard enough, deep enough and sweet enough with whatever gifts God has given me."
Reminding the group of the reason for their action, Hudson said, "We went to that specific silo to inspect, expose and symbolically disarm one of our 10,455 nuclear weapons and to declare it a crime scene."
Platte encouraged peace activists present who vowed to continue the nuns' anti-nuclear work. Speaking of a direct action planned for later in the summer, she said, "Whatever sentence I receive today will be joyfully accepted as an offering for peace. I will remain with you in prayer and walk together with you for the good of all humanity and creation."
In the courtroom, defense lawyers argued that "in rare situations" the judge could depart from legally mandated sentencing rules. Citing the nuns' long histories of community service, their good character, their acceptance of responsibility for their actions, and the fact that they voluntarily surrendered at the missile site, Platte's lawyer, Scott Poland, said, "If this is not the 'rare situation,' then I don't know what is."
After listening to the defense arguments, as well as the U.S. prosecutor's list of the sisters' long histories of peace activism and numerous past offenses, Judge Robert Blackburn vowed to deliver a sentence that was stripped of "passion, prejudice or politics." Blackburn said, "I find it inexcusable that they would chose to break the law for their means." He also scolded the nuns for being "dangerously irresponsible," stating that their actions had caused young men and women of the Air Force to scramble to the missile site in full military readiness, thus placing the military personnel "in harm's way."
The three Dominicans broke into a Minuteman III missile silo site last Oct. 6, and performed symbolic acts of disarmament. An April 7 verdict in a Denver federal court had found the nuns guilty of interfering with the nation's defense and causing property damage. They could have faced sentences of up to 30 years in prison on both charges, but the federal prosecutor requested sentences of five to eight years for each.
However, Blackburn noted the sisters' long history of community service and the presence of public support for them on local, national and international levels, as he agreed to lower the sentences. He also noted the need for the sentence to fit the seriousness of the offense, stating that the trio's actions did not directly create a risk of death or injury to others, and it did not seriously injure national defense.
Platte, Hudson and Gilbert each admitted to slicing through the chainlink fence around the silo, but added that they took care to cut in a way that left the fence easy to repair. They then performed a classic Plowshares disarmament: Using plastic baby bottles filled with their own blood, they poured six crosses on the concrete lid of the missile silo, and on the tracks that would be used to slide the lid open. They also used household hammers to symbolically hammer on the 110 tons of concrete that protected the missile. Finally, they stood in prayer and song to await the military response, which came in the form of soldiers in Humvees with M-16 assault rifles.
The nuns said they were compelled to take symbolic actions as war with Iraq drew closer and President Bush would not rule out the use of nuclear weapons in his war plans. They said they needed to announce to the world that the United States had weapons of mass destruction that were becoming a greater and greater threat to the world's existence.
The Plowshares protest movement draws its name from the biblical passage in the book of the prophet Isaiah: "They shall beat their swords into plowshares."
Melissa Jones, a frequent contributor to NCR, writes from Littleton, Colo.
National Catholic Reporter, August 15, 2003