Issue Date: August 15, 2003
Edited by Dennis Coday
WORLD
Lutherans back 'road map' plan
WINNIPEG, Canada -- Delegates to the Lutheran World Federation's assembly voiced support for the Middle East "road map" peace plan and set out "benchmarks," prerequisites it wants parties involved to take to assist in the establishment of a full and free Palestinian state contiguous to Israel by 2005.
The federation has 136 member churches representing 94 percent of Lutherans worldwide.
Palestinian Bishop Munib A. Younan, head of the Evangelical Lutheran Church of Jordan, which includes Palestine and Israel, told delegates the road map represented a "golden opportunity" but warned the United States needed to be "an honest broker."
The federation's "benchmarks" include the end of military occupation of the West Bank, Gaza and East Jerusalem by Israel; ending Israeli settlements on Palestinian land; resolving the question of Palestinian refugees' right of return to their homes in Israel; fair distribution of water resources; and the immediate razing of the "security fence."
Younan said Christians had a special responsibility to foster peace in the war-torn area from which Palestinian Christians have been fleeing, he said. The Lutheran federation's 10th assembly ended July 30.
Nuns apologize for Irish laundries
SILVER SPRING, Md. -- The Sisters of Mercy of the Americas say they regret running the harsh Irish laundries that are the subject of the controversial film "The Magdalene Sisters." The order, with 10,000 members worldwide, said the reformatories represent "a time in the history of the Catholic church and religious orders of which we are not proud."
"As women religious committed to mercy and justice throughout the world, we grieve with all victims of the Magdalene laundries and pray that they experience God's comfort and healing in their lives," the order said in a statement.
"We are deeply saddened to hear the stories of some of the women who were so obviously hurt. … We sincerely apologize for any and all injustices that may have occurred."
The Sisters of Mercy, founded in Ireland in 1831 by Catherine McAuley, operated at least three laundries in Ireland. All are now closed. The order was only one of several that operated the laundries, some until through the 1960s. (See Page 16 for a review of the film.)
Pope sends Irish SMS messages
LONDON -- Irish cell phone subscribers who dial 53141 and send POPE ON as a text message will receive a "thought for the day" from Pope John Paul II taken from his homilies, messages and other material at noon each day.
The inaugural SMS -- short message service -- sent July 23 read: "The world needs a sign of hope for Christian families. May they be able to open their doors to the Lord."
The Vatican started a similar service in Italy in January. It avoids the abbreviations for which text messages are famous. Subscribers pay about 20 Euro cents, roughly 22 U.S. cents, for each message.
---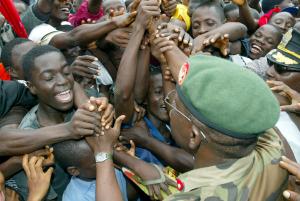 -- CNS/Reuters
Peacekeepers arrive
MONROVIA, Liberia -- Nigerian Col. Emeka Onwuama, right, clasps hands with jubilant Liberians on his arrival at the international airport in Monrovia Aug. 4. The West African peacekeeping troops landed in the war-torn capital none too soon for Archbishop Michael Francis of Monrovia, who visited in the United States last month to persuade the Bush administration to come to the aid of his nation.
Francis said violence had forced the church to shut down schools, parishes and most medical clinics in Monrovia and the southeastern port city of Buchanan.
An international force of professional soldiers would quickly quell the violence gripping Liberia, he said, noting that most of the young soldiers that have joined the rebels would stop fighting. "They are not professionals, they're not part of any army. I have no doubt they'll drop their arms once a superior force comes in and go back to their mommies," he said.
---
Bishops meet with Mugabe
HARARE, Zimbabwe -- As this country's economic crisis becomes increasingly desperate, ecumenical efforts to facilitate political dialogue may signal an end to church leaders' passivity.
Bishops from the Catholic episcopal conference and the two largest Protestant church bodies met with President Robert Mugabe and senior members of his ruling Zanu-PF party to discuss mediating the country's political crisis.
An avowed Roman Catholic, Mugabe has criticized the church for meddling in politics in the past.
Zimbabwe has been paralyzed by a political stalemate since Mugabe's disputed reelection last year, when he won by a vote that human rights groups say was heavily swayed by ruling-party militants. Mugabe's opposition, the Movement for Democratic Change, refused to recognize the election results.
His opponents have charged Mugabe with mismanaging the economy during his 23 years in power, causing unemployment rates to skyrocket to over 70 percent and aggravating a food shortage that the U.N. Food Program estimates will leave 5.5 million of Zimbabwe's 12 million people at risk of starvation. A 300 percent rise in official inflation last month contributed to a massive hike in food prices.
Catholic environmentalist slain
TEGUCIGALPA, Honduras -- The struggle to defend the forests of Honduras took a bloody turn when Carlos Arturo Reyes, 23, a staff member of the environmental ministry of the Juticalpa diocese, was killed July 18 on the patio of his home in El Rosario. The day before he and other Catholic activists from the province of Olancho held a news conference in Tegucigalpa, warning of renewed threats against environmentalists.
Reyes was shot six times. Witnesses saw three masked men fleeing the scene of the murder. Church leaders have been the most visible protagonists in the environmental struggle, and the situation has grown increasingly tense.
After Reyes' death, President Ricardo Maduro agreed to meet with Catholic environmentalists led by Auxiliary Bishop Roberto Camilleri Azzopardi of Tegucigalpa. According to Camilleri, Maduro said he would ensure an exhaustive investigation of Reyes' killing and promised new security measures for activists in the region.
Camilleri said Maduro also promised stricter control of the concession of logging permits. In a recent two-week period the government decommissioned the same amount of illegally cut lumber that it decommissioned in all of 2002.
U.S. revokes peace advocate's visa
TORONTO, Canada --After a brief trip to Canada from the United States, Fr. Emil Salayta, a Roman Catholic priest of the Latin patriarchate in Jerusalem, was detained and denied reentry at the Toronto Airport by the U.S. Bureau of Citizenship and Immigration Services on July 20.
Immigration officials interrogated the Jordanian-born priest for five hours as well as fingerprinting, photographing and searching him. Salayta was on his way back from appearing on a Catholic TV program in Toronto.
Although Salayta carried a valid five-year multiple entry U.S. visa, he was denied reentry to the United States and his visa was revoked at the border following the encounter. Salayta has previously traveled to the United States 20 times to attend various official meetings.
The priest is an internationally recognized peace advocate based in Rome. He is a frequent speaker in the Unites States and other countries about the plight of Christians in the Holy Land and for a just peace in the Holy Land.
USA
Record number of death row inmates exonerated this year
WASHINGTON -- Nine death row inmates have been exonerated this year, the highest number in 15 years, according to the Death Penalty Information Center.
Three men who spent a combined 67 years on death row were freed recently, bringing to 111 the number of inmates who have been released from death row since 1973.
All charges were dropped against Timothy Howard and Gary Lamar James, childhood friends who were convicted in 1977 in Ohio on robbery and murder charges, after new evidence was presented in Howard's case and James passed a polygraph test.
Joseph Amrine was released from a Missouri prison after 17 years on death row. Inaccurate testimony from witnesses helped free Amrine from a conviction in the 1985 murder of a fellow inmate.
Six inmates from Illinois, Louisiana and Florida have been freed this year. A man is expected to be released soon in Pennsylvania.
Reformers offer 100-day plan
BOSTON -- Voice of the Faithful, a lay reform group that was born in the wake of the sex abuse scandal, offered a six-point plan for Boston Arch-bishop Sean O'Malley's first 100 days in office.
The group urged O'Malley to acknowledge the findings of a recent state attorney general's report on abuse in the church (NCR, Aug. 1), disclose the details of a national church audit to measure the scope of the scandal, lift the bans on Voice of the Faithful meetings in parishes, install financial "transparency" policies, reach a fair settlement with victims and launch a three-year "truth and reconciliation process" to help the church heal.
"The promise we hope for is that our new archbishop ... will provide the pastoral vision and leadership to help the church move from this blackest picture of our church to its brightest picture of justice and faith," said the group's president Jim Post.
Legal experts say it could cost the cash-strapped archdiocese as much as $100 million to settle the suits.
Brethren worried by divisions
BOISE, Idaho -- Regional leaders from the Church of the Brethren say they are concerned that their denomination is becoming fractured by special interests, competing agendas and a "lack of common vision."
The church's Council of District Executives, leaders from 23 regional districts and 10 other officials, called for a churchwide consultation in early 2005 to find ways to unite the 134,000-member church. The church has not held a consultation in 40 years.
In a statement adopted July 5, the council cited "an increased sense of mistrust, disrespect and suspicion" toward church offices and agencies, as well as a "proliferation of special interest groups" which "can divert energy, talent and resources."
The executives said the church is increasingly polarized by "issues," a development that reflects "a lack of theological and organizational clarity."
The statement did not reference specific issues, but Nancy Knepper, the coordinator of district ministries, said the ordination of homosexuals and the authority of the Bible are two issues prompting divisions.
The Church of the Brethren, headquartered in Elgin, Ill., is one of the historic "peace churches" that oppose violence.
Students' religiosity studied
LOS ANGELES -- UCLA's Higher Education Research Institute will spend $1.9 million to survey the religious habits and attitudes of college students, an area they say has been largely ignored by campus leaders.
Researchers plan to survey 90,000 students on 150 public, private and religious campuses in the fall of 2004. A preliminary study of 3,700 juniors at 46 schools was completed last spring to help focus the survey.
"Higher education today has increasingly neglected students' 'inner' development -- the sphere of values and beliefs, emotional maturity, spirituality and self-awareness that are fundamental to their capacity to understand others," said the institute's director, Alexander Astin.
Researchers plan to ask how many students are "actively searching and curious about spiritual issues," how often they attend religious services and which rituals or religious behaviors are most attractive to students. Researchers also want to know what role doubt plays in students' spiritual journeys, and whether school or peer pressure "get in the way" of spiritual development.
The study is funded by the John Templeton Foundation.
Retreats seen as growth industry
SYRACUSE, N.Y. -- In 2002, more than 1 million Americans used vacation time to visit a retreat house or a religious sanctuary. As lives become increasingly hectic, the figure is expected to grow, according to Fr. Michael Carmola, director of Christ the King Retreat House in Syracuse, N.Y. He said people find retreats appealing for both practical and spiritual reasons.
"We live in such a hurried and pressured society," he said. "People need the opportunity to relax and take a break." More important, he said, "people want a chance to encounter God," Carmola added. "In the silence and beauty of a place like this, they can really shut down and listen to him."
Broader stem-cell debate urged
WASHINGTON -- The ethical concerns regarding human embryonic stem-cell research should go beyond whether or not the embryo is a human person, said Paul Lauritzen, religious studies professor at Jesuit-run John Carroll University.
"This either/or tends to drive people to the extremes," he said in a paper presented July 24 to the President's Council on Bioethics, an advisory body to President Bush.
Church officials repeatedly have opposed embryonic stem-cell research both because it destroys human life and because they say the use of adult stem cells can have the same benefits.
Leon Kass, bioethics council chairman, said humanity is in an unusual situation regarding human embryonic research. "Embryos that have been seen as the seeds of the next generation are coming to be seen as the seeds of salvation of the older generation," said Kass, professor of social thought at the University of Chicago.
"Suppose Abraham and Sarah go to a fertility clinic and manage to make two embryos. They now have to decide whether to have Isaac or use the embryos to cure Abraham's Parkinson's disease," said Kass.
COMPILED FROM NEWS SERVICES, CORRESPONDENTS AND STAFF
National Catholic Reporter, August 15, 2003