Issue Date: August 15, 2003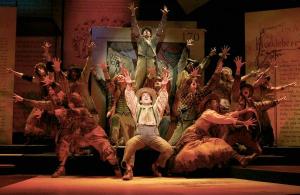 Tyrone Giordano and company in "Big River"
-- Joan Marcus
Broadway musical 'Big River' sings and signs
Huck Finn returns to Broadway in a show using deaf and hearing actors
By RETTA BLANEY
The word innovative is rarely used to describe Broadway musical revivals. Old shows are brought back because they're seen as safe, having already established loyal fans. But the current production of "Big River: The Adventures of Huckleberry Finn" manages to be both an old favorite and innovative.
In an American Sign Language adaptation, the Roundabout Theatre Company and Deaf Theatre West, in association with Los Angeles' Mark Taper Forum, have synchronized deaf, hard-of-hearing and hearing actors in what has got to be the most challenging production in town.
The rigors of doing eight shows a week in a Broadway musical always test an actor's talent -- and stamina -- but this one places extraordinary demands on its cast. The seven deaf performers act and sign, feeling the vibrations of the music and reacting to subtle visual cues so they can interact with the 11 hearing actors who must not only act and sing, but sign every word as well. Inclusiveness does not come easy!
The effort has well been worth it, though, says Michael McElroy, who plays Jim, the runaway slave who teams up with Huck for a rafting journey of adventure and self-discovery on the Mississippi River. (You know the story.) McElroy learned sign language in one week so he would be up to speed with other cast members who had done the show in Los Angeles. "It pressed me to get my body and mind into place faster than I would have if all the actors were starting in the same place. I wanted to be able to come back with something for Huck."
Tyrone Giordano plays Huck. Although he has some hearing and wears hearing aids, he uses only sign language on stage. While he signs his part, Daniel Jenkins, as Mark Twain and the voice of Huck, sings and speaks it, allowing him to revisit familiar territory, having played Huck in the original 1985 production. In another major role, two actors, one deaf (Troy Kotsur) and one hearing (Lyle Kanouse), dress in identical buckskin costumes for the role of Pap, Huck's drunken father, together making the part even more comic with nice touches like one swigging from a jug and the other wiping his mouth.
Although most Broadway shows offer signed performances for specific dates, this production affords deaf audiences the opportunity to enjoy any performance. The last time a Broadway show incorporated sign and speech in every performance was in 1980 with "Children of a Lesser God," about a deaf woman involved with a hearing man, but that show was not a musical. Phyllis Frelich, who won a Tony Award for her role as the deaf woman, plays Miss Watson and Sally in "Big River."
As a fan of the original production, which won seven Tony Awards, including best score (the late country singer/songwriter Roger Miller wrote the music and lyrics) and best musical, I wondered what to expect from this one. I appreciated the idea of inclusiveness, but worried the sign language, not to mention having one actor at the side of the stage singing and speaking for another, would be distracting. Not to worry. I was hooked from the very first when Twain stepped out to begin the tale, with his signing adding to the storytelling effect. Then I was caught up in the music and songs -- a combination of country, blues and gospel -- and the story, and I was back on the Mississippi just as I had been when I first fell in love with "Big River." This production isn't as elaborately staged as the original, but I like the intimacy of smaller-scale musicals. In fact, with the emphatic additional language, I enjoyed this even more. I see all the large-scale Broadway musicals each season, but I've never seen a show like this. It's delightful.
The rewards have been unexpected for the actors as well. McElroy says at first the preparation was all technical, then the internal exploration began. "My body was already into what I was doing because I was using my body to sign. Then I had to find the emotions within."
He says he probably wouldn't have been interested in appearing in the original production because of the slavery issue. The inclusiveness of this one, however, lured him in and he discovered another side to the negative story line. "The show gives a voice to the legacy of people before me who endured this experience," says McElroy. "This is a part of our history and it needs to be seen. It's the legacy of our country."
"Big River" continues at the American Airlines Theatre through Sept. 14.
Retta Blaney's latest book is Working on the Inside: The Spiritual Life Through the Eyes of Actors.
Related Web Site

The Roundabout Theatre Company
www.roundabouttheatre.org
National Catholic Reporter, August 15, 2003