Issue Date: August 15, 2003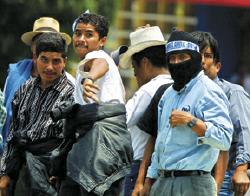 Supporters of former Guatemalan dictator Efrain Rios Montt attack members of the press in Guatemala City July 25, demanding the Supreme Court allow Rios Montt to stand for president in the Nov. 9 election.
-- AFP/Orlando Sierra
In Guatemala's mirror, a disturbing reflection
By TOM ROBERTS
Guatemala has long fascinated me for many reasons, and one of them is that its proximity and history allow it to throw up a mirror to U.S. ambitions. The image reflected is often frightening. It puts the lie to our self-identification as a just and peaceful people who deal in the truth.
I have managed to return to Guatemala roughly every 10 years since my first trip in 1981. At that time the country was hot with conflict and the rhetoric of revolution and the last spasms of the Cold War.
Much has changed since then. The obvious symbols of a culture in turmoil have largely disappeared. Fuzzy faced kids with machine guns no longer peer from the balconies that ring the airport.
Guatemala feels safer. A former Marxist rebel who has turned Christian (and remains Marxist) and is part of the mainstream political scene now said his new method of operating is to talk with everyone. He has learned, he said, that "extremists are marginalized."
If the end of 30 years of civil war and the initiation of a peace process ended overt and systematic violence, it did not rid the country of the root causes of the bitter civil war in which 250,000 were killed or disappeared. Nor did it rid Guatemala of all the old actors.
If someone were to seek a single person who most dramatically embodies the deepest ills of Guatemala and its most significant challenges in the future, Efrain Rios Montt would be a leading candidate.
Unfortunately, Rios Montt, the former general and dictator, the evangelical preacher who was known to wave around a floppy Bible, the man cited in human rights reports as overseeing a genocidal campaign against Indians in rural villages, wants to be a candidate for the presidency.
He has repeatedly run into trouble with that ambition because a law, enacted after he took power in a military coup, prohibits anyone who engaged in that kind of takeover from becoming president.
Rios Montt, however, has always seen himself as a law unto himself. A mixture of God talk and tough talk and anti-communism in the 1980s made him a darling of the political right in the United States. Though he oversaw the butchering of thousands during his 17-month reign of terror in 1982-83, President Ronald Reagan embraced him as a model leader.
On Dec. 4, 1982, Reagan met with the dictator and declared: "I know that President Rios Montt is a man of great personal integrity and commitment. His country is confronting a brutal challenge from guerrillas armed and supported by others outside Guatemala.
"I know he wants to improve the quality of life for all Guatemalans and to promote social justice."
It is difficult to imagine a more incorrect characterization of the person Guatemalans now widely referred to as "the assassin" or to find a more contorted reading of modern Guatemalan history.
Nowhere, of course, did Reagan mention the savagery Rios Montt unleashed and tolerated; nowhere did Reagan mention that U.S. intelligence knew what was happening; nor that many of those overseeing unspeakable violence were not guerrillas but were military officers trained in the United States at the School of the Americas.
Reagan's blindness to reality -- a blindness or willful distortion that continues today -- undermines U.S. credibility in the rest of the world.
Guatemala received a tepid apology from President Bill Clinton after the issuance of a Catholic church human rights report in Guatemala and a United Nations human rights report that characterized the violence in the Guatemalan highlands as genocide. It also named the United States as complicit in the violence.
Now Rios Montt is back. He has cowed the country's highest court into distorting the law so that he can run for president. Should he win, warned The New York Times in a recent editorial, "there will be virtually nothing to stop him and his network of former military officers from returning Guatemala to the dark ages."
During the July week I spent in Guatemala, supporters of Rios Montt conducted well-orchestrated riots in Guatemala City. Rios Montt said the week before that if he had to keep jumping through legal hoops, he could not be responsible for what his grass-roots followers did. The Guatemalan press uncovered the fact that some members of Congress were involved in the riots and that Rios Montt's party provided lunches and snacks to the rioters.
Some weeks even earlier, his supporters took out a full-page ad in one of the papers showing the dictator and Reagan seated together in a 1980s photo. The text contained quotes from the Reagan speech cited above.
The Guatemalan people are still sifting through mass graves, trying to make sense of the past and simultaneously move toward the future. If the United States were true to its self-identification as a moral force in the world, it would engage in its own truth commission and open to public scrutiny the extensive stash of documents detailing U.S. activity in Guatemala.
Tom Roberts is editor of NCR. Joel Fyke in Guatemala City contributed to this report.
National Catholic Reporter, August 15, 2003