Issue Date: August 29, 2003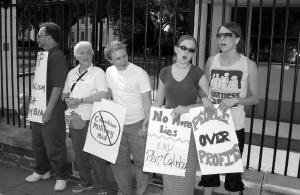 Demonstrators join a Witness for Peace protest at the gates of the White House June 30. The action, part of the organization's 20th anniversary celebration, denounced U.S. policy in Latin America.
-- Photos by Jay Mallin
Peace group marks 20 years in Latin America's war zones
When Witness for Peace members meet with local peoples, they are always told, 'Thank you for coming. But go home and tell your government what is happening to us, and they will fix it.'
By PATRICK O'NEILL
On April 9, 1983, Gail Phares led a delegation of 30 religious activists from North Carolina into the small Nicaraguan farming community of El Porvenir that was under attack by the U.S.-backed contra rebels. When the U.S. citizens entered the area near the Honduran border, a calm set over the village.
"They're not shooting because they can see you," Phares said someone told the group.
That comment led to the founding of Witness for Peace, a nonviolent, faith-based movement that is credited by many with preventing a U.S. attack on Nicaragua by keeping scores of North Americans in war zones as human shields.
Phares, a former Maryknoll missionary who lives in Raleigh, N.C., said Witness for Peace has maintained the "longest nonviolent presence in an active war zone in history."
On June 29, Witness for Peace celebrated its 20th anniversary by honoring Phares as they welcomed her to Washington, D.C., upon her return from leading an anniversary delegation to Mexico. This was the 40th delegation Phares, 63, has led to Latin America during the past 20 years. To mark the anniversary, Witness for Peace sent a total of 72 people on four delegations to Mexico, Colombia, Cuba and Nicaragua.
"Witness for Peace I think prevented war," said Ohio University professor Thomas Walker, author of Nicaragua: Living in the Shadow of the Eagle. "It made it much more difficult for the United States to pursue an aggressive policy against Nicaragua if Americans of conscience were in the way."
After the experience in El Porvenir, Phares' group approached Nicaraguan vice president Sergio Ramirez and asked: "What do you think about having a nonviolent presence in the war zone?"
The group met the next day with Sandinista officials, and Phares got the clearance she wanted to mobilize a citizen-led peace force.
The group set a goal that year of bringing people from all 50 states into Nicaragua by July 4, less than three months away. The plan received instant approval from U.S. peace, religious and human rights groups, Phares said. That first delegation included 157 people from 37 states. In 1984, Phares returned to Nicaragua to lead a 200-person delegation -- including the late Fr. Henri Nouwen -- from all 50 states.

Gail Phares
"We became a national movement," she said. "We were able to speak to the whole U.S. Senate."
With things happening so fast, Phares said they had to figure things out on the run in those early days. Most of the volunteers had never traveled to Latin America. Phares, a seasoned missionary who had spent years working in the region, said nonviolence underpinned the mission of Witness for Peace.
"We would eventually get very good at training our delegations so that they would be sensitive to the Nicaraguans," she said.
To date, Witness for Peace has brought approximately 12,000 people in delegations to Latin America. Eventually, the group shifted its focus to include monitoring U.S. economic and military policy throughout Latin America. The group's campaigns spread throughout Central America, Mexico, Cuba, Haiti and now Colombia, where Witness for Peace is monitoring the impact of the huge infusion of U.S. military aid that is ostensibly being used to fight a war on drugs.
Back in the United States on June 30, Donahue and other delegation members fanned out in the nation's capital to visit Congress, the State Department and the International Monetary Fund to report about what they had seen. Another group went to the White House with the message: "The Hemisphere is Not for Sale -- Stop U.S. Military and Economic Violence." Five people were arrested for civil disobedience at the White House.
Phares, who went to the State Department to report on her trip to Mexico, said her pleas fell on deaf ears. "I went there intentionally to tell them what we'd seen about the growing poverty, and they don't hear. It doesn't seem like they hear you."
Spokane, Wash., activist Paddy Inman spent eight days with the Cuba delegation, which visited farming cooperatives and an AIDS clinic. Speaking by telephone from Washington, D.C., Inman, 57, called the 43-year-old U.S. embargo of Cuba "cruel, devastating and unethical," yet, he said the Cuban people were gracious toward the group.
"Wherever we go, no matter how downtrodden the people are, no matter how much they suffer or they hurt, they still have hope. And when they meet U.S. citizens, in unison they say, 'Thank you for coming and visiting us, but don't stay here, go home and tell your politicians what is happening to us, and they will fix it.' They absolutely believe that we have the power to come here to Capitol Hill and to make a difference for them.
"I think we do make a difference," Inman said. We raise awareness, we educate, we let [our representatives] know what we saw firsthand.
Sharon Hostetler got involved with Witness for Peace from the beginning. She has lived in Nicaragua since the mid-1980s and currently is international programs director.
A Mennonite, Hostetler said her work with Witness for Peace is a "commitment of faith."
"We don't know where this path takes us when we start doing this kind of work," she said. "We don't do this work because we're guaranteed the results we want. We do this work because it's the right thing to do."
Lisa Haugaard, who has been executive director of the Washington-based Latin American Working Group for eight years, said, "Witness for Peace is a fearless and responsible organization that has managed to bring people to conflict zones and to very poor areas to see people living in extreme poverty; to see first hand the impact of U.S. policy.
"That has really motivated people to come back and work for policy change."
Patrick O'Neill is a freelance writer living in Raleigh, N.C.
National Catholic Reporter, August 29, 2003