Issue Date: August 29, 2003
Edited by Dennis Coday
WORLD
Aid to North Korea misses goal
HONG KONG -- Caritas Internationalis has reaffirmed its call for relief assistance to North Korea in the face of falling donations because of political tensions caused by the communist country's nuclear weapons program.
Caritas has raised only 30 percent of its $2.67 million aid goal since it started a drive for North Korea in April, said Kathy Zellweger, director of international cooperation at Caritas Hong Kong.
At Caritas' 17th general assembly in Rome in mid-July, Caritas Coreana, relief agency of Korea's Catholic bishops, and Caritas Hong Kong prevailed on the international agency to continue its commitment to North Korea. Caritas now hopes it can raise 70 percent of its original goal, Zellweger said.
North Korea's situation has worsened since the mid-1990s, when natural disasters exacerbated a structural economic decline, Zellweger said. "Although acute malnutrition has decreased, the impact of long-term food deprivation is visible everywhere," she said.
Kenya probes death of U.S. priest
NAIROBI, Kenya -- Kenyan government officials began an inquest into the 2000 death of Mill Hill Fr. John Kaiser, a U.S. missionary who often denounced abuses under Kenya's former president, Daniel arap Moi.
With Moi voted out of office last December after 24 years of mostly one-party rule, Kenya's attorney general ordered the inquest.
Kaiser was found dead alongside a road Aug. 24, 2000, with a gunshot wound to the side of his head. Early in 2001, the Kenyan government, backed with FBI findings, ruled the death a suicide.
The local church almost immediately dismissed the results and questioned why the FBI considered the information of only the government pathologist, not the three additional doctors it had sent to the scene to collect evidence. Church officials said that, based on ballistics reports, suicide was a physical impossibility.
Throughout his 36-year stay in Kenya, Kaiser was champion of the rights of the poor and dispossessed.
---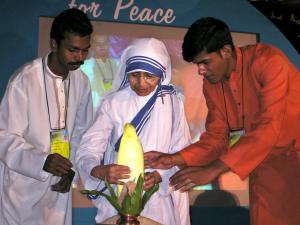 Youth learn peacemaking
Two young men watch as Sr. Nirmala Joshi, superior general of the Missionaries of Charity, unfolds a flower representing peace and hope at the opening of Asian Youth Day in Bangalore, India, Aug. 10. About 1,000 young people from 20 countries and more than 300 dioceses took part in the six-day celebration focused on ways they can become peacemakers in an often violent world. Joshi, head of the order founded by Mother Teresa, told the delegates that if each of them loves God and neighbor, "you become a warrior" for peace.
-- CNS/UCA News
---
Academy sparks controversy
SAN JOSÉ, Costa Rica -- The International Law Enforcement Academy is about to open in Costa Rica with the objectives of strengthening criminal justice institutions in Latin America, improving the links between the hemisphere's law enforcement authorities and training middle-ranking police directors, prosecutors and judges.
However, critics are worried that the United States will exert too great an influence over the academy and that it blurs the boundaries between the police and military, thus sullying the image of Costa Rica as a nation without an army or involvement in wars.
The U.S. State Department's anti-drug law enforcement program will contribute furniture, vehicles and transportation and living costs of students and instructors, which will come to approximately $2 million. U.S. personnel involved in the academy will have diplomatic privileges, and two of the school's directors will be from the United States.
"The intentions of the agreement are good, but its make-up is not," Costa Rican Congressman Rodrigo Alberto Carazo warned.
Evangelicals plan Israel mission
TORONTO -- A group made up largely of evangelical Christians from various denominations across Canada is planning a mission to Israel this fall to show solidarity with the Jewish state and to build better relations and understanding between Christians and Jews.
Calling their trip the "Together for Israel Mission," organizers Annie Elliott and Dean Bye say they can accommodate up to 300 people. The mission is scheduled for Oct. 9-19, which will enable Jews and Christians to celebrate Sukkot, the Feast of Tabernacles, in Israel. Participants will also be able to join the annual Jerusalem March, a parade through the capital attended by Jews and evangelical Christians from abroad each Sukkot for more than 20 years.
Amazon jungle in dire threat
RIO DE JANEIRO, Brazil -- Faced with accelerating deforestation of Amazon regions, Brazilian officials announced that the government environmental agency, the Brazilian Institute of the Environment and Renewable Natural Resources will receive $7 million to crack down on illegal tree cutting and land clearing.
Experts say about 16 percent of Brazil's 4.1 million square kilometers of Amazon rainforest have already been destroyed. Satellite data showed that an estimated 26,390 square kilometers of Amazon forest vanished between August 2001 and August 2002. This represents a 40 percent increase from the previous 12 months, when an estimated 18,820 square kilometers were cleared.
In their search for new lands, cattle ranchers and farmers have been pushing into the northern regions of Mato Grosso state and southern Pará state, which used to be completely covered by Amazon forest or savannah. "The numbers show clearly that the federal government has been incapable of stopping Amazon deforestation," said Paulo Adário of Greenpeace, which has warned that the Amazon rainforest will be wiped out in 80 years if deforestation continues at the current rate.
Employees become top bananas
PANAMA CITY, Panama -- After almost five months of negotiations, and with the decisive mediation of the administration of President Mireya Moscoso, the Puerto Armuelles Fruit Company -- a subsidiary of the U.S.-based banana giant Chiquita Brands International -- agreed to sell its assets to the Multiple Services Cooperative of the Puerto Armuelles Fruit Company, an organization of the company's unionized workers.
Under the agreement, which was signed April 28, Puerto Armuelles Fruit sold its assets -- including trees and fruit, packing plants, offices and furniture -- for $19.8 million. The sale became final in June after the National Bank of Panama disbursed $14.8 million that the government had committed to help the workers buy the company.
Chiquita Brands loaned the workers $5 million backed by a 10-year fruit purchase contract that was part of the agreement. As the new owner, the workers, group inherited a contract with the Panamanian government, under which the company rented 3,000 hectares of land for banana production for 20 years. The 2,800 worker-owners received benefits totaling about $16 million.
USA
Not all schools reopen this fall
WASHINGTON-- As schools across the country gear up for the new academic year, fewer Catholic schools than in the past will be joining the annual tradition. Figures from the National Catholic Educational Association showed that while 47 new Catholic schools opened during the 2002-03 school year, 140 schools were closed or consolidated.
Michael Guerra, association president, described the closing of Catholic schools as a great loss for the country and said the situation reaches "far beyond the parents and students immediately touched by the closures."
Guerra attributed the increase in closings to economics and shifting populations.
"While we have many programs in place to help lower-income families with tuition, this support is not widely available to middle-income families who are being squeezed by a depressed economy," he said.
Overall enrollment in Catholic schools declined by 2.4 percent during the past school year, but at the same time 40 percent of all Catholic schools nationwide -- many in suburban areas -- have waiting lists for admission.
Berrigan gravestone blessed
BALTIMORE -- More than 100 family members and friends gathered in July to unveil and bless the gray marble tombstone that marks the grave of peace activist Philip Berrigan.
The grave sits among a small stand of evergreens about 100 feet from the room in Jonah House where Berrigan, 79, died last Dec. 6 after a short bout with cancer. Jonah House is the resistance community Berrigan and his wife, Elizabeth McAlister founded almost three decades ago to oppose war.
Dominican sisters and Jonah House community members Carol Gilbert and Ardeth Platte officiated at the blessing ceremony. The two received multi-year federal prison sentences on July 25 for an antiwar protest (NCR, Aug. 15).
Berrigan's older brother, Jesuit Fr. Daniel Berrigan, read a reflection Philip had written: "Jesus did enormous good during his public ministry, healing, teaching, feeding, building community. But the crowning event of his life was the crucifixion. … It is not the performance of good that distinguishes the followers of Jesus. It is the struggle against evil. …"
O'Malley picks cathedral rectory residence over a 'fancy pad'
BOSTON -- Speculation over the new Boston archbishop's choice of domicile ended with Archbishop Sean O'Malley announcing he will live in the rectory of the cathedral and give up the more luxurious official residence. "A bishop should be close to his cathedral," O'Malley wrote Aug. 8 in The Pilot, the archdiocesan newspaper. "The parish is the venue of the pastoral life of the diocese and living in a rectory is a statement about this reality."
He said his predecessors "were not worldly men who sought a 'fancy pad,' " but were "uninterested in material things." He said they lived in the official residence in a tradition begun by Cardinal William O'Connell (archbishop from 1907-44).
"There was a day when many of the trappings surrounding the bishop were an expression of the longing of immigrants," he wrote. "It was the way Catholics said: 'Our church is an important institution and we are important.' " The church no longer needs all the symbols of the past, wrote O'Malley, a Capuchin Franciscan, "especially when those symbols now seem ambiguous at best and a contradiction of some of our gospel values at worst."
---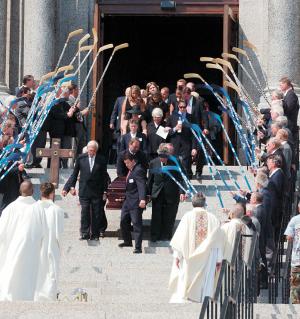 Farewell to coach
Pallbearers carry the casket of Herb Brooks through a salute of hockey sticks following the funeral services at the Cathedral of St. Paul, Minn., Aug. 16. Brooks, who coached the 1980 gold medal U.S. Olympic hockey team, was killed in a car accident in Minnesota Aug. 11.
-- CNS/Reuters
---
Jordanian priest allowed into U.S.
WASHINGTON -- A Jordanian Roman Catholic priest was allowed to reenter the United States after being detained at the Toronto Airport by the U.S. Bureau of Citizenship and Immigration Services last month.
Fr. Emil Salayta, who represents the Catholic church and the Latin Patriarchate in Jerusalem, is an internationally recognized peace advocate and cofounder of the Holy Land Christian Ecumenical Foundation, a nonprofit organization founded by American Christians to preserve a Christian presence in the Holy Land.
During his 20 days in limbo in Toronto, other clergy and Arab-American activists bombarded members of Congress with phone calls requesting his release, which was granted Aug. 8. The bishops' conference, the Arab American Anti-Discrimination Committee and the Arab American Institute took up the fight on Salayta's behalf.
Salayta was on his way to meet with members of the U.S. bishops' conference when he was detained.
Episcopal gay movement may hurt unity dialogue with Catholics
WASHINGTON --Bishop Stephen E. Blaire of Stockton, Calif., chairman of the U.S. bishops' Committee on Ecumenical and Interreligious Affairs, said Aug. 11 that the Episcopal church's recent decisions to confirm an openly gay bishop and recognize that some Episcopal communities bless same-sex unions present "new ecumenical challenges" to Catholic-Anglican relations.
He added that the Catholic church remains committed "to prayerful and honest dialogue, however difficult," despite those challenges.
He said the Episcopal decisions "reflect a departure from the common understanding of the meaning and purpose of human sexuality and the morality of homosexual activity as found in sacred scripture and the Christian tradition."
"As such, they have serious implications in the search for Christian unity and for the work of our bilateral Anglican-Roman Catholic dialogue in the United States," he said.
Salem bewitches Catholic youth
SALEM, Mass. -- Live 2B Holy, the third annual all-day Catholic music festival, created by Proud 2B Catholic, attracted hundreds of Catholics from around New England -- most of them young adults and teens -- with a unique blend of prayer, piety and music.
Peter Campbell, founder and coordinator of the free music festival said, "Anytime you have a gathering like this, it gets people excited about their faith."
White tents -- including a eucharistic adoration tent and a confession tent with six priests and queues of youth -- lined Salem Common for the Aug. 6 event. In the center, throngs of teens danced to the beat of the music from live performers such as Tony Melendez, Steve Angrisano, Jesse Manibusan and the Irish Christian band Ceili Rain
"Just to see people getting together to worship the Lord like this is amazing. I am truly blown away by the entire experience," said Pat Sullivan, a 17-year-old from Bellingham, Mass., clad in a T-shirt with the words "Just Live It" emblazoned on the front.
COMPILED FROM NEWS SERVICES, CORRESPONDENTS AND STAFF
National Catholic Reporter, August 29, 2003