Issue Date: August 29, 2003

Yipping toward perfection
By PATRICIA LYNN MORRISON
I am a non-golfer in a family of golfers. Although I don't play the game, with two parents, several aunts and uncles, and a gaggle of cousins who did or do, I couldn't help absorb something about golf, even if only by osmosis.
So, OK, I know a little something about greens and birdies, holes-in-one, lies, putts, sand traps and eagles, and much of the golf lexicon. I've listened to long discussions about stance and grip and keeping one's head down and bending one's knees. But until a few weeks ago I had never heard of a golf phenomenon that made front-page news in The New York Times, complete with color photos.
I had never heard of The Yips.
The yips -- it seems they always take the plural form; apparently one cannot have a single yip -- according to the Times report, are the curse of golfers, afflicting pros and amateurs alike. They are "the sudden jerks, clenches, twitches or spasms" that can send an easy two-foot putt flying off the green. Most horrific of all, according to the story, "Professional careers have been ruined and fortunes spent in search of proven cures. Not that there are any."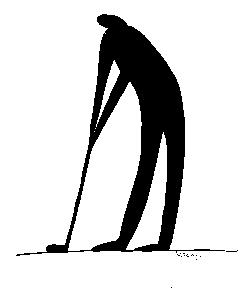 But golfers are a hardy, determined lot. And so the Times story showed a color photo of a golfer, wired like an astronaut in training for a NASA flight. Electrodes were taped across his head and wrists, leads connected to an instrument panel attached to his waist. The experiment to explore the phenomenon of yipping (in which 16 fairly good golfers participated at their own expense, some to the tune of $2,000) was being conducted at a course in Rochester, Minn., by specialists from the world-renowned Mayo Clinic. The aim is to study the golfers' brain waves, to see what biochemical mechanism triggers the yips, and why. Does the concentrated focus on fine- motor skills in a confined action cause the brain to overstimulate nerve activity? Is the pressure to sink the perfect putt what sends the body-mind connection haywire?
Mayo researchers hope their experiment will yield valuable data not only for golfers on how to prevent yipping. They also expect their findings will help a wider audience, from surgeons, dentists, musicians and others who must perform complex motions in small, precise areas (and apparently experience similar problems), to the heightened understanding of brain function itself.
Reading about the golfers' curse sent me on a trajectory of some mental yipping of my own. For some reason, I thought of St. Paul. There's nothing in scripture to indicate he was a golfer. But apparently Paul had some major yip-like experience of his own. He writes in the second letter to the Corinthians: "I was given a thorn in the flesh, an angel of Satan to buffet me and keep me from getting proud. Three times I begged the Lord that this might leave me …"
Sounds like a yipper's prayer to me.
Too often since we began following Christ in organized fashion, perfection has been wrongly equated with not making a mistake, with perfectionism. We envision holiness as a series of faultless moves, each propelling us (by our own efforts, of course, since we're all little Pelagians at heart) in an ever-upward spiral toward God. Instead, a look at the great athletes of the spirit over two millennia show them to be men and women whose lives were a series of false starts and detours, of falling and getting up, of dusting oneself off and, with God's grace, resuming the journey.
In a word, the saints were master yippers. But they didn't let it keep them from winning the game.
St. Paul didn't strap electrodes to his head and wrists, despite his pleas to God to deliver him. But, like the best of pros, the Lord gave him winning advice: "My grace is enough for you, for in weakness power reaches perfection."
In the spirit of Arnie Palmer and Tiger Woods, Paul's words might take on a golfer's terminology: "And so I willingly boast of my yips, that the power of Christ may rest upon me … For when I am weak, then I am strong."
So, watch out for the yips. But don't ever let them make you give up on the game.
Fore!
Pat Morrison is NCR managing editor. Her e-mail address is pmorrison@natcath.org
National Catholic Reporter, August 29, 2003