Issue Date: September 5, 2003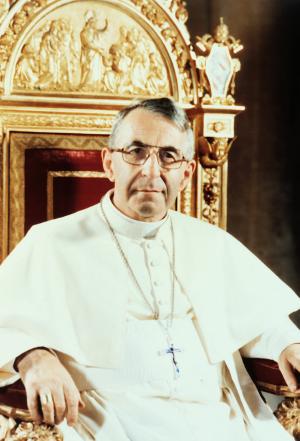 Pope John Paul I, born Albino Luciani in 1912 in northern Italy, headed the Catholic church for one month before he died Sept. 28, 1978. He is pictured in a 1978 formal portrait taken shortly after his election.
-- CNS
Lessons from a 33-day pontificate
John Paul I's secretary reminisces on the man and his life
By JOHN L. ALLEN JR.
Rome
As a campaign to beatify Pope John Paul I gets underway on the 25th anniversary of his election, his private secretary has rejected old rumors of foul play surrounding the pope's death after just 33 days.
"How could three or four or five people get together to find ways to achieve such a goal?" said Fr. Diego Lorenzi, the private secretary to John Paul I. "Access to the papal apartment was guarded day and night. I guarded it myself."
Asked if he felt there was any basis for suspicion that John Paul I was murdered, Lorenzi bluntly responded: "Definitely not."
Lorenzi, a member of the Sons of Divine Providence (Orione Fathers), made the comments in an exclusive interview with NCR that stretched over two days, Aug. 26-27. Lorenzi served Cardinal Albino Luciani as private secretary for two years in Venice, then for his brief pontificate as John Paul I, from Aug. 26 to Sept. 28, 1978.
The late pope's most intimate collaborator and friend also said that he doesn't especially like the catchphrase with which John Paul I has gone down in history: "the Smiling Pope."
"He wanted to convey a message, which is much stronger than this image of a smile," Lorenzi said. "It's too facile. His was not the smile of a salesman on TV pushing toothpaste."
In a nutshell, Lorenzi said, the pope's message was that Christian life demands living humbly and meekly, as Christ did, and that this lifestyle is not something that comes naturally to fallen human beings. It requires hard daily work.
At the same time, Lorenzi said, the pope's smile captured something real about him, an enjoyment of people and a desire to communicate, not just with ideas, but heart-to-heart.
Lorenzi, who today lives near Venice, was in Rome for the Aug. 27 general audience of John Paul II, who recalled his successor as a man of "humility and optimism." Pope John Paul I was born Albino Luciani in 1912, and was elected to the papacy on Aug. 26, 1978, after the death of Paul VI.
On June 8, Bishop Vincenzo Savio of the Italian diocese of Belluno, where Luciani was born, announced that the Vatican's Congregation for the Causes of Saints had approved the collection of testimony on Luciani's life, the first step towards possible canonization. Savio appointed a postulator to coordinate this work, Salesian Fr. Pasquale Liberatore. A petition with more than 300,000 signatures from all over the world in support of declaring Luciani a saint had been presented last year.
The late pope's memory has long been linked with Vatican scandals, though none of his own making.
In 1984, the book In God's Name by British journalist David Yallop launched the hypothesis that John Paul had been murdered because he was getting "too close to the truth" about alleged improprieties at the Vatican Bank. Since that time, theories about the pope's death have circulated widely.
Lorenzi, who was interviewed by Yallop, dismissed the book's argument. Yallop "started from the point of view that this man has been killed, and arranged everything to fit that conclusion," Lorenzi said.
Part of what fueled the conspiracy theories was confusion in Vatican statements about who discovered the pope's body, and under what circumstances. Initially the Vatican said the pope was found by his other private secretary, Fr. John Magee (today the bishop of Cloyne, Ireland). Later officials acknowledged that it was actually a nun from Venice who served the pope, Sr. Vincenza, who discovered him. The Vatican also said he was found in bed, but some journalists reported he was discovered collapsed in his bathroom.
Initially, it was reported that the pope had been reading The Imitation of Christ at the time of death. Later, however, some theorized that he had been reading documents related to the Vatican Bank, or contemplating a shake-up of the Roman curia.
Lorenzi said he could lay all this speculation to rest.
The pope died in bed, Lorenzi said, with some papers in his hand. They were old notes from his days as bishop of Vittorio Veneto, which he was reviewing to get ideas for the Sunday Angelus address he had to deliver the next day.
"I'd like to know how anyone can say anything different," Lorenzi said. "Who else was there? Only we were there," he said, referring to himself, Magee and Sr. Vincenza.
Lorenzi said he concurs with the official medical conclusion that John Paul died of a heart attack. He said the pope had complained the night before of chest pains, but did not want a doctor to be called.
Others, while accepting the conclusion of a natural death, theorized that John Paul I was overwhelmed by the demands of the papacy, and this anxiety triggered his death. He had previously been bishop of the small Italian diocese of Vittorio Veneto, and the rather modest archdiocese of Venice (400,000 people and 120 priests).
Lorenzi rejected the idea that the pope was, in effect, "scared to death."
Along with Magee, Lorenzi shared the pope's table for breakfast, lunch and dinner throughout this brief pontificate. He said John Paul I was not "afraid," despite the normal anxieties that go with taking up such an important post.
"On the contrary, what I saw in him was confidence is his capacity to live up to the very great trust that had been placed in him by the cardinals," Lorenzi said.
Moreover, he said, Luciani had not been in the job long enough that its demands had really even begun to set in.
"In a month, you don't even realize where you are," he said. "Our suitcases had arrived from Venice, but we hadn't even had time to unpack them yet. None of us by that stage had any idea what we were in for."
To what, then, does Lorenzi attribute the pope's death?
Simple: He was ready to go.
"At that time, he was ready and willing to leave the world," Lorenzi said.
Luciani, he said, had wanted to be a teacher and a Jesuit, but had accepted God's will that he should instead be a diocesan priest, bishop, cardinal and then pope. He had no special desire to die, but neither was he so in love with this world and his place in it that he would cling desperately to life. When the time came, Lorenzi said, like Moses, Luciani's primary wish was to see God face to face.
"He used to say sometimes, 'Every now and then I ask the Lord to call me to himself,' " Lorenzi said.
Lorenzi also revealed that before the conclave he had predicted that Luciani would be elected pope. Luciani told him that if this happened, he would refuse, pointing out that Paul VI in his regulations for the conclave made provisions for someone to decline election.
Two days after his election, Lorenzi said, he asked Luciani why he had said yes. "Otherwise it would have been a farce," Luciani said in response. He meant that the conclave would have had to start all over again, and he felt the cardinals would have been demoralized and resentful.
The heart of John Paul I's spirituality, Lorenzi said, lay in his episcopal motto: Humiltas, humility.
"Christ told us very few things to do," Lorenzi said. "But one came with the washing of the feet. 'If I as your master do this for you, so must you do it for others.' This is like a scarlet thread in the life of the pope," Lorenzi said.
As for the ultimate question, what kind of pope John Paul I would have been, Lorenzi said it is almost impossible to answer.
He would not have compromised on matters of faith or morals, Lorenzi insisted, pointing out that his commitment to humility did not stop him from publicly rebuking a group of Venetian priests in 1974 who came out in favor of the legalization of divorce.
He would also have traveled less than John Paul II, Lorenzi said, would have had fewer massive celebrations in St. Peter's Square and elsewhere, and would have been less omnipresent in the media.
"He was always wary of applause," Lorenzi said. "When people stopped clapping, he always wanted to know how it would change their lives."
He would also have emphasized collegiality and collaboration. "He used to say, 'Blessed is that bishop who has priests more brilliant than himself,' " Lorenzi said. "He was a believer in consensus."
In the end, Lorenzi said, perhaps Papa Luciani's message was simple enough that it could be expressed in just 33 days.
"Humility requires effort," Lorenzi said. "The first of the seven deadly sins is pride. Luciani was keenly aware of what it means that man is fallen."
"But," he said, "Luciani was also a man who had learned the lesson of Christ, that to follow him means to be meek and humble of heart. That was what he taught the world."
John L. Allen Jr. is NCR Rome correspondent. His e-mail address is jallen@natcath.org.
National Catholic Reporter, September 5, 2003