Issue Date: September 5, 2003
WORLD
Edited by Dennis Coday
Irish incensed about holy smoke
DUBLIN, Ireland -- An Irish junior cabinet minister has warned that incense poses a health hazard and altar servers need to be taught to minimize that risk. Jim McDaid, a medical doctor and junior minister in the Department of Transport, made his remarks Aug. 20 during a radio program promoting the Irish government's plan to ban tobacco smoking in pubs, bars and restaurants.
During the show, he called on priests in the Raphoe diocese to take greater care in instructing altar servers about how to hold the censer properly. "Incense is carcinogenic," he said. "Often you will see … a huge cloud of smoke rising up into the child's face. It makes me cringe, particularly given the delicate nature of a child's lungs."
The next day on another radio program the minister rebutted media coverage of his remarks saying, "I am not against the use of incense at religious ceremonies. What I am saying is that there is a minimal risk to health here, but if we manage to minimize that risk we will have achieved something."
The health minister's concerns are legitimate, said Fr. Andrew McKeever, Raphoe diocesan secretary. "I think most priests would be aware of the problem," he said.
---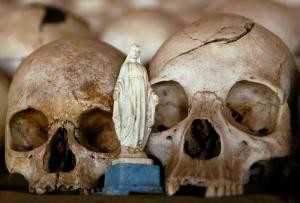 Turning from tragedy
A figurine of Mary stands among skulls left as a reminder of Rwanda's 1994 genocide at the Catholic church compound in Nyamata. Rwandans voted peacefully Aug. 25 in their first presidential election since the tragedy. Incumbent President Paul Kagame won a landslide victory with 95 percent of the votes.
-- CNS/Reuters
---
Non-Muslims visit Temple Mount
JERUSALEM -- For only the second time in three years, the Temple Mount, revered by Jews, Muslims and Christians, is open to visits by non-Muslims. Since Aug. 20, hundreds of Jews and Christians have visited and prayed on the Mount, which Muslims call Haram al-Sharif. At the moment, non-Muslims may visit between 9 and 11 a.m. Sunday through Thursday, but not on Friday, the Muslim sabbath.
Once the home of the first and second biblical Temples, the Temple Mount stands above the Western Wall and contains the Holy of Holies, Judaism's most sacred site. It is also the site of the Al Aqsa Mosque, the third holiest place in Islam.
The Wakf, the Muslim religious body that controls the mount, closed the site's gates to non-Muslims in the fall of 2000 after Ariel Sharon, then the head of Israel's opposition Likud Party and now prime minister, visited the shrine to underscore Jewish rights to it.
Saudi clerics condemn terrorism
LONDON -- Leading Muslim clerics in Saudi Arabia have issued a fatwa, or religious ruling, calling terror attacks by Islamic extremists "serious criminal acts," the BBC reported. The Council of Senior Clerics said, "These acts have nothing to do with jihad for the sake of God. We must rally around the leadership of this country and its scholars, especially in this time of dissent."
The council, which is headed by Grand Mufti Sheikh Abdul-Azez al-Sheikh, the kingdom's highest religious authority, said it supported the Saudi authorities in their fight against militant extremists carrying out bombings and murders in the country.
Saudi Arabia has been cracking down on militants since May, when triple suicide attacks targeting Westerners in Riyadh killed 35 people, including nine attackers. Saudi security forces have arrested about 200 militants and killed 12 since the attacks.
Senior clerics on the council said those who committed violence under the guise of holy war were "ignorant and misguided," adding that those who supported or sheltered the militants were also guilty of "great sin."
Religious leaders reject extremism
PASAY, Philippines -- Asian religious leaders gathered in Pasay called for the rejection of extremism and for collaboration to resolve armed conflicts in the world. About 60 Catholics, Muslims and Protestants from other countries joined nearly 100 participants from the Philippines at the Aug. 18-20 gathering outside Manila to discuss "Seeking Peace and Development Through an Authentic Christian and Muslim Dialogue of Life in Asia."
The event was organized by the Bishops-Ulama Conference, a group of Catholic and Protestant bishops and Islamic scholars in the southern Philippines. The Philippine presidential office provided funding and logistical support for the international gathering.
Catholic Archbishop Fernando Capalla of Davao, Philippines, said he and other religious leaders in Mindanao decided to initiate the Asian gathering after last year's bombing in Bali, Indonesia, that killed more than 200 people. He said the Bishops-Ulama Conference shares the concern of some government officials about "increasing extremism on the part of some Muslims in Asia" that could affect many people.
"We can help prevent extremism on both sides -- on the part of Christians and on the part of Muslims," he said.
---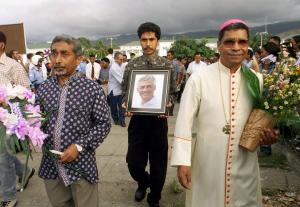 Tribute to U.N. envoy
An unidentified man holds an image of the late U.N. envoy Sergio Vieira de Mello during a memorial in his honor attended by East Timor Prime Minister Mari Alkatiri (left) and Bishop Carlos Filipe Ximenex Belo Aug. 23 in Dili. De Mello, who had served in East Timor following its bloody struggle for independence, was killed in Iraq when a truck carrying explosives blew up at the U.N. compound in Baghdad.
-- CNS/Reuters
---
African nuns pledge to fight AIDS
NAIROBI, Kenya --More than 100 nuns from 63 congregations in eight sub-Saharan African countries pledged to work together in the continent's fight against the AIDS pandemic. The meeting, which ended Aug. 19, was the first of the All Africa Conference Sister to Sister, founded last year by Mercy Sisters.
"We saw enthusiastic experiences," said Mercy Sr. Margaret Farley, professor of Christian ethics at Yale Divinity School and co-director of the conference. "The [African] sisters said now they really know where they have to go in the fight against this disease."
But the church in the other parts of the world has to help, said Farley. "Our idea is to get women in North America and Europe to stay in solidarity with their African sisters," she said.
Our Lady of Good Counsel Sr. Romina Boniconsilii Nyemera, secretary-general of the Association of Women Religious of Eastern and Central Africa, said that many African nuns work directly with AIDS-infected people, but cultural barriers and religious factors hamper the sisters' work.
Mexico to drop election-related charges against church officials
MEXICO CITY -- Charges have been dropped against six priests and five bishops accused of violating the constitution by meddling in politics, said Mexican Deputy Interior Minister Javier Moctezuma. But two of the priests have been warned not to get involved in affairs of state.
A new political party, Mexico Posible, said the church men had violated election laws during the campaign for congressional elections in July by telling parishioners not to vote for parties that support legalizing abortion and same-sex marriages.
Article 130 of the Mexican Constitution bans church officials from "inducing the electorate to vote in favor [of] or against a candidate or political party." Mexico Posible acknowledged the bishops and priests did not mention the party or its candidates by name, but argued that by attacking the party's manifesto they were attacking the party, since it was the only group campaigning on those issues.
Mexico Posible won less than 2 percent of the vote in the July 6 ballot and had no candidates elected.
USA
Florida asked to stop execution of antiabortion murderer
TALLAHASSEE, Fla. -- Although they reiterated their condemnation of convicted murderer Paul Hill's actions, the Catholic bishops of Florida asked Gov. Jeb Bush to stop Hill's scheduled Sept. 3 execution and commute his sentence to life in prison without possibility of parole. Hill, a former Presbyterian minister, was sentenced to death for killing Dr. John Britton and clinic escort John Barrett outside the Ladies' Center abortion clinic in Pensacola in 1994. He also received two life sentences for his convictions under federal laws protecting clinic entrances, but the state death penalty takes precedence. Calling the murders "an unjustifiable attack on human life," the bishops said in an Aug. 25 statement that they "unequivocally condemn and renounce his actions."
Archdiocese tries to recover from $25.7 million sex abuse settlement
LOUISVILLE, Ky. -- Property sales, cutbacks in high school tuition aid and higher parish assessments are part of a five-year financial plan the Louisville archdiocese has unveiled to get back on its feet following this summer's $25.7 million clergy sexual abuse lawsuit settlement.
The settlement covered 243 lawsuits by 240 alleged victims. The archdiocese nearly emptied its unrestricted investment portfolio to pay the settlement.
The financial recovery plan includes raising the cathedraticum, an assessment paid by the 123 parishes of the archdiocese to help fund the ministries of the bishop, from 2 percent to 7 percent in January 2004 and 8 percent in the summer of 2005.
It also includes lowering interest rates the archdiocese pays on parish deposits, consolidating archdiocesan offices, shifting some parish-related expenses from the archdiocese back to parishes and cutting back clergy benefits to priests suspended for abusing minors.
The archdiocese began tightening its belt before the settlement, reducing its workforce by 12 percent and cutting its budget by $1.5 million. This summer it trimmed its budget an additional $900,000 and cut 13 more staff positions.
Refugee advocates mourned
WASHINGTON -- The "horrific bombing" of the U.N. headquarters in Iraq deprived the world of two leading advocates for refugee services, said the head of the U.S. bishops' Committee on Migration, Coadjutor Bishop Thomas G. Wenski of Orlando, Fla. He said the bombing "should be condemned as an attack against not only the United Nations but the Iraqi people."
Among the two dozen people killed in the Aug. 19 blast in Baghdad were Sergio Vieira de Mello, head of the U.N. mission, and Arthur Helton, a U.S. lawyer specializing in immigration and refugee issues, who was in the building to visit de Mello.
Both were experienced in providing refugee services and in defending human rights, said Wenski in a statement. "Those who flee war and persecution also lost a friend and advocate" in Helton, he said. Helton "dedicated his life to the protection of the victims of war, first as director of the Refugee Project at the Lawyers Committee on Human Rights and most recently as a fellow at the Council on Foreign Relations in New York City," said Wenski.
Farm workers Labor Day focus
WASHINGTON -- "How do we treat those who harvest and prepare our food?" asked Washington Cardinal Theodore E. McCarrick, chairman of the U.S. bishops' Committee on Domestic Policy. He answered his own question by quoting Matthew's gospel in the committee's annual Labor Day statement.
"Sadly, they are the 'least of these,' in our own time," he said.
Farm workers face particular problems that call for a renewed commitment from people of faith, McCarrick said. Low wages, decrepit housing and unsafe working conditions are just some of the day-to-day problems faced by the nation's farm laborers.
Such problems are magnified for the vast majority of farm workers who are foreign-born, he said, particularly those in the United States illegally. Labor Day this year was observed Sept. 1.
"At a minimum, we must ensure that agricultural workers earn a decent wage for themselves and their families and live in conditions that are safe and humane," he said. "Comprehensive immigration reform which features legalization is needed to ensure that undocumented migrant farm workers obtain legal status and can assert their basic labor rights."
Courage gay support group meets
ST. PAUL, Minn. -- While Courage, a Vatican-endorsed support group for gay and lesbian Catholics, held its annual conference here Aug. 7-10, another group of Catholics who challenge the church's teaching on homosexuality protested outside.
The Courage meeting at the University of St. Thomas drew 265 members, as well as 135 priests, deacons and seminarians, who attended a separate track focusing on pastoral issues related to homosexuality.
Courage uses the 12-step approach of Alcoholics Anonymous to help members achieve chastity. Its members' five goals are: to live according to Catholic teaching; develop a prayer life; meet regularly for support; form good friendships; and be good examples to other homosexuals.
The Courage conference was closed to the public and the media to protect members' confidentiality, organizers said. It drew demonstrators from the Dignity Coalition, a group of gay, lesbian, bisexual and transgender Catholics and their families, who seek the church's acceptance of the homosexual lifestyle.
The Dignity participants pitched tents at the university, posted signs and held their own conference at St. Mary's Episcopal Church in St. Paul.
Law funds contraception
PORTLAND, Ore. -- The Oregon Legislature approved a bill Aug. 18 that some fear could leave doctors open to lawsuits if they refuse to give free emergency contraception to rape victims who request it. The 23 to 4 vote in the state Senate halted a month long effort by the Catholic groups to create clear exemptions to the bill for conscience reasons.
The bill provides state funding for medical procedures for rape victims, including emergency contraceptives. The Oregon Catholic Conference, Providence Health System and Oregon Right to Life had backed amendments making it clear that doctors and nurses could opt out if they oppose emergency contraception, essentially high doses of birth-control pills taken after sexual intercourse, on moral or religious grounds.
Some Catholic hospital officials fear that doctors or nurses could be sued for malpractice if they refuse to prescribe the emergency contraceptives, said Bob Castagna, executive director of the Oregon Catholic Conference.
"The church is extremely supportive of victims of rape and sexual assault. The issue here is also protecting the consciences of health care providers," he said.
CRS sends $1 million to Liberia
BALTIMORE -- Catholic Relief Services has committed $1 million for relief and reconstruction in Liberia. This includes $100,000 worth of emergency medical kits to be used by the Catholic church's network of clinics and hospitals. That quantity should allow assistance for 20,000 people for three months through the Caritas Internationalis network.
CRS, the U.S. bishops' overseas relief and development agency, also will provide materials for shelter, sleeping mats, blankets, water, buckets, soap and clothing for 6,000 people whose belongings were lost because of looting or damage. CRS will move additional employees into Liberia to help distribute supplies and food.
The United Nations estimated that nearly 450,000 people in Monrovia were displaced over the last two months of fighting. After three years of internal fighting and an economic blockade of the country's capital, Monrovia, all sorts of supplies were scarce by the time President Charles Taylor stepped down and left for exile in Nigeria in mid-August.
Bishops press for foreign aid
WASHINGTON -- The chairman of the U.S. bishops' Committee on International Policy is pressing congressional leaders to fully fund programs to combat HIV/AIDS and support foreign economic development when House and Senate resume work after Labor Day.
In Aug. 18 letters to Senate Majority Leader Bill Frist, R-Tenn., and House Speaker Dennis Hastert, R-Ill., Bishop John H. Ricard of Pensacola-Tallahassee, Fla., said the current version of the foreign operations bill falls $1 billion short of the amount requested by President Bush to finance the HIV/AIDS, Malaria and Tuberculosis Act.
Ricard said the Senate bill also is $300 million short of the amount requested by the White House to fund the Millennium Challenge Account, a foreign aid program that rewards governments for policy decisions that combat poverty and support economic growth. The House bill falls $500 million short of the president's request of $1.3 billion.
COMPILED FROM NEWS SERVICES, CORRESPONDENTS AND STAFF
National Catholic Reporter, September 5, 2003