Issue Date: September 5, 2003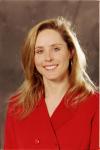 Louise Green
Bishops buy into private prison 'myths,' says industry leader
Louise Green is infuriated that Catholic bishops in 12 Southern states want an end to for-profit private prisons. They are misinformed and "speaking out of tune," she said.
Green doubts that any bishop has ever visited a private prison. Certainly none has come to any of the 59 facilities run by the Corrections Corporation of America during her three years as an executive at the corporation's headquarters in Nashville, Tenn., she said.
"As a practicing Catholic, I am so offended and hurt by articles I see by leaders in the Catholic church. They make claims without ever visiting our facilities. They know nothing of the benefits we provide or of our levels of programs" for inmates, she said in a lengthy telephone interview with NCR from her Nashville office.
If the bishops believe that governments imprison too many people rather than finding alternatives, they ought to talk to criminal justice officials, she said. "They're the ones who make sentencing guidelines. Why pick on the privates who only manage 6 percent of corrections?" asked Green, a member of Cathedral Parish in Nashville.
Green serves as the corporation's vice president for marketing and communications. She has visited 35 of the corporation's prisons, volunteers inside some of the city's jails and sits on the board of Project Return, an agency helping ex-offenders. She challenged the bishops to "meet with our wardens, staff and prisoners and view our programs."
If they did, they would see that their pastoral letter, "Wardens from Wall Street" is "flawed," she said. Green said the bishops have been unduly influenced by the prisoners-rights lobby, a group she characterized as "opposed to prisons in general. … It's awfully easy to criticize. I beg the bishops to look at the facts."
Green provided a list of "myths" about private corrections, including that it pays less, provides less training and has greater turnover. Green said that Corrections Corporation of America pays competitive salaries and offers employees comprehensive health benefits and a 401(k) retirement plan.
Critics claim employee pay rates are barely above the minimum wage in nonunion states in the South, and that private prison operators often win contracts because they can provide jobs in economically depressed areas.
According to a survey of 56 privately operated facilities representing 25,216 inmates and published in the 2000 edition of The Corrections Yearbook, average annual starting salaries in private prisons were $17,628 compared with $23,202 in public prisons. The average maximum level in the privates was $22,082 verses $36,328 in public facilities.
Green held that wardens, assistant wardens and security chiefs earned as much or more in Corrections Corporation of America facilities than their counterparts in federal, state and county-run prisons.
She defended the company's retention record as comparable with many public corrections systems and said turnover rates reflect the dangerous, high-stress nature of prison work.
The 2000 Yearbook posted a turnover rate of 16 percent in the public sector verses 52.2 percent in the privates, based on replies to its questionnaire. The survey revealed that public prison workers receive 250 hours of pre-service training compared with an average 153 hours in private facilities.
Green said that every new full time employee gets a 40-hour orientation program and security personnel receive a minimum of 120 hours of training their first year -- often alongside their public sector counterparts.
She said that 81 percent of the corporation's prisons had met the standard set by the American Correctional Association compared with "only 10 percent of public facilities." Green added that 13 to 15 states are under court order because one or more of their prisons is "unsatisfactory," a situation that has "never" occurred in the private sector. U.S. private jails are no more than 20 years old; many of their counterparts are decades older.
Green also took issue with the bishops' call for greater openness and accountability among for-profit operators. "The bishops have no idea of our level of accountability," she said, noting that executives meet regularly with state legislators and are subject to oversight by the corrections authority whose inmates they serve.
-- Patricia Lefevere
National Catholic Reporter, September 5, 2003