Praise
In the morning, after the burial, the willow leaning,
sure of some whispering, some news from above,
and I too thinking you might answer with rain.

might flood the street with praise of all that is
flowing
through streams, creeks, lakes, that even when the
rain
did arrive weeks later, I thought of your soul
moving

beyond us, far out in the north field where the
strong oaks
shift in the stillness and where even now in the
sudden
downpour of a June afternoon, I seek shelter, sure

of the good news, your soul rising in the
precipitation,
rising into all that is unknown and unseen, and O
the whispering, like a deer to running water,

like a deer to running water, I thirst for you,
O Lord, the oaks suddenly still in the north field,
the last dusky sparrow flying right through

the rainbow.
-- Mary Ann Meade
Conshohocken, Pa.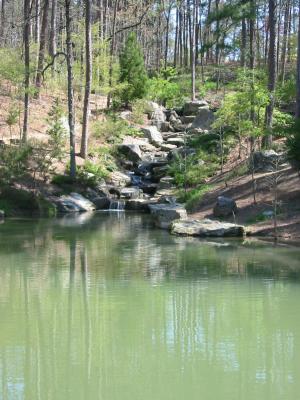 -- NCR photo/Toni-Ann Ortiz
A Creation Lament
(I Kings 19 updated)
(For Hiroshima and Nagasaki)

A modern man at a mountain of God . . .

Man sent a nuclear bomb
but
God was not in the nuke

then
Man sent napalm
but
God was not in the fire that burns flesh

then
Man sent cruise missiles
but
God was not in the missiles

finally . . .
God spoke in a gentle whisper for peace
BUT
Man acted as though deaf,
blinded and stiff-necked

SAYONARA!

-- Mick Mandeville
San Gabriel, Calif.
Assumption


When I awoke this morning
-- a never before encountered dawn --
I found myself crowned with honey bees
busily making a hive in my hair.
On velvet wings I was carried
-- a most startling beginning to my day --
to a couch of petaled glory.

There, incensed in mist of fresh mountain sap,
all around me in dizzy dance and exaltation
Bright seraphim
pitched downward from high pines
-- A most unforeseen morning --
exalting in high mountain voices,
Joy! sweetest joy!
Mortal flesh wrapped in immortality!

Strange, how I had ever thought,
in that dozing moment between dark and dawn,
that only another summer's dog day lay in
wait for me.
When all the while
God, faithful handmaiden to all creation,
was handing me
a robe of royal kinship
and a diadem of glory.

-- Deborah Hanus
San Antonio, Texas

It's About Power


What is more political
than mental illness,
the overthrow of sense
in a sovereign city?
Responsible officials
abdicate or are slain.

-- Sue Dwyer
Toledo, Ohio

The Mabon Madonna

(For the statue of Mary with the boy Jesus in the St. John's Abbey Church, donated by the Mary Frost Mabon)

Wisdom reigns upon a wooden throne
with eyes alone for tribal mysteries,
the Master lad upon her lap, bone
and sinews hers, now teaching with expertise
in the temple near the hill. She gives no decree,
has no answers she could put in speech.
God's Mother, Seat of Wisdom, does not see.
She walks with one candle, worrying each
adolescent triumph, teenage stumble,
still ignorant of the large design.
But the prophecy with thorns is there, the rumble
of falling and rising. She fears the sign.

Madonna, chewed by termites, with damaged hand,
you teach us how to kneel before we understand.

-- Fr. Kilian McDonnell, OSB
Collegeville, Minn.