Issue Date: September 5, 2003
A stellar year for art
Exhibits invite competitive praise, but vision is one of grand diversity
By LEO J. O'DONOVAN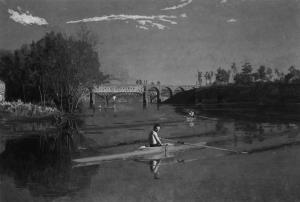 "The Champion Single Sculls" by Thomas Eakins
-- KRT
It all began last summer. First the Thomas Eakins exhibition came to the Metropolitan Museum of Art in late June. After opening to rapturous reviews at the Philadelphia Museum of Art as part of the museum's 125th anniversary celebration, the show had gone on to Paris' Musée d'Orsay, where Eakins' introspective realism captivated French crowds who had seen little of his work before. In New York the reception was equally enthusiastic. Michael Kimmelman, chief art critic for The New York Times, proclaimed "The Gross Clinic" "hands down the greatest American painting of the 19th century," and not a few critics suggested that Eakins might be the greatest American painter of all (at least up until the heyday of abstract expressionism).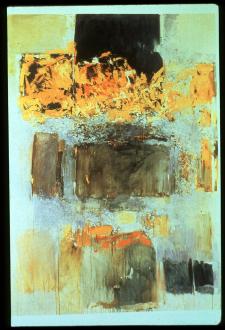 "La Ligne de la Rupture" by Joan Mitchell
-- AFP/Whitney Museum of American Art
A few days after the Eakins, a dazzling and deep survey of Joan Mitchell's work opened at the Whitney Museum, and again people stumbled over words to express their delight in her light- and color-filled canvases. Lucid and lyrical though wholly abstract, her paintings evoked architectural and natural themes -- bridges, landscapes, fields of flowers -- and placed her clearly at the forefront of the second generation of abstract expressionists, perhaps even preeminent among them. The work grew over time, in scale, coherence and power, and a suite of paintings such as "La Grande Vallée," rarely seen in this country, could even lead someone to think -- blasphemous though it seems! -- that Mitchell was the best of the abstract expressionists entirely. The more one knows about her troubled life, from tensions with her father to alcoholism, betrayal by her lover, and savage cancer, the more one might think that she cultivated her gift more successfully than Jackson Pollock.
When the unparalleled collection of Leonardo da Vinci's drawings then came to the Metropolitan in January, the store of superlatives was all but exhausted. With a range and chronological completeness never before seen in America, the nearly 120 fragile pages, and one unfinished painting, were gorgeous, hallucinatory, grotesque, weird -- and wholly engrossing. It took time and patience, in the Met's sumptuous installation, to study the babies, cats, Madonnas, soldiers, battle scenes, military machines, anatomical notes, old men and apocalyptic floods. The angelic hand that drew them revealed encyclopedic intelligence, investigative passion and a mysterious, "constant play," as Edward Rothstein wrote, "between the ideal and the real." If we have more studies and sketches than finished works by Leonardo, he nevertheless set a standard for artistic discovery and expression that remains unsurpassed to our day. And if it is only wordplay to call him the greatest Italian draftsman of his time, Robert Hughes could still write with reason that "not even contemporaries like Michelangelo were able to exceed, or regularly rival, him as a master of … expressive and descriptive line."
By any reckoning it has been an extraordinary year for art in New York. But the splendid season offered its prime example of competitive comparison in February, when "Matisse Picasso" came to the Museum of Modern Art's temporary building in Queens after triumphant earlier visits to the Tate Modern in London and the Grand Palais in Paris. The two great figures of 20th century painting -- Matisse, the older of the two by 12 years, temperamentally reserved and traditional but with an unequalled gift for composing through color, and Picasso, the often insolent Spaniard, a fierce and iconoclastic innovator, aggressively reconsidering all the possibilities of painting -- were placed in conversation through paired canvases, sculptures and drawings over the course of their careers. Learning from each other regularly after their first meeting in 1906, both ventured to the threshold of pure abstraction, but no further. And during certain periods, from 1907 through the 1910s, for example, or in Provence in the years after World War II, the exchange was exhilarating beyond expression. The exhibition's curators assured us again and again that they meant to show how creatively the two men influenced each other. But few visitors left Queens without asking a companion whether Matisse or Picasso was the greater artist.
If "Matisse Picasso" was for many critics "the show of the year", "Manet/ Velázquez: The French Taste for Spanish Painting" was almost surely the public's favorite. A resplendent survey of mid-19th-century French enthusiasm for Spain's golden 17th century that was at the Metropolitan Museum until mid-June, it offered spellbinding canvases by El Greco, Ribera, Zurbarán, Velázquez, Murillo and Goya, followed by an exhibition in miniature of mid-19th-century French painting (Corot, Courbet, Delacroix, and, especially, Manet) and a celebratory coda of Americans influenced by them (Cassatt, Chase, Eakins, Sargent, Whistler). The selection was so rich that it was all but impossible to see it in a single visit. And one understands well why Manet, after discovering Velázquez in the Prado in 1865, could write of him to Fantin-Latour, "He is the supreme artist; he didn't surprise me, he enchanted me," or later, to Baudelaire, "He's the greatest artist there's ever been." (Peter Schjeldahl has echoed him in The New Yorker, asking, "Why is Velázquez almost certainly the greatest of painters?")
The greatest, the best, the preeminent: Praise by competitive comparison seems deeply rooted in us. Instinctively we want to identify the painter, or poet or politician, who takes the palm. In fact, it is important to have standards of achievement and to learn to judge discriminatingly, in art as in politics. For some time during the last few decades, talk of excellence in art was considered elitist or beside the point. Sheer expression was thought enough, in whatever medium and with whatever excess. More recently, a broader sense that some work is inherently more successful, revealing, valuable, yes, even "truthful," has been gaining ground.
But this does not mean that one artist can be singled out as supreme. Indeed, the vast world of human experience can only begin to be expressed by many imaginations, many forms, many schools. The truest praise arises from a twofold sense of gratitude and appreciation. It is a cooperation, not a competition, in grace. The great art of this past year in New York blessed our vision of the world in countless ways. Learning to appreciate grand diversity may be not the least of those ways.
Jesuit Fr. Leo J. O'Donovan is president emeritus of Georgetown University. A former president of the Catholic Theological Society of America, he has published frequently on art as well as theology.
National Catholic Reporter, September 5, 2003