Issue Date: September 5, 2003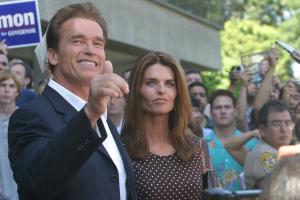 Arnold Schwarzenegger and his wife, Maria Shriver, outside the Los Angeles county registrar's office after he submitted papers to run for governor of California Aug. 9.
-- Dai Saguno/San Jose Mercury News
Life with a Shriver has made Arnold's story one of conversion
By COLMAN McCARTHY
It's true, his films are mostly trashy orgies of violence. It's true, he's electorally inexperienced. It's true, he holds high the free-market theories of Milton Friedman. It's true, his early ambitions were egomaniacal: "When I was a small boy [in Austria]," he told Studs Terkel in American Dream, "my dream was not to be big physically, but big in a way that everybody listens to me when I talk, that I'm a very important person, that people recognize me and see me as something special."
For all of those youthful negatives, Arnold Schwarzenegger has plenty of positives that can be seen as both political and personal assets as he runs for governor of California. To dismiss him as one more Hollywood action-movie airhead -- as Sylvester Stallone, Clint Eastwood and Mel Gibson assuredly are -- is to ignore evidence that his is something of a conversion story. It can be called pre-Maria and post-Maria.
Before marrying Maria Shriver in 1986, Schwarzenegger was a lightweight weightlifter on the make for bigger muscles and more money. Through self-discipline -- a trait not to be dismissed -- he acquired both. The full details of how his wife transformed him are still to be known, but the results have been in line with the ethic of service and generosity that are the marks of the Shriver family that Schwarzenegger married into.
He has given large amounts of time and money to the Inner City Games Foundation, an after-school education program for at-risk children. What began modestly in East Los Angeles in the mid-1990s has spread to 15 cities serving more than 200,000 children. Politically, Schwarzenegger strategized to pass Proposition 49, which is designed to place after-school learning programs in all California public schools by 20l0.
In 1991, Schwarzenegger became chairman of the President's Council on Physical Fitness and Sports. Unlike others before and after him who saw the appointment as little more than ceremonial, he traveled the country to evangelize the young. He challenged them "to work out daily, to get involved in sports, to keep away from drugs and to watch their diet and stay away from junk food." Had this message been heeded, neither federal nor state public health officials would be stewing about the current epidemic of childhood obesity or early signs of heart disease.
His Shriver in-laws have created and run successful international and national social service programs -- Peace Corps, Special Olympics, Best Buddies -- and his wife is a conscientious journalist and writer. Seeing their commitment, Schwarzenegger has matured. His involvement in educational programs has gone well beyond mere dabbling.
Does going from Conan the Barbarian to Arnold the Humanitarian mean that he can change California's political weather from a Gray overcast to sunshine? It's anyone's guess, obviously. But if he has learned anything from his Shriver and Kennedy ties, it's that expertise -- political managers and advisers, media consultants -- can be hired and assembled. Warren Buffet is already aboard as a financial adviser. Schwarzenegger's major asset is his wife. Family-centered, authentically religious, and solid in her television journalism, Maria Shriver learned from her parents that the good life must be a giving life. It appears that she has passed on that teaching to her husband.
Colman McCarthy, a former Washington Post columnist, directs the Center for Teaching Peace in Washington. He teaches courses on nonviolence at seven colleges and high schools.
National Catholic Reporter, September 5, 2003