Issue Date: September 12, 2003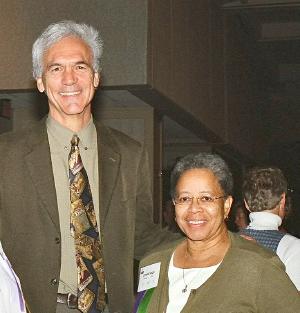 Noted cosmologist Brian Swimme was keynote speaker at the LCWR assembly in Detroit last month. With him is newly elected LCWR president Sr. Constance Phelps, a sister of Charity of Leavenworth, Kan.
-- Karen M. Donahue, RSM
Sisters spotlight eco-justice
Noted cosmologist sparks discussion at gathering of religious leadership
By JEFF GUNTZEL
Detroit
In a conference center tucked inside the enormous General Motors World Headquarters complex in Detroit last month, nearly 1,000 U.S. Roman Catholic sisters talked for five days about the cosmos, ecological justice and the Catholic church.
The occasion was the annual national assembly of the Leadership Conference of Women Religious, held Aug. 21-25. Launched in 1956, LCWR (known until 1971 as the Conference of Major Superiors of Women) is made up of women either elected or appointed to leadership roles in their orders. Together the members of LCWR represent more than 75,000 U.S. Catholic sisters, according to the organization, which represents the women to the U.S. church and the Vatican.
The group's founding statement, penned nearly five decades ago, proclaimed its intention to "promote the spiritual welfare of the women religious of the USA; insure increasing efficacy in their apostolate; and foster closer fraternal cooperation with all religious of the United States, the hierarchy, the clergy and Catholic associates."
In Detroit, the distance the organization has traveled through time and rhetorical space was evident as LCWR president Sr. Mary Ann Zollmann addressed the gathering.
"We women religious are living out of and growing more deeply into an ecofeminism that is a communion of companionship, responsibility and accountability to the whole web of life," said Zollmann, a Sister of Charity of the Blessed Virgin Mary. "Every act sourced in the power of genuine relatedness subverts the power of hierarchy and patriarchy."
This year's gathering was a chance to take care of internal business. New leaders were elected (

see related story) and assembly participants passed resolutions opposing the Free Trade Area of the Americas and decrying the continuing tragic loss of life in Iraq.
It was also an opportunity for intense rumination on the assembly's broad theme, "Tending the Holy," a challenge to expand traditional parameters of understanding divine duty.
"While Christians generally understand God's will for salvation on Earth to involve healing and wholeness for human beings," said Franciscan Sr. Nancy Schreck, an assembly keynote speaker, "we must extend our understanding to include … the rest of creation."
Enter eminent cosmologist and philosopher Brian Swimme. "A full human life," Swimme began his Sunday morning keynote address, "requires some understanding of where we are and how we got here. This challenge of orienting ourselves in the universe is one that humans have been involved with for literally tens of thousands of years.
"Where are we in the universe, how did we get here, and why are we here? What are we about? These are the questions -- in a certain sense they are profoundly mysterious.
"Each era," Swimme continued, "has its own attempt at articulating an adequate response to such a deep mystery."
To set the context for such vast wonderings in this era, Swimme ambled gracefully through what he has dubbed "the universe story."
That we can speak of the universe in terms of a story is due to the simple discovery of Edmund Hubble in the early 20th century from his Mount Wilson observatory in California that the universe was expanding in all directions.
"Because the galaxies are all moving away with proportionality," Swimme marveled, "they all come back here at the same moment. Our universe had a beginning in time -- 13.7 billion years ago, everything in the universe was in one place. That is the great discovery of modern science."
It is the profound discoveries of modern science that inform all of Swimme's assertions.
"One hundred years ago we didn't know if there were two galaxies in the universe. We knew there was one: We were it." Today of course we can see galaxies tens of billions of miles away. The news is so great, Swimme said, that it overwhelms us.
So what did it all mean for the sisters gathered in Detroit? Showing a picture of a star 100 times larger than the sun exploding and releasing its elements into the universe, Swimme got personal: "Every atom of your body passed through an event similar to this. One by one they were given birth by stars and then exploded out into the Milky Way galaxy.
"We have been trained deeply to think of the universe as outside of ourselves, out there. And we have been trained to think of spiritual depths as referring to the human soul. One of our challenges is to think of spiritual depth as referring to the galaxy.
"In our modern sensibilities, the idea has been that the universe is empty, and it's neutral and dead. There happens to be this one place where there's life, but all the rest is this vast, meaningless desert.
"There's another orientation," he continued, "It's the more ancient orientation of the universe as the primary revelation of the divine.
"In that case then the vastness of the universe says something about the vastness of the divine. And with that orientation the discovery of these immense distances is the discovery of the splendor out of which we come, rather than an oppressive, meaningless number.
"All of this," Swimme said, "is an attempt to explore this question of tending the holy. Where does the holy reside?"
It is through expanding the notion of the holy and our understanding the inherent creativity of the universe, Swimme said, that the human species can begin to navigate its way out of the tumultuous times in which we are living.
"There is so much needless suffering today because of our conviction that the universe is a collection of objects. The way of rejuvenation, regeneration, even salvation is the movement into the realization that the universe is a mutually indwelling communion of subjects."
Our "collection of objects" orientation, Swimme said, "permeates all of our world. It is at work in economics, religion and education. As we become more sensitive to it we start recognize it in ourselves and in our institutions so we can participate in the transformation away from that attitude and into another one."
For 4 billion years, he noted, "Earth has been involved as a whole with organizing things so that it might flourish. Our challenge then is to join that, not to manage it and not to imagine that we are somehow engineering this. This is a spectacular creativity that gave birth to us. Our challenge is to find out our unique role and participate in this creativity."
Sunday's workshops and gatherings that followed seemed an extension of the keynote address. Conference workshops such as "Permaculture as Spiritual Practice," "Leadership Lessons from Ecology" and "Ecology's Invitation to Authentic Humanness" became a sort of extended conversation with Swimme's cosmic notions.
In her workshop, "The Call of the Earth Charter," Mary Evelyn Tucker remarked, "One of the greatest legacies that we have from the 20th century and now moving us into the 21st century is this 'Universe Story' and this understanding of ourselves as part of a vast, emerging process. A cosmogenesis."
An expert on the role of world religions and the kind of ecological and cosmic connections highlighted at the assembly, Tucker noted the special contribution Catholic sisters have made already to the conversation.
"The religious sisters in particular have been able to pick up the ideas of the universe story and its spiritual dimensions probably more than any other group," Tucker noted in an interview with NCR. "And they've taken it into their mission, their organization and their projects. It's become a vision but also on the ground action. This is represented in all kinds of nuns, ranging from [eco-centered monasteries] to people working for protection of forests and river cleanup and community-supported agriculture."
Attempting to explain the fairly recent phenomena of Catholic sisters committing themselves and their communities to ecological justice, Tucker explained, "So many of the religious orders picked up social justice in a major way after the '60s and made it part of their mission and their commitment. This linkage between ecology and justice, called eco-justice, is something that they can commit to and energize more people [across] the whole range of their commitments."
Earlier, during a period of reflection, one sister shared Tucker's hopes as she urged her fellow sisters: "The universe is made for mutual indwelling and so are we. So this awareness of spirituality as looking to the depths of the universe, not only … the depths of our soul, just brings all kinds of things to light. And if the women in this place could get it, imagine the power of change we could be for a universal effort where the world could truly live as one. We've got to wake up. We've done it a million times. We've transformed people because of our education, because of our policies. We've got power in this room!"
In the final moments of his keynote address, Swimme agreed: "There is immense opportunity right here. Things are going to happen so quickly. The difficulty is at the level of spirituality and consciousness. And that can happen like a wildfire. All around the planet change is going to be extremely rapid. But there is preparation needed."
That week in Detroit the groundwork, it seemed, was being laid.
Jeff Guntzel is a freelance writer who lives in Chicago.
National Catholic Reporter, September 12, 2003