Issue Date: September 12, 2003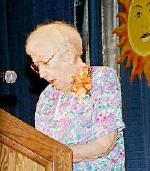 Sr. Mary Luke Tobin addresses the LCWR assembly.
-- Karen M. Donahue, RSM
Women religious honor pioneering past president
At their annual assembly in Detroit late last month, more than 1,000 members of the Leadership Conference of Women Religious paid special honor to one of their past presidents, 95-year-old Sr. Mary Luke Tobin.
Tobin, also a former head of her order, the Sisters of Loretto, received the LCWR Outstanding Leadership Award for her role in the renewal of the church and religious life and for her international efforts as an advocate for peace and justice.
"She was foundational, and absolutely at the heart of remodeling religious life in light of Vatican II," said Sr. Mary Ann Zollmann, a member of the Sisters of Charity of the Blessed Virgin Mary and outgoing president of the LCWR.
In 1964 Tobin had just been elected national chair when the National Executive Committee of LCWR -- then known as the Conference of Major Superiors of Women -- sent her off to Rome to "hang around the halls of the [third session of the Second Vatican] council" to see what she could learn.
En route to Rome, she was officially invited by the Vatican as one of only 15 women in the world to attend the sessions. She was one of only three women auditors to serve on planning commissions for the council's documents on the church in the modern world and on the laity.
Later she was actively involved in nonviolent actions for peace in the United States and abroad, traveling with peace delegations to South Vietnam and Northern Ireland.
She is a founding member of the Catholic social justice lobby NETWORK and of Mary's Pence, an organization promoting the self-empowerment of women within the church. She also founded the Thomas Merton Center for Creative Exchange in Denver.
Tobin was joined at the celebration of her decades of leadership by 22 of the 31 living LCWR presidents.
-- Jeff Guntzel
National Catholic Reporter, September 12, 2003