Issue Date: September 12, 2003
WORLD
Edited by Dennis Coday
Bishop: Laity can do sacraments
LONDON -- Auxiliary Bishop Vincent Malone of Liverpool, England, has suggested that Catholic laywomen should be allowed to administer the sacrament of reconciliation. He said there might be circumstances in which it was more appropriate for a woman to give absolution than a man.
He also questioned whether the church should continue to keep laymen and women from administering the sacrament of anointing of the sick.
But Malone, episcopal liaison to the National Board of Catholic Women of England and Wales, insisted that his reflections were not meant to provoke an acrimonious debate or disobedience among the faithful. "Such thoughts are not intended as an incitement to rebellion; rather they are a quiet reflection on what is meant by healing priesthood," he wrote.
Malone, 71, offered his reflections in his new book, Healing Priesthood: Women's Voices Worldwide. He wrote that although the church's tradition was divinely inspired and free of error it "may sometimes seem only to inhibit the freedom to engage with difficult questions."
Christian leaders deplore wall
JERUSALEM -- The Israeli-built wall (NCR,Sept. 5) separating Israel and the Palestinian territories "constitutes a grave obstacle" to peace in the Middle East, said the heads of Christian churches in Jerusalem.
"For both nations, the wall will result in a feeling of isolation. Moreover, for many Palestinians it means the deprivation of land, livelihood, statehood and family life," the Christian leaders said in an Aug. 26 statement. "Occupation remains the root cause of the conflict and the continuing suffering in the Holy Land."
Israel says it is building the wall to keep out suicide bombers, but Palestinians say it is forming ghettoes, cutting them off from jobs, tourists and, in some cases, family.
The statement was signed by 10 Christian leaders, including: Latin Patriarch Michel Sabbah of Jerusalem; Franciscan Fr. Giovanni Battistelli, head of the Franciscans who care for holy places in the Holy Land; Fr. Mtanios Haddad, head of the Greek Catholics in Jerusalem; and Syrian Catholic Bishop Pierre Melki of Jerusalem. (See related story in Nation Briefs.)
Minority religions driven out
WASHINGTON -- Christians, Hindus and Buddhists are being systematically driven out of Bangladesh by those who want a Taliban-style Islamic state, according to Rosaline Costa, a Bangladeshi Catholic who runs the human rights watchdog Hotline Bangladesh in Dhaka, the nation's capital.
Census figures show religious minorities have shrunk from 30 percent of the population in the 1940s to less than 10 percent today. "The Hindus go to India; the Buddhists head for Japan or Bangkok [Thailand]," Costa said, but Christians do not have a nearby country where they are welcome.
She has documented gang rapes and murderous attacks on religious minorities. Her personal experiences with intimidation include warnings from authorities to stay off the streets on Fridays because men coming from mosques are riled up and are likely to attack non-Muslims.
The Bangladesh Hindu, Buddhist and Christian Unity Council USA sponsored Costa's U.S. trip.
Steve Snow, senior policy analyst for the U.S. Commission on International Religious Freedom who served as chief of the U.S. Embassy's political section in Dhaka from 1988 to 1991, said the situation Costa describes is disturbingly different from the issues she discussed during a U.S. visit she made a dozen years ago. Then she was working on women's rights and child labor. "These problems within the Christian community were not an issue," he said.
---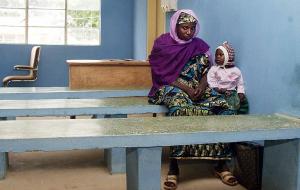 Waiting for judgment
Nigerian Amina Lawal waits in an Islamic courtroom in Katsina in northern Nigeria Aug. 27. She is appealing her sentence of death by stoning under sharia, or Islamic law, for having a child out of wedlock. A judgment on her appeal is expected in a month. Her case has caused international outrage and is a critical test for sharia, which sparked riots when it was extended from civil law to criminal law in 12 northern Nigerian states three years ago. Thousands died in violence between Christians from southern ethnic groups and Muslims in the North.
-- CNS/Reuters
---
Missionary's book foretells death
NAIROBI, Kenya -- U.S. Mill Hill Fr. John Kaiser, whose death in 2000 was ruled a suicide by the FBI and Kenyan government, wrote a book in which he warned readers that he had been threatened and had no plans to take his own life.
The 130-page book, If I Die, is Kaiser's personal account of his missionary work in rural Kenya and some of the events leading to his death. The Kenyan bishops released the book Aug. 22, nearly three years after the missionary was found dead, with bullet wounds to his head, along a highway southwest of Nairobi.
The Kenyan government opened a new inquest into Kaiser's death last month (NCR, Aug. 29)
Kaiser dedicated his book to the memory of "the many forgotten ones" who died while he was overseeing the pastoral care of displaced people in a Kenyan refugee camp. This followed land clashes that displaced nearly 1 million people in the early 1990s.
Translations to be discussed
VATICAN CITY -- Church leaders from English-speaking countries will meet at the Vatican to discuss and clarify questions about the translation of liturgical texts. The Oct. 21 encounter will cover a wide range of topics, including the principles of translation used under new Vatican norms, the respective competencies of the Vatican congregation and bishops' conferences, the role of the International Commission on English in the Liturgy, and the function of the Vatican-instituted Vox Clara Committee.
Cardinal Francis Arinze, head of the Congregation for Divine Worship and the Sacraments, called the meeting and is expected to preside over it. Invited to the meeting were presidents of bishops' conferences in countries where English is used in liturgical celebrations.
Dalai Lama warned against trip
TIBET -- China's governor of Tibet warned that the Dalai Lama's planned September meetings with U.S. officials -- including President George Bush -- could jeopardize the exiled leader's chance of returning to Tibet.
At the same time, Jampa Phuntsog, the governor of the Tibet Autonomous Region, said that recent trips to Tibet by representatives of the Dalai Lama's government in exile have been improving relations. "By understanding the Dalai Lama's real thinking, on the basis of the sincerity of his thinking, we can have some real progress," he said.
Visits to the region by Tibetan envoys last May marked the first direct contact since 1993, indicating a softening in Beijing's position on Tibet. But China continues to demand that the Dalai Lama recognize Tibet and Taiwan as parts of China. China has occupied Tibet since 1950.
Meanwhile, the Dalai Lama, who fled to India from Tibet in 1959 after a failed uprising against Chinese communist rule, said negotiations with China over greater Tibetan autonomy must yield results in the next couple of years in order to justify his conciliatory approach to Tibetan youths seeking independence.
Laundry nuns deny secret burials
DUBLIN, Ireland -- Claims that the Sisters of Our Lady of Charity secretly buried the bodies of women who died in their care are "preposterous and untrue," said Sr. Ann Marie Ryan, the order's provincial superior. Responding to a journalist's allegations of wrongdoing, Ryan said all deaths at the order's laundry and convent were handled appropriately and lawfully.
In mid-August, Irish journalist Mary Raftery, who has produced a series of television documentaries detailing the abuse suffered by those in institutions run by religious authorities in the 1950s and '60s, claimed that death certificates existed for only 75 of 155 bodies exhumed in 1993 from a graveyard attached to a Charity Sisters Magdalene laundry.
The nonregistration of deaths "raises important questions for both the order and the Department of the Environment to answer," Raftery charged.
According to Ryan, the order exhumed the bodies of 155 women about 10 years ago to make room for a much-needed home for elderly sisters. One family took the remains of a deceased relative to a family plot at this time. The remaining 154 were respectfully cremated and laid to rest in a public ceremony, she said. Relevant authorities approved the process, Ryan said.
USA
Superiors urge end to wall
WASHINGTON -- The U.S. Conference of Religious Superiors of Men have written to President George W. Bush, urging that he insist Israel stop construction of a wall separating Israel and the Palestinian territories (NCR, Sept. 5).
"This wall will create, in effect, a series of isolated, virtual prisons, depriving the Palestinians of more land, further threatening their economic situation and making the creation of a viable Palestinian state more difficult," the conference said in a late August letter to Bush.
"The Palestinian people, already the victims of occupation and oppression, will see this as a further effort to dehumanize them and separate them from the world community," the superiors said. "It will only serve to increase the cycle of violence and may lead to more death and destruction." (See related story in World Briefs.)
Missouri court commutes death sentence for convicted teen
ST. LOUIS -- The Missouri Supreme Court commuted the death sentence of Christopher Simmons to life in prison without parole Aug. 26, ruling 4-3 that persons convicted of capital crimes committed before they were 18 cannot be executed. The court ruled that the provisions of law regarding juvenile executions violate an evolving standard of decency; therefore such punishment is cruel and unusual and thus prohibited by the Eighth Amendment of the U.S. Constitution.
"This is a huge step forward for anti-death penalty advocates in Missouri and across the country," said Rita Linhardt, research director for the Missouri Catholic Conference. "Courts are acknowledging that public opinion on the death penalty has clearly shifted."
Simmons was sentenced to death for the abduction and murder of Shirley Ann Crook in 1993. Simmons, then a 17-year-old high school student, and an accomplice broke into Crook's home, tied her up and drove her to a railroad trestle where they threw her into a river with hands and feet tied together. Simmons' accomplice, Charles Benjamin, then 15, was convicted and sentenced to life in prison without parole.
Golden jubilee for Weston Priory
WESTON, Vt. -- The Benedictine monks of Weston Priory, nationally known for their liturgical music, marked the 50th anniversary of their monastic foundation with ceremonies Aug. 12 at the monastery, located on a bucolic hilltop on the edge of the Green Mountain National Forest. Currently, 15 monks live at the priory; five of them are ordained priests. They range in age from 31 to 82.
Abbot Leo Rudloff of Dormition Abbey in Jerusalem, a German-born Benedictine, founded the Weston Priory to train monks and send them to the Benedictine monastery in Jerusalem because German brothers were not allowed into Israel after World War II. Three monks from Weston were sent to Israel, but eventually all three left. Rudloff, who became a U.S. citizen, stayed in Israel until 1968 when he retired to Weston.
Catholic high school bars hijab
CLEVELAND -- Regina High School has barred a returning senior from wearing her Muslim headscarf, or hijab, because it violates the Catholic school's dress code.
"I feel very bad about this situation. I've agonized over it," said Notre Dame Sr. Maureen Burke, Regina's principal for 12 years. "Amal is a wonderful young woman. The family is very fine. ... But the uniform issue is very important to who we are as a Catholic school."
The Regina handbook includes a sentence reading, "No hats, no bandannas or head wraps are permitted." Burke explained: "The purpose of the uniform is to bring everybody together, not to be distracted by self-expression."
"I was in shock. I didn't understand," said Amal, 17. "All along, they gave me a room to pray in. They asked me questions about Islam. They always accepted me for who I was. Now they have decided it is against school policy to wear my hijab."
Following a public outcry against the hijab ban, Burke said the school would review the policy.
Fashion Bible targets teen girls
NASHVILLE, Tenn. -- To snare the interest of girls ages 12 to 17, Bible publishers Thomas Nelson have developed Revolve, the complete New Testament in a fashion magazine format, replete with images of stylish, smiling young women, quizzes and celebrity birthdays (sorry, no horoscopes).
Gushing effusively, Brooke Nichols, 15, of Nashville, Tenn., said Revolve has been a big hit with her friends at public school. "Once they saw it they were like, 'I'm going to have to get me one of those.' "
The magazine format was intended to appeal to media-saturated teenagers, said Kate Etue, the managing editor of Revolve. Thomas Nelson brought in Thor 5 One, an Irish firm that designs the album covers for the rock band U2. The result: a glossy cover photo of three smiling teenage girls with glistening teeth and glowing skin, under florescent pink and blue headlines promising beauty secrets, quizzes and serial issue sidebars, such as "Are You Dating a Godly Guy?"
Russell Dalton, director of the Religious Communications program at United Theological Seminary in Dayton, Ohio, said he worried "niche Bibles like Revolve might encourage kids to look at the Bible in a myopic way."
COMPILED FROM NEWS SERVICES, CORRESPONDENTS AND STAFF
National Catholic Reporter, September 12, 2003