Issue Date: September 12, 2003
PEOPLE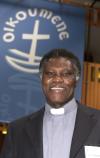 The Rev. Samuel Kobia, a Methodist minister from Kenya, was elected Aug. 28 the general secretary of the Central Committee of the World Council of Churches, which represents 342 churches and Christian communities worldwide. Kobia said that interreligious dialogue would be central to his agenda: "The 20th century was dominated by the politics of ideology. It is likely that the 21st will be dominated by the politics of identity. Many people define their identity in a religious way. If we are to overcome violence and create peace and justice, we need a multi-faith approach."
Archbishop Charles Chaput of Denver has been named to the U.S. Commission on International Religious Freedom, a 10-member panel that monitors religious liberty worldwide and counsels Congress, the president and the secretary of state on how to sponsor and uphold religious freedom and tolerance.
Imam W. Deen Mohammed, a spiritual leader of African-American Muslims for three decades, announced Aug. 31 his resignation as leader of the American Society of Muslims. Mohammed, who will turn 70 in October, plans to continue his ministry, The Mosque Cares, but will no longer lead the society. He is the son of Elijah Muhammad, who led the Nation of Islam until he died in 1975. After his father's death, he gradually shifted the movement toward orthodox Islam and later founded what would become the American Society of Muslims. Louis Farrakhan became the leader of the old Nation of Islam in 1978.

Bishop Wenceslao Padilla, a Missionhurst missionary from the Philippines, was installed as first bishop of Mongolia in Ulan Bator Aug. 29. Pope John Paul II sent Vatican envoy Cardinal Crescenzio Sepe, prefect of the Congregation for the Evangelization of Peoples, to install the new bishop and bless Mongolia's first cathedral, the Cathedral of Ss. Peter and Paul. Padilla has directed Catholic missionary activity in Mongolia since 1992. Mongolia had expected to host a papal trip this year, but plans fell through.
Thomas E. Blanton Jr. lost his appeal to the Alabama Court of Criminal Appeals, which upheld the 2001 murder convictions of former the Klansman for his role in the 1963 bombing of the Sixteenth Street Baptist Church in Montgomery, Ala., that killed four girls. His lawyer said he expects the case to eventually go to the Supreme Court. Blanton's co-defendant, Bobby Frank Cherry, was convicted last year. A third defendant, Robert Chambliss, was convicted in 1977 and died in prison. Blanton and Cherry are serving life sentences.
Kevin Ahern of Valhalla, N.Y., a recent graduate of Fordham University, was elected Aug. 30 international president of the International Movement of Catholic Students of Pax Romana, an 80-year old movement of Catholic university students. Ahern is only the third American to hold the post. Ahern will serve a four-year term working from the group's Paris headquarters. The last four years, he has represented the group at the United Nations in New York.
Dr. Harold G. Koenig of Duke University says a small but growing number of physicians are taking patient "spiritual histories." By collecting information about each patient's religious or spiritual beliefs, he believes doctors can make more informed treatment decisions and help patients rally spiritual resources to aid healing. Koenig described the technique in a manual for health care professionals, Spirituality in Patient Care (Templeton Foundation Press). A spiritual history might include questions such as: Does the patient rely on religion or spirituality to help cope with illness? Is the patient a member of a supportive spiritual community?
DEATHS
James P. Shannon
Bishop who left church over birth control
James P. Shannon, who resigned as auxiliary bishop of St. Paul-Minneapolis in 1968 because he could not accept Pope Paul VI's teaching on birth control, died Aug. 27 at age 82. Several years before his death, he had quietly reconciled with the church.
After resigning, Shannon earned a doctorate in law and entered a new career in philanthropy that included executive posts at several Minnesota-based foundations.
Just two weeks before his episcopal ordination in 1965, he went to Selma, Ala., to share a podium with the Rev. Martin Luther King Jr. at a memorial service for the Rev. James Reeb, slain for helping blacks register to vote. In 1967 he became one of the first bishops to oppose the Vietnam War.
Josephine Jacobsen
Poet
Josephine Jacobsen, an internationally acclaimed poet and short story writer, died July 9 in Baltimore at the age of 94. Although Jacobsen didn't talk much about her Catholic faith, "I had the sense that it was the bedrock upon which she rested and it infused her poetry in a very subtle way," said Sr. Kathleen Feeley, a School Sister of Notre Dame and former president of the College of Notre Dame of Maryland, who was a longtime friend of Jacobsen.
National Catholic Reporter, September 12, 2003