Issue Date: September 12, 2003
How to quell the daily war
Frustrated that you haven't been able to do much to help achieve world peace? Want to do your part for preventing war among nations? Thich Nhat Hanh has a suggestion: Breathe in, and then breathe out.
The pacifist Buddhist monk teaches that paying attention to the breath can help calm people during difficult situations and transform difficult emotions such as fear and anger into love and compassion. Such mindfulness, he writes in his newest book, Creating True Peace: Ending Violence in Yourself, Your Family, Your Community, and the World (Free Press, $23), is the only way to bring about peace.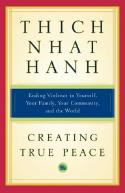 "The daily wars that occur within our thoughts and within our families have everything to do with the wars fought between peoples and nations throughout the world," he writes. "The conviction that we know the truth and those who do not share our beliefs are wrong has caused a lot of harm."
That the path to world peace could begin with individuals is extremely empowering; you don't have to be the secretary of state to make a difference. And Creating True Peace is chock-full of concrete examples of ways to put peace into practice in daily life, especially for families with children.
One suggestion is a "breathing room" where parents and children can take time out together to calm themselves during stressful times in the family. He also suggests writing notes when you are peaceful to carry in your wallet and then use as a "bell of mindfulness" when strong emotions hit. Families can create "family altars" to remind them of the strength they can draw from their ancestors. The book also contains a number of guided meditations as well as "peace treaties" that partners or families can sign promising to handle disagreements with mindfulness and love.
Above all, Hanh warns about the consumption of what he calls "the toxins of violence," whether from the food we eat or the television we watch. "It is very important to wake up and to reject the kind of production and consumption that is destroying us, our nation, our young people," he writes. In other words, a daily dose of "The O'Reilly Factor" probably isn't helping you to be a more peaceful person.
Thich Nhat Hanh is one of the world's foremost peace activists, having survived three wars and more than 30 years of exile from his native Vietnam for trying to encourage reconciliation between the communists and non-communists. In Creating True Peace, he tells several dramatic stories about his life as a young monk during the war, and how practicing peace helped him and his students survive. For his efforts toward reconciliation, the Rev. Martin Luther King Jr. nominated him for the Nobel Peace prize in 1967.
The author of more than 100 books of philosophy, poetry and fiction, he has written often about the topic of peace, including Being Peace (Parallax, 1987), which has more than 200,000 copies in print, and Peace Is Every Step (Bantam, 1991). In the newest book, he is pointedly political, calling upon the United States and its political leaders to see that "war is not a necessary condition of life." He argues that there can no more be a "just war" than "just slavery" or "just racism."
Although die-hard pacifists will find themselves nodding in agreement while reading Creating True Peace, it may be a tougher sell for the rest of Americans. But perhaps the escalating terrorism and war of these times will finally convince more people that violence cannot solve the problem of violence.
-- Heidi Schlumpf
National Catholic Reporter, September 12, 2003