Issue Date: September 19, 2003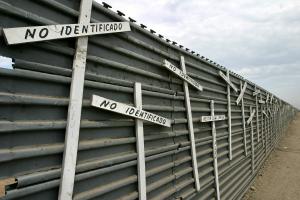 On the fence dividing the United States and Mexico, crosses honor both known and unidentified migrants who have died in recent years while crossing the border.
-- Rick Reinhard/Impact Digitals
Pilgrimage: 'stop these deaths'
U.S. and Mexican Catholics will unite Nov. 2 at altar to commemorate 2,300 victims of perilous border crossing
By ARTHUR JONES
San Diego, Calif., and Tijuana, Mexico
In El Paso, Texas, Nov. 2, the Day of the Dead, Catholics on each side of the Mexico-U.S. border will push tables against a common fence to form one altar. Bishops from both nations -- separated by wall and wire -- will concelebrate a Mass that will be the culmination of a huge organizing event coming together as "The Border Pilgrimage."
The Mass will be offered for the more than 2,300 migrants who have died trying to cross the border in the past eight years. That estimate, compiled by the University of Houston, goes back to roughly the point at which construction of "The Wall" (NCR, Jan. 17), the 66-mile barricade that starts in the Pacific Ocean in the Tijuana-San Diego Bay, began to impede crossings close to San Diego.
Maryknoll lay missioner West Cosgrove, a key local coordinator with Jose Escobedo of the pilgrimage's "Border Convocation" in El Paso, estimates that this year another 400 men and women could die in attempts to cross into the United States.
In Arizona this year, in Cochise and Pima counties alone, there have already been more than 130 crossing deaths, said Sr. Barbara Crummitt of the Sisters for Christian Community, a driving force behind Tucson-based Healing Our Borders, and local pilgrimage coordinator. In summer, desert temperatures can "hit 120 degrees easily," she said.
Ten percent of border deaths come as migrants drown trying to swim across the deceptively calm waters of the All-American Canal. In fact, there's a massive undertow as turbines pump waters into the fields. Others die on the highway (see accompanying story), or suffocate in abandoned vehicles or die of thirst in the desert. Several have been shot by U.S. border agents.
The Oct. 26-31 pilgrimage grew out of border concerns coalescing before Sept. 11, 2001. That year, the Washington-based Religious Task Force on Central America and Mexico started a U.S. border outreach project, said executive director Margaret Swedish, "because we were hearing about mounting deaths and the incredible migration tide." Religious Task Force linked with border groups "we knew from sanctuary work, things like that. There were bi-national talks happening [between U.S. President George Bush and Mexican President Vicente Fox] and we actually thought we might have an agenda."
Sept. 11 squashed the plans -- and demolished the developing Bush-Fox entente cordiale.
In May 2002, Rebecca Phares, then with the task force and now directing the Oblate Peace and Justice Office in Washington, picked up the threads, with a major meeting in El Paso. That's when the pilgrimage idea surfaced. Phares now chairs the Washington Border Working Group.
There was a follow-up El Paso meeting this February.
The pilgrimage, propelled by interfaith and humanitarian organizations, and anchored by local Catholic dioceses en route, will have dual starting points: Brownsville, Texas, at the eastern end, and San Diego in the west.
In Brownsville, Raul Cano, and in San Juan, Oblate Fr. John Lasseigne, have Rio Grande region responsibilities for the Eastern pilgrims. In the West, Maryknoll lay missioners Dick and Nancy Bureson of Church Without Borders in San Diego have prime responsibilities, in combination with the University of San Diego, which has planned a weeklong program before the pilgrims depart Oct. 26.
Catholic dioceses en route have local ceremonies planned as the pilgrims arrive, and many parishioners will be offering overnight hospitality to the travelers.
In Las Cruces, N.M., 40 miles north of El Paso, Bishop Ricardo Ramirez said the bishops are asking Catholics to open the doors of their churches and houses en route to accommodate the pilgrims. "We're encouraging our own people to be part of the El Paso Mass. We want to raise awareness, especially in the secular media, to the plight, to what drives the need to migrate, to these terrible sacrifices and risks."
Typical of what's being planned is an event scheduled for when pilgrims arrive Oct. 28 in tiny San Juan, Texas. Lasseigne will lead "a symbolic march from the United Farm Workers hall to the Basilica Shrine of Our Lady of San Juan," the largest Catholic shrine in Texas.
In the Laredo diocese, however, Mercy Sr. Rose Tresp said, "We're still in the midst of organizing." That's true for most dioceses.
The El Paso convocation schedule will begin Friday, Oct. 31, with a cultural evening -- music, skits, and a meal catered by members of nearby Sacred Heart Parish -- as the pilgrims arrive by car from East and West. The Easterners will have completed that day the 500 miles from San Antonio. The Westerners have had a slightly easier haul -- 300 miles from Tucson, Ariz., through Lordsburg, N.M., and Las Cruces, N.M.
Workshops will be held that Saturday in modest quarters in downtown El Paso. Topics will include the recent bishops' pastoral letters on unity and diversity, a presentation by a Cuidad Juarez group on issues in Mexico, discussions of U.S. border policies and U.S. economic policies that affect Mexicans, plus -- befitting the pilgrimage's ecumenical nature -- a session on "what people of faith should be doing." Organizers Joan Maruskin from Church World Service and Roberto Martinez of the American Friends Service Committee will be workshop presenters.
Organized labor is simultaneously moving out front on migrant worker issues. A nine-city Immigrant Workers Freedom Ride pressing for immigrant citizenship and civil rights culminates in a mass rally in Queens, N.Y., Oct. 4.
Both the U.S. Catholic bishops' domestic policy committee's Labor Day message and the "Labor in the Pulpits" program of the National Interfaith Committee for Worker Justice will focus on immigrant workers' needs.
Organizers are not predicting numbers, but are counting on contacts made among activist groups involved in various causes and in those who have been involved in programs like that conducted by Cosgrove and his wife, Chris Divin. Lay missioners since 1985, they lived for eight years in Venezuela before they and their three daughters moved to El Paso. They run immersion experience programs in Mexico for labor groups and colleges such as St. Bonaventure University in New York, the University of Notre Dame, and Revier College in New Hampshire. There are similar cross-border experience programs in many border dioceses.
Arthur Jones is NCR editor at large. His e-mail address is arthurjones@comcast.net.
Related Web Sites and Contacts
National Catholic Reporter, September 19, 2003