Issue Date: September 19, 2003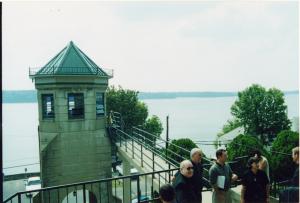 Members of the Kentucky Catholic Conference wait to be allowed entrance to the state penitentiary at Eddyville, overlooking Lake Barkley.
-- Photos by Margaret Gabriel
A journey behind prison walls
Delegation of Kentucky Catholics brings community to penitentiary
By MARGARET GABRIEL
Eddyville, Ky.
When an inmate stands on the highest point of the grounds of the Kentucky State Penitentiary he can catch a glimpse of Lake Barkley, a reservoir of over 93,000 acres that touches counties in the western portions of Kentucky and Tennessee. The spectacular waterfront view beyond the prison's stone walls makes incarceration even more difficult for some, according to warden Glen Haeberlin.
The penitentiary at Eddyville, Ky., is the only maximum security facility in the state. Most inmates have been transferred from medium or minimum security facilities because they failed to adjust, Haeberlin said.
People might call Eddyville inmates "hardened criminals." Many serve life sentences for robbery and rape, or lengthy sentences for burglary and assault. Four distinct groups make up the population at Eddyville, each identified by the color of their jump suits. The general population wears khaki; protective custody inmates, kelly green; and those in segregation, the penitentiary "jail," wear canary yellow. The 36 men on death row wear bright scarlet. Rarely do the populations mingle.
Leaders of the Catholic church in Kentucky sought the chance to enter this world, to observe firsthand the implementation of criminal justice in their state. Following the release of the U.S. Conference of Catholic Bishops' 2000 document, "Responsibility, Rehabilitation and Restoration: A Catholic Perspective on Crime and Criminal Justice," the Catholic Conference of Kentucky arranged the pastoral visit to the Eddyville penitentiary. Archbishop Thomas Kelly of Louisville, Bishops John McRaith of Owensboro and Roger Foys of Covington, and members of the Kentucky conference's pro-life and social concerns committees traveled to meet with inmates and to celebrate Mass.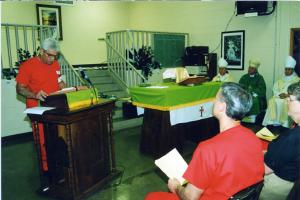 Death-row inmate David Matthews proclaims a scripture reading at Mass.
On the day of their trip to the penitentiary in the summer of 2002, conference committee members met first with Haeberlin in the prison chapel. Little identified the room as a place of worship: There was a peaceful picture of a sunset over a body of water. A sign on an altar stated, "Do not move without permission of chaplain. Do not place personal items on it." A chalkboard listed prayer concerns.
After a loud banging on the door to the chapel, inmates wearing kelly green were admitted. One of the men, Phillip Turner, 25, had been incarcerated for six years. Although baptized Catholic as an infant, practiced his faith very little when he was growing up. "My family was close, but I had very little spiritual life," he told the visitors. "After I met [Eddyville chaplain] Fr. [Robert] Drury, he helped me a lot. I really feel like I have a chance of making it."
Turner said he has enrolled in anger management classes and is working to change through spiritual exploration, studying scripture, theology and history. He added, "It's good to know that we can have community with people on the outside."
During his time in prison, Turner said, he has had the opportunity to learn about other religious traditions, including a discussion of Buddhism with the inmate in a neighboring cell. "The commandments they go by are not that different from the commandments given by Moses," Turner said.
He has heard Muslims talk about al-Qaeda and other issues currently in the news. "I was under the impression that most Muslims were terrorists, but they're not. Humans have a bad time lumping all people together, but we have to learn about others," Turner said. "We need to have roots in our faith, but when you learn from your brothers, you expand your knowledge."
Little attempt at rehabilitation
Fleece Johnson threw open the chapel door and called "Can I have everyone's attention please?"

After 20 years in prison, Fleece Johnson was up for parole. But he had worries.
The protective custody inmate was dripping sweat from the hot sun on the exercise yard. In a tense, anxious voice, he told his audience that after 20 years in prison, he was up for parole, but would be denied if he did not find a place to go within four months.
Protective custody inmates need to be isolated from the general population of the penitentiary because they have gotten into trouble in the system, Haeberlin said. "They've borrowed money they can't repay, testified against or fought with another inmate. [They] come to Eddyville from all over the state."
There is little attempt at rehabilitation at Eddyville, Haeberlin said. "Our task is to get an individual on track, to follow the rules, be compliant and send him [to a medium or minimum security facility]." However, officers have introduced a morals education program, including therapy for participating inmates.
Fleece said he was at Eddyville because of parole violations. "I had an attitude. I'm like a horse that tossed every rider, but Jesus rode me to the ground. I accepted the Lord and I changed, almost like Paul. … Christ could have destroyed Paul on sight, but he made him repair the damage he'd caused."
It is sometimes difficult for inmates to find programs upon release, said Joe Stuart, deputy warden for support services. Halfway houses in communities throughout the state show preference to parolees from their own area. "The board will make sure that he's a good candidate for parole," Stuart said. "If people spend a long time in prison, sometimes it's difficult to make adjustment to outside."
The average length of a stay at Eddyville is two years, then an inmate generally returns to medium security facilities, but 18 to 20 men a month complete their sentences and are released. The penitentiary has a two-day program that helps them deal with issues they will face, including discussion of writing resumés and finding jobs, and access to education and services, Haeberlin said.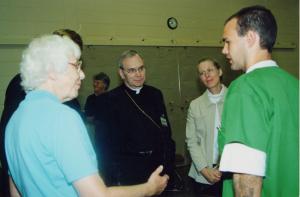 Inmate Phillip Turner, 25, right, talks about his life and answers questions for members of the Kentucky Catholic Conference.
After a tour of the penitentiary, the "chapel guests," as the group was dubbed, reassembled in the prison chapel for Mass with the inmates.
Among the inmates was Leif Halvorsen, 49, who was sentenced to death in 1983 for the murders of Jackqueline Greene, Joe Norman and Joey Durham in Lexington, Ky.
Halvorsen served at the altar as the Kentucky bishops celebrated Mass. During his 19 years on death row, Halvorsen said, he has reclaimed his life through spiritual growth, prayer and reception of the sacraments.
"I don't believe I can ever repay what I have taken from society, and it's only through his mercy that I can be worthy of God's love, but that mercy doesn't take me off the hook," Halvorsen said.
While he does not believe that he should be exonerated, neither does Halvorsen believe that that his execution will serve society. "It's an irrational response," he said. "It's just as pathological for society to have the death penalty as it is for an individual to commit a violent crime."
Machinery of death
The years-long legal process for death row inmates is difficult. "As long as a client is living, litigation is possible," said Rebecca DiLoreto, post-trial division director of the Kentucky Department of Public Advocacy. She said prisoners' efforts toward reparation can become "ammunition" for prosecutors who say that what the client presents as a desire to seek reconciliation is really disguised manipulation.
Furthermore, a client might also be involved in litigation about the degree of guilt and yet feel real remorse toward the victim, DiLoreto said, but a prosecutor might use efforts toward reconciliation to prove culpability.
"My job is not to make sure the client has redemption as he leaves this earth," DiLoreto said. "My job is to defend my client's life against the power and intent of the state to execute" -- even if that means sometimes continuing an appeal even though a client expresses a wish to give up the opportunity for review, she said.
The Catholic delegation's visit gave them a look at the machinery of the death penalty at Eddyville. They followed the warden down a dark, low-ceilinged hallway, and silently filed into a small room and stared at the electric chair that was used in Kentucky until the Supreme Court abolished the death penalty in 1972.
The now-obsolete wooden chair had leather restraints on the arms and legs where a man could be strapped. Glenmary Fr. John Rausch cautiously seated himself in the chair.
"Amazing," he muttered.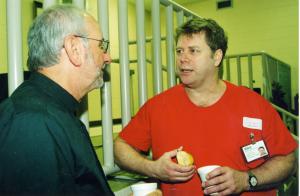 After Mass, inmate Ralph Baze talks with Glenmary Fr. John Rausch. Rausch wore a red stole in solidarity with the death row inmates, who wear red uniforms.
"I was moved by the Spirit to take the place of one condemned," Rausch said later. "When I was sitting there, uncomfortable and confused, I thought about the 160-some people Kentucky executed in that chair over the years. In hindsight, the chair was a strange symbol, like a link to the violence the state tried to deal with in physical ways and not by spiritual ones."
The chair has been kept for historical purposes, said Haeberlin. An easy-going, affable man with an air of command, he greets inmates by name as he moves through the penitentiary. He worked at Eddyville for 17 years before being named warden in August 2002.
The cellblock that houses the old chair is rarely used, Haeberlin said. It's cold in the winter, hot in the summer, poorly ventilated. Death row inmates now are segregated on the first floor of a general population cellblock; the new death house stands 200 yards away from the main building. Today Kentucky uses lethal injection for executions.
The work of the Kentucky State Penitentiary and its warden seems a world away from the political and moral questions that surround the use of capital punishment.
"This is the will of the people, the people who elect the officials. Everybody has a stand, but until there is a change in that law …" Haeberlin's sentence went unfinished.
Flesh to the gospel message
At the liturgy, Kelly, the archbishop, assured the inmates that the Catholic church is "working on the death penalty issue and wants to bring your voice to Kentucky. … All of the men and women here are with you in heart, mind and soul as we talk about rehabilitation justice. It's good to see your faces, above all, as we gather to worship."
McRaith noted, "We can change the lives of people we come in touch with, no matter what our community may be. Everyone is in need of mercy and forgiveness, and that includes we three bishops."
After the liturgy, death row inmate Ralph Baze shared the details of his crime and the experience of his incarceration with Rausch, the Glenmary priest who had concelebrated the liturgy in a red stole that matched the shade of the death row clothing -- "in solidarity with the folks," Rausch said. Baze was sentenced to death for the murder of two police officers in Powell County, where Rausch lives.
In another corner, general population inmates Leo Spurling and Larry Hansen talked about the work of the Children's Fund Project, an inmate-driven effort to raise funds for children and youth at risk. Funds are raised by collecting cans for recycling and by selling artwork (NCR, Dec. 20, 2002).
"We wanted to show the men [in the penitentiary] and the Catholic community that spirituality should be a part of our penal system," said Scott Wegenast, policy analyst for the Catholic Conference of Kentucky. "It puts flesh to the gospel message to visit the imprisoned. The message was that there is a place for spiritual formation at [the penitentiary]. Most will be released into the community eventually, and we need to show concern for them, their families, the victims and the victims' families."
Margaret Gabriel is a freelance writer in Lexington, Ky.
National Catholic Reporter, September 19, 2003