Issue Date: September 19, 2003
WORLD
Edited by Dennis Coday
Withdrawal from Iraq demanded
GENEVA -- The World Council of Churches has called for the "immediate and orderly" withdrawal of coalition forces from Iraq and the transfer of power to the United Nations. The council's Central Committee, ending its eight-day meeting in Geneva Sept. 2, also urged churches to provide humanitarian aid to alleviate the "horrific conditions and untold human sufferings" in Liberia.
In a five-page statement on Iraq, the council called the U.S.-led invasion "immoral, ill-advised and in breach of the principles of the U.N. Charter." The council said it remains concerned about the "long-term political, social, cultural and religious consequences of this war and the continued occupation, especially the negative impact on Christian-Muslim relations."
The Geneva-based body of 342 Protestant and Orthodox churches called on American and British forces to pay "full reparations" to the Iraqi people for the war's damages and urged "unimpeded access" for humanitarian groups.
Put Peter's Pence on your card
VATICAN CITY -- Changing with the times, the Vatican is inviting charity by credit card. Normally, Catholics worldwide are asked to make a "Peter's Pence" contribution once a year on June 29 or the nearest Sunday when the church celebrates the Solemnity of Ss. Peter and Paul. The collection, which totaled $52.8 million last year, goes directly to the pope to use for charity or church expenses.
Now the Vatican Web site is inviting contributions at any time of the year by a choice of four credit cards (American Express, Visa, Diners or MasterCard). It provides a number where donors can fax their name, credit card number and expiration date, and the amount they want to give.
Vatican pushes nuclear test ban
VIENNA, Austria -- The community of nations has the ability to rid the world of nuclear weapons; it must find the courage to do so, said Msgr. Pietro Parolin, the Vatican's representative at an international conference on the Comprehensive Nuclear Test Ban Treaty meeting in Vienna Sept. 3-5.
Parolin, the Vatican's undersecretary for relations with states, told delegates that Pope John Paul II sent him to Vienna "to renew his appeal for a common and generous effort for peace and security." Global ratification and enforcement of a ban on testing nuclear weapons would contribute to preventing the proliferation of nuclear weapons and eventually to nuclear disarmament, which would enhance international peace and security, he said.
Delay in ratifying the ban "inevitably increases the risk that nuclear testing will resume and nonproliferation will be much harder to sustain," Parolin told the conference.
Trying to ensure peace by holding on to the threat of nuclear weapons "cannot be the type of peace we seek for the 21st century," he said.
---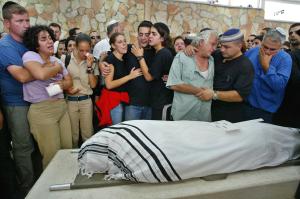 Attacks continue
Mourners grieve at the Sept. 10 funeral of Alon Mizrahi, an Israeli security guard killed in an explosion at a Jerusalem café the day before. Seven people were killed in the bombing attack at the café five hours after eight Israeli soldiers died in the bombing of a bus stop outside a military base in Tel Aviv. The militant group Hamas claimed responsibility for both attacks carried out by Palestinian suicide bombers. In a retaliatory effort, an Israeli warplane narrowly failed to assassinate Hamas leader Mahmoud al-Zahar Sept. 10. The strike killed his son and a bodyguard in Gaza.
-- CNS/Reuters
---
Guerrillas threaten to kill bishop
IPIALES, Colombia -- Colombian Bishop Arturo Correa Toro of Ipiales has received death threats for his refusal to turn over church property to the country's largest guerrilla group, the Revolutionary Armed Forces of Colombia, known as FARC. A diocesan statement said FARC considers the bishop and church workers at San Mateo Parish "military objectives" for refusing to relinquish church land.
Colombian press reports cited Correa as saying that the threats involve a parcel of land alongside San Mateo Church. The bishop said he will not turn over the land because of the threats and asked the guerilla group to discuss issues with "reason and intelligence."
The Sept. 3 diocesan statement said the diocese is facing a "critical situation of violence" and asked the Colombian government and the Inter-American Human Rights Commission of the Organization of American States for protection.
Ipiales is a largely rural diocese along the border with Ecuador. Neither the bishop nor the statement said why the FARC wanted the land, but it is not unusual for the guerrilla group to requisition territory in areas under its control.
'Messy' future for Anglicans
LONDON -- Anglican Archbishop Rowan Williams of Canterbury predicts a "messy" future for the Anglican Communion because of deep divisions over homosexuality and other issues. Writing in New Directions, the periodical of the conservative Forward in Faith movement, Williams challenged dissidents on disrupting the unity of Anglicanism.
His article was published Sept. 1 but was written before the Episcopal church -- the U.S. branch of Anglicanism -- voted to approve an openly gay bishop in New Hampshire and to "recognize" same-sex blessings as part of the church's "common life."
"I don't expect the next few years to be anything other than messy as far as all this is concerned," Williams wrote. "The question is not whether we can avoid mess, but whether we can hang on to common convictions about divine grace and initiative."
Williams said that "in a nutshell what seems to be most deeply at issue is the question of whether as Anglicans (and of course as Christians in general) we are accountable to anyone or anything other than a humanistic wisdom."
Thousands at risk in migration
CHIAPAS, Mexico -- During a recent visit to Mexico, Guatemalan Bishop Alvaro Ramazzini Imeri of San Marcos said he helped receive the bodies of three young men who died in the Arizona desert while migrating to the United States. Parishioners had taken a collection for the repatriation of the bodies, an enormous expense for the impoverished community in the southern Mexican state of Chiapas, he said.
Despite overwhelming dangers and obstacles, tens of thousands of Central American citizens will continue to migrate to the United States in search of work to support their families back home.
Ramazzini said that unjust international economic structures tacitly conspire to keep poor countries poor, forcing Central Americans to risk their lives by migrating north.
"We are living in an incredibly unjust world," he said. In Guatemala, up to 80 percent of the population lives in poverty, and 75,000 people attempt to migrate north each year, he said.
The bishop said the church continually warns people of the dangers in migration, but he knows the warnings are fruitless.
"People take the risk and go north because they have to," he said.
USA
Mennonites in budget crunch
NEWTON, Kan. -- The Mennonite Church (USA), facing bleak budget numbers along with many mainline Protestant churches, will reduce its staff by 10 percent and trim expenses by $150,000 to meet an expected decrease in income in 2004. The church is projecting a drop of $30,000 in income from local church conferences next year. In addition, the church's executive board is planning on the discontinuation of $250,000 in start-up funds from church agencies after a 2001 merger.
The 118,000-member church was created in 2001 by the merger of the Mennonite Church and General Conference Mennonite Church. The board trimmed full-time staff to 27 by eliminating three full-time positions. In addition, four employees' hours were trimmed back to part-time.
"It is tempting to try to do more with less by simply reassigning the work of staff who will be leaving or who have reduced assignments, but we know we need to readjust some program expectations," said Ron Byler, associate executive director for the executive board.
Afghani human rights in danger
WASHINGTON -- Following a visit to Afghanistan, members of the U.S. Commission on International Religious Freedom, a bipartisan human rights watchdog established by Congress, reported that hard-line Islamists are exerting too much influence in the drafting of the new Afghani constitution. As a result, the commission concludes, the constitution may fail to observe major human rights conventions.
"We believe the constitution as it is taking shape right now will not preserve basic freedoms," said Felice Gaer, a member of the delegation to Afghanistan. "We have to prevent the return of Taliban-like attitudes." Gaer urged the Bush administration to support moderates who she said are being stifled by Islamic radicals and powerful warlords.
Although some Afghani leaders have expressed satisfaction with their constitution, Preeta Bansal of the delegation said, "Our feeling is that good guys who really believe in blending Islam and human rights are running scared and that the forces of extremist Islam are rising. The hard-liners are dominating the debate, and we need a serious effort to level the playing field."
Bishops argue for amendment to define marriage
WASHINGTON -- The Administrative Committee of the U.S. Conference of Catholic Bishops has called for a constitutional amendment to protect the unique social and legal status of marriage. In Catholic belief, "marriage is a faithful, exclusive and lifelong union between one man and one woman, joined as husband and wife in an intimate partnership of life and love," the 47-bishop committee said in a statement released Sept. 10.
"What are called 'homosexual unions,' because they do not express full human complementarity and because they are inherently nonprocreative, cannot be given the status of marriage," the committee said.
"We offer general support for a federal marriage amendment to the U.S. Constitution as we continue to work to protect marriage in state legislatures, the courts, the Congress and other appropriate forums," it said.
A proposal to amend the U.S. Constitution to define marriage as "the union of a man and a woman" was introduced in Congress in May.
The bishops committed themselves to promote marriage "in our teaching and preaching, but also in our public policy advocacy at the state and national levels."
Antiwar rally slated for Oct. 25
WASHINGTON -- A coalition of peace groups formed before the invasion of Iraq in April has called for a national protest march in Washington Oct. 25. Organizers from International ANSWER (Act Now to Stop War and End Racism) said during a Sept. 3 news conference that they hope the march will spark a groundswell of populist opposition to the continued U.S. military occupation of Iraq.
Prominent speakers at the news conference included Auxiliary Bishop Thomas J. Gumbleton of Detroit and former U.S. Attorney General Ramsey Clark. Clark said President Bush and other high administration officials should be impeached for their actions against Iraq.
Clark called the U.S.-British invasion of Iraq a "criminal war" in violation of Article 6 of the Nuremberg Charter, which says it is a crime against peace to plan, prepare, initiate or wage a "war of aggression or a war in violation of international treaties, agreements or assurances."
"No rational person could believe that broken Iraq was a threat to the United States" before the invasion, Clark said.
Bishops decline Iraq resolution
WASHINGTON -- Auxiliary Bishop Thomas J. Gumbleton of Detroit said he had proposed that the U.S. bishops vote on a resolution calling for a U.S. pullout from Iraq when they meet in November, "but I got turned down."
"I don't sense that the bishops keep in close touch with what's happening in foreign affairs," he said. "We're so preoccupied with the problems [of clergy sexual abuse of minors] we've faced in the last year or so that we haven't addressed these larger questions."
He said he was hopeful that the bishops would make some effort to address the issues. Their Committee on International Policy is putting together a seminar on war and peace questions for the bishops Nov. 9, the day before the start of their fall meeting, and planning a panel presentation on those issues as part of the meeting itself.
It is part of the bishops' observance of the 40th anniversary of Blessed Pope John XXIII's 1963 encyclical, Pacem in Terris ("Peace on Earth") and the 20th anniversary of their own 1983 pastoral letter on war, peace and nuclear deterrence, "The Challenge of Peace."
Catholic conscientious objector found guilty of lesser charge
NEW ORLEANS -- A military tribunal Sept. 6 found 21-year-old Marine Corps reservist Stephen Funk (NCR, June 6) guilty of unauthorized absence but not guilty of desertion with intent to shirk important duty. He was given a six-month jail sentence to be followed by a bad conduct discharge.
Funk had left his unit in San Jose, Calif., last February, shortly before it was activated, according to his attorney Stephen Collier. Forty-seven days later, Funk, who is Catholic, publicly declared himself a conscientious objector. "Each person knows in their heart that killing is wrong. They understand that there is no good reason for slaughtering people," he said.
According to Reuters, Collier argued at the hearing that his client failed to report for duty because he claimed conscientious objector status and believed he would not be deployed. But the prosecutor said Funk's refusal to report was simple desertion. One of 28 Marine conscientious objectors, Funk is the only one to face prosecution. His attorney plans to appeal the sentences.
COMPILED FROM NEWS SERVICES, CORRESPONDENTS AND STAFF
National Catholic Reporter, September 19, 2003