Issue Date: September 19, 2003
Interstate tragedy tests compassion for migrants
By ARTHUR JONES
San Diego and Boulevard, Calif.; Tijuana, Mexico
The 2,200-mile border between Mexico and the United States claims many victims. Not all of them are immigrants.
On June 24, 2002, there was a high-speed chase in the dark. A huge van packed with 27 migrants, driven by a "coyote" being paid between $700 and $1,500 a head to smuggle people across the border, fled "La Migra" -- agents of the U.S. Border Patrol, an agency that is now part of Homeland Security.
The driver reached Interstate 8 and, in a desperate move, flicked off his lights and deliberately headed into the lane of oncoming traffic in a bid to avoid his pursuers.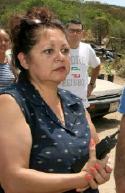 Fernanda Amaya
-- Rick Reinhard/Impact Digitals
"He started hitting cars right away," said Fernanda Amaya, heading home that night in her old Toyota minivan with son, Mario Jr. The van crashed into a Ford Explorer that flipped over a guardrail and rolled down an embankment. The driver was killed.
"I was the fifth car," said Amaya, "I didn't have much time to think -- I thought if I go this way I'll roll over, that way I'll roll over. By that time he was already there. He was really stepping on the gas. I thought, 'I'm going to save my son. He's in high school. His life's ahead.' I swung the car completely and received the whole blow on my side."
Trapped in the van, she had to be cut out. Her injuries included a severely broken shoulder, multiple breaks of her left leg, cuts around her right eye that affected a nerve and required nine stitches, and multiple cuts and severe contusions. Mario Jr. had severe bruising and a broken tooth.
It was months before Amaya left the hospital and rehabilitation. This July she was back in the hospital for yet another operation. If the accident has tested the limits of physical healing, it also has tested the limits of her compassion, especially when it comes to the migrants who cross her land.
The total cost of that collision was six dead, including four immigrants from Mexico and Brazil. Fernanda and Mario Amaya Sr. have lost the home they were buying on time, the mobile home they were living in, and a portion of their lives. They've moved into an old, cramped and unbleached motor home, built a plywood shed with shower and toilet as their bathroom, and another shed for their son's room.
The kitchen is under an outdoor awning.
Their priority is to save their 10 acres in Boulevard, a desert wilderness plot they bought "because it was so peaceful," she said.
At the time of the crash she was managing three beauty salons for someone else and attending college at night to become a registered nurse. In rehab, frantic about the mounting bills -- the medical, car, mobile home and new home payments not being made -- she discharged herself early.
"I had the nursing background," she said, "so I hid my broken left leg and took a certified nursing assistant course, then started working two CNA jobs. They don't pay much, but there's always work, hard work."
She tried returning to college, "but I wasn't getting any sleep."
She and x-ray tech husband Mario Sr. each commute 100-miles a day round trip to San Diego. There's enough money to meet the land payments, and for gasoline, two cars and old motor home bills, but not much left for food. Volunteers and a dog food company feed her pets. Three women have each given her $100.
There's food from a food bank, and Mario Sr.'s supervisor at Mercy Hospital helps out with groceries once a month, and with a periodic motor home payment. "He's real nice," she said.
There has been free family therapy, and a small victim's compensation payout arranged by the local district attorney's office. The dead driver had no insurance.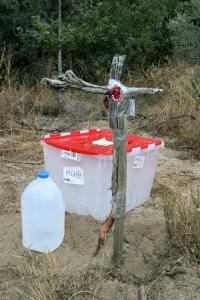 A water station for migrants provided by Border Angels
-- Rick Reinhard/Impact Digitals
In the past, Amaya always reached out to others. "After my accident I didn't -- like I don't want to help these people. You know, why should I? They hurt me. I had a nasty attitude. I was angry. I was sad, and devastated. Look at the way I live now," she said as she swept her arm in an arc across the two sheds and the motor home. Her eyes teared up, but she stuck her chin out and banished the sorrow. She said, haltingly, "But as time goes by -- I'm a Catholic, a Catholic Christian, I'm always on any kind of team to help people. I belong to Flying Samaritans, the medical team that goes into Mexico to help."
The day we talked, despite her injured leg, Amaya had taken another giant stride of compassion. She'd welcomed to her property a team from Border Angels of San Diego, a group that builds "water stations" out in the 110-degree desert, in the hope that migrants will find the water and not die of thirst. Amaya had agreed to let Border Angels set up several stations on her land.
The stations have six individual gallons of water in a big plastic box. There's a crude wooden cross made from whatever brush is on the desert floor. And at its crux, there's a little flashing red light -- the type kids have on their bicycles in the dark.
The light is good for two weeks. Border Angels will be back. With new lights and more water. "I always liked to help people," she said.
Amaya's getting there. "I'm going to try to get back to work next week. I'm not going to end up on the streets. My son grew up here. I'm not going to lose this property. This is our home."
National Catholic Reporter, September 19, 2003