Issue Date: September 19, 2003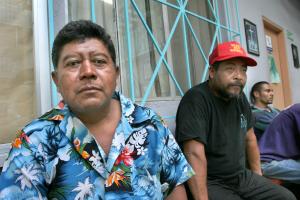 Juan Garcia at the Casa del Migrante, Tijuana
-- Rick Reinhard/Impact Digitals
With families in U.S., 'we have to try again'
By ARTHUR JONES
Tijuana, Mexico
Juan Garcia said he's been kicked out of the United States 15 times. But Garcia, one of a dozen men staying in Tijuana's Casa del Migrante, run by the Scalabrini Fathers, is going back across. It's just that he doesn't know how. Yet.
As new migrants continue to cross the border, so do those who have been evicted. "We have to try again," said Garcia, because many men, like himself, have wives and children in California.
The half dozen men on benches at the Casa del Migrante chimed in with opinions as Garcia talked. Most did not want to be photographed.
The migrants had insights officialdom doesn't air. They said one reason "La Migra" offered voluntary deportations was Immigration and Naturalization Service budget cuts. It was cheaper than detaining them.
Whether by official deportation or simply being kicked out, eviction from the United States usually means another poor family plunged deeper into destitution.
The relationship between migrants who enter the United States without papers, and U.S. law and order -- not least the U.S. Border Patrol -- is far less straightforward than the letter of the law. The California state senate, for example, has just approved driver's licenses for undocumented immigrants.
Officially, an immigrant who has been picked up and formally deported, after being fingerprinted, is given what the Casa del Migrante men called the "three strikes" form. Deported once, and the first box checked warns that the deportee has sacrificed the right to attempt to enter the United States legally for 10 years. Deported twice: 20 years. Thrice: 40 years.
Picked up again. Jailed.
The U.S. law has all the muscle it needs. Entering this country illegally once is an administrative charge. The second time it's a felony, said a representative at the Department of Justice Bureau of Citizenship and Naturalization Service.
But if the law is too strictly enforced, agreed Joe and Peggy Santos, volunteers with Church Without Borders in San Diego visiting Casa del Migrante, there's no one to do the menial service work and factory jobs, or pick America's produce.
Faced with an immigrant who has been arrested numerous times, said a border patrol representative in Washington, "it's out of our hands and they're taken in front of an administrative judge or to the district attorney."
Given the sheer numbers of people who may be arrested near the border at any one time, he said, in local situations "it's a day-to-day call" on who is prosecuted or isn't.
Migrants like Garcia are preyed upon by unscrupulous opportunists at every level. Garcia said he had been told by a man in Tijuana that for $1,200 he could petition the U.S. president in Washington and reenter the United States legally. "Coyotes" who traffic in smuggling people across charge between $700 for the Arizona desert attempt, and $1,200 close to Tijuana. In Tijuana the most the migrants can earn is $10 a day, and the cost of living is as high as in San Ysidro and San Diego on the U.S. side.
All agreed that the easiest way to enter is to hide in the back of a car (

see story).
Garcia's wife and children are near Anaheim, in Orange County. He has worked the vegetable and fruit picking seasons up the Pacific Coast for more than a decade. He has four stepchildren and three of his own, a 6-year-old and 1-year-old twins. When he talks to them by telephone they cry, he said, and beg him to come back.
He's afraid to try it, but knows he has to. But he's used up his "three strikes" and doesn't want to go to jail. And there's another factor. The men on the bench began to talk about a migrant shot by the border patrol a week earlier. The men on the bench were upset and anxious. The risk had suddenly escalated.
National Catholic Reporter, September 19, 2003