Issue Date: September 19, 2003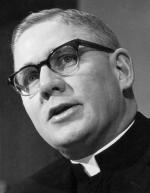 James P. Shannon in 1965, when he was auxiliary bishop of St. Paul-Minneapolis.
-- CNS
James Shannon loved the church all his life
Bishop who resigned over Humanae Vitae and married is laid to rest with honors
By MARY BADER
My friend had only days to live. She had made peace with everything in her life but the Catholic church. The church, to which she had once given so much of her generous self, had torched a great, lingering anger in her when it annulled her marriage. In her eyes, the legalism of the church was telling her that her many years as a wife and mother of their children did not amount to a real marriage. She felt, she said, like a pariah.
Those of us who loved her could never convince her that it didn't matter what the canon lawyers said. She was as much a part of our church as she had been her entire life but she didn't believe us. Until, that is, her friend Jim Shannon paid a visit. He knew better than most about pariahs in the church. A short time before she lost consciousness and slipped into eternity, he quietly blessed her and she died in peace.
And now Shannon himself has slipped into eternity, having quietly and by example encouraged our generation of Catholics who knew him to stay involved in the church, despite profound disagreements with some of the decisions of the hierarchy. His often-repeated statement that "the Catholic church is my spiritual home" led others to realize the same. His refusal to become the pariah that some once branded him gave us an example of how to live in an ambiguous world where the road to justice seems always to climb a very steep hill indeed.
As one admirer who knew him as a young priest put it, "His life showed us all that we could remain in the church and live a life of service for others without being either repressed or embittered."
James Patrick Shannon once seemed destined to be the ecclesiastical superstar of the St. Paul and Minneapolis archdiocese, a local lad who became a brilliant scholar as well as an affable teacher, writer and pastor. He was president of the diocesan college at the age of 35. As a new auxiliary bishop in 1965, he attended the Second Vatican Council and shortly thereafter was tapped to be the spokesman for the newly organized National Conference of Catholic Bishops. He marched with Martin Luther King Jr. at Selma, Ala., and he counseled draft resisters during the Vietnam years. He was, of course, enormously popular with the young and the liberal elements of the Catholic church in Minnesota. Many assumed he was destined to be archbishop or cardinal one day. And then came 1968.
It may be difficult for younger Catholics to relate to the crisis of conscience that divided the Catholic church in 1968 when Pope Paul VI issued Humanae Vitae, the encyclical that upheld the church's traditional teaching against contraception.
As a bishop, Jim Shannon was expected to endorse the pope's position on birth control but he couldn't do it. As a priest and confessor he heard the stories of ordinary Catholics struggling to follow the rigid teaching, and he sympathized with them. As the debate that followed the issuance of the encyclical raged, Jim found himself forced to publicly choose between his conscience and hypocrisy. In the end he chose his conscience. In September 1968 he wrote Pope Paul:
"In my pastoral experience I have found that this rigid teaching is simply impossible of observance by many faithful and generous spouses, and I cannot believe that God binds man to impossible standards. In seeking to counsel such persons I have found myself resorting to all sorts of casuistry and devious kinds of rationalization, in the hope that I might both keep faith with Your Holiness and with the people of God who seek my help.
"I must now reluctantly admit that I am ashamed of the kind of advice I have given some of these good people, ashamed because it has been bad theology, bad psychology, and because it has not been an honest reflection of my own inner convictions."
In his 1998 autobiography, Reluctant Dissenter, Shannon provided details of the ecclesiastical politics that were making his life even more difficult during this time. His participation in a television documentary about the changing church attracted the wrath of the powerful Cardinal James Francis McIntyre of Los Angeles, who had the executive committee of the bishops' conference censure Shannon. It was a shattering experience, exacerbated by the failure of Shannon's own superiors to support him.
In 1969 his resignation as bishop was demoralizing to Catholics in Minnesota and to his many friends and admirers around the country. The times were bad enough, with the country divided by the Vietnam War and what seemed like turmoil in every corner of society. We were losing our moral leader, too.
When Shannon married Ruth Wilkinson shortly after his resignation became public, officials of the archdiocese said the action automatically excommunicated him and released a statement: "This news is reason for great sorrow, because Bishop Shannon will no longer exercise his many qualities of mind and heart in carrying out his priestly and episcopal responsibilities." That statement couldn't have been more wrong.
Shannon went away for a few years and rebuilt his life with Ruth's help. He earned a law degree and practiced law in New Mexico, but after an absence of five years, he returned to Minnesota to begin a new career as a philanthropic foundation leader. I had the good luck to live in the small suburban town of Wayzata, where Jim and Ruth bought a home and quickly became part of our little community. They remained devoted to each other for 34 years.
Shannon again became an influential figure in the larger Twin Cities metropolitan community. With his intelligence and connections, he could have become a very wealthy man. Instead he ran a community foundation, and then moved to General Mills, one of Minnesota's major corporations, to run its foundation and become a national leader in philanthropy. Yet all the while, he continued to be a priest to all who sought him out, the servant-leader of the gospel.
He was considered "the most consulted man in town." He made time for anyone who asked to see him -- anyone -- whether he knew that person or not. He counseled heads of companies and a long string of start-up nonprofit leaders. He also volunteered his legal skills to help people who couldn't afford a lawyer.
Shannon died of a cerebral hemorrhage Aug. 28 at the age of 82. At his funeral Sept. 5 at Holy Name Parish, where Jim and Ruth have been members for 15 years, the many communities of his life surrounded him. His simple pine box was made by monks at St. John's Abbey in Collegeville, Minn., where he served the Ecumenical Institute. Draped across his body was a blanket from the college he once served as president, now the University of St. Thomas. Concelebrating the Mass were several of his priest friends on the altar and many others in the pews. Along with former Vice President Walter Mondale and his wife, Joan, and other politicians and corporate leaders were plenty of people who just simply loved Jim Shannon. Earl, the homeless man our community more or less adopted, would have surely been there, too, had he not died first. Shannon, of course, was at Earl's funeral.
He was "a lovely man," a square-built man whose white hair often topped a face flushed with laughter. A humble man who made everyone feel at ease. People talk about how he listened -- a quality that made him such a good priest and made it difficult for him to disregard what he heard and believed when he became a bishop.
Auxiliary Bishop Richard Pates represented the archdiocese at Jim's funeral and made a statement after the service to make it clear that Jim Shannon had been reconciled with the church. Two other bishops also participated -- John F. Kinney of St. Cloud, Minn., and Paul V. Dudley, retired bishop of Sioux Falls, S.D.
As I looked around Shannon's grave I saw many people who had marched in hurt and anger 34 years ago when his resignation as bishop became public knowledge. They were active priests, resigned priests, his former students, endless friends. Many, if not all of them, regard him as a mentor. Most have benefited from his direct, personal counsel and eagerness to be the bridge connecting people with one another, and with the resources necessary to bring their own visions to life.
"Almost everyone with a bright idea went to Jim up until the day before he died," mused Ronnie Brooks, director of the leadership institute in St. Paul that bears Shannon's name and will attempt to carry on his vision of servant leadership by supporting leaders "grappling with their own values and how they work in the world." When Shannon spoke at the institute he was often asked two questions: How do you hold on to your values when people around you turn against you? And how do you know when it's time to leave an organization to which you have given your life? Jim Shannon had answered those questions painfully in his own life, but he showed that a true leader is faithful to the values, even if it means changing the context of his life.
Mary Bader writes from Wayzata, Minn.
National Catholic Reporter, September 19, 2003