Issue Date: September 19, 2003
At the Movies: Comical Quirks
Films find humor; pathos in two ordinary lives
By JOSEPH CUNNEEN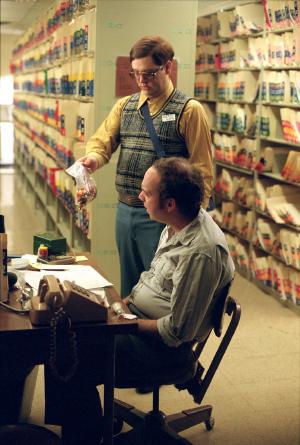 Paul Giamatti, seated and Judah Friedlander in "American Splendor"
-- CNS/Fine Line Features
American Splendor is easily the most original film of the season, telling the story of the real-life Harvey Pekar, who also happens to be the central character of his own autobiographical comic book, "American Splendor." No, it's not an exercise in postmodernism. The movie Harvey, a lonely, ill-tempered, unkempt file clerk in a hospital in Cleveland, is played by Paul Giamatti, but occasionally we see the real Harvey, who sometimes comments on the action, insisting that Giamatti "don't look anything like me." At other times, writer-directors Shari Springer Berman and Robert Pulcini frame Harvey's life in comic-strip panels, reminding us of the comic-book origins of the material.
Harvey is no action hero, but collects comic books and records -- he
especially favors the music of Jay McShann and the Pretenders -- and the story, such as it is, is set in Cleveland's battered working-class neighborhoods.
Moviegoers looking for romance and fast action may not stay long enough to discover the charm -- or at least the humor -- of Harvey's everyday life. His existence began to change in the '60s when he met Robert Crumb (played by James Urbaniak), a sophisticated comic-book artist, and suggested to Crumb that his ordinary (many would say drab) life was worth recording. Crumb went on to do the drawings for early issues of "American Splendor," though Harvey reminds us that other artists shared the assignment: "Different artists also draw me all kindsa ways."
Just when we begin to tire of Harvey's melancholy wise-guy-ism, he gets a letter from comic-book fan Joyce Brabner (Hope Davis) in Delaware, who proposes to come to Cleveland to pick up a missing issue of "American Splendor." Joyce, as quick-witted as Harvey but with a taste for cleanliness, is met by our hero at the train station with a charming introduction, "Look, before we get started with any of this you might as well know right off the bat that I had a vasectomy." Amazingly, the progress of their relationship is made both credibly human and humorous. Joyce later suggests that he draw on his medical struggles for "Our Cancer Year," the comic-book novel they wrote together.
It is hard to explain why this drab, downbeat material often manages to be hilarious. Perhaps because we gradually realize that the apparently bizarre actions of its characters -- Harvey's nerdish friend Toby (Judah Friedlander) drives all the way to Toledo to see "The Revenge of the Nerds," and even Joyce is as wacky as she is supportive -- are not far removed from the ordinary life we often neglect to notice. "From off the streets of Cleveland," proclaim the covers of the comic book "American Splendor," but you can enjoy the movie without moving there. Paul Giamatti's Harvey may be a slob you wouldn't want to share an apartment with, but he's willing to tell the truth about himself: "There's a reliable disappointment," he says, looking in the mirror.
Whether or not you find Autumn Spring ("Babí léto") delightful will depend on your tolerance of irresponsible behavior by septuagenarians. Frantisek "Fanda" Hána, the retired pensioner, is a great final role for the celebrated Czech star Vlastimil Brodsk´y ("Closely Watched Trains" and "Jacob the Liar"), and the actor uses it to offer a subtle class in advanced acting. Director Vladímir Michálek makes the movie center on the theme of what attitude to life people should take during their last years. Fanda refuses to act his age, but Brodsk´y doesn't undermine the appeal of his character with artificial mannerisms or exaggerated appeals to sentiment.
Fanda and his wife Emílie (Stella Zázvorková) are living economically in an apartment owned by their son Jára (Ondrej Vetch´y), who wants them to go to an old-age home so that he can move in with his second wife. This only encourages Fanda to patronize expensive restaurants in Prague with his crony Eda (Stanislav Zindulka), and devise elaborate exercises in impersonation. He briefly takes on the role of a ticket-taker in the Prague subway, and the two friends even manage to get driven around to expensive estates by hopeful real estate agents who believe Fanda is a wealthy opera conductor.
Brodsk´y is hugely enjoyable as he makes clear he is not really listening to his wife's harangues, and his approach to life seems more attractive than Emílie's constant concern about whether there will be enough money left to pay for their funerals. But when, with Eda's help, Fanda fakes his own death and Emílie rushes to the scene with a coffin, her patience is understandably exhausted and she files for a divorce.
In the courtroom, however, Emílie abandons her case, and a series of reversals follow. After his sidekick Eda is hospitalized, Fanda finds it harder to maintain his carefree attitude; whereas earlier he had ignored his wife's good advice, now he even gives up smoking. Not to be outdone, Emílie abandons her penny-pinching instincts and accompanies her husband and a real estate agent to visit a magnificent mansion. But when they are about to pass through the gate, Fanda tells the driver to turn around, while muttering quietly about what a shabby place it is.
"Autumn Spring" doesn't preach any philosophical lessons but knows how to balance humor and pathos with exquisite tact. The fact that Jirí Hubac wrote the screenplay expressly for its star, and that Brodsk´y and Zázvorková had been friends in Czech film and theater for 55 years, ensures that their scenes together have a wonderfully relaxed warmth. Unfortunately, Brodsk´y's health collapsed shortly after making the movie, and he committed suicide a year later.
Joseph Cunneen, NCR's regular movie reviewer, can be reached by e-mail at scunn24219@aol.com.
Quick Takes
Open Range, Kevin Costner's new western, is set amid the majesty of the Canadian Rockies; cinematographer James Muro takes lots of shots of Costner and Robert Duvall from underneath to convey a sense of open skies.
The movie opens gently, but collapses in an orgy of killing. Duvall manages to create a real character in Boss Spearman, dedicated to "free-grazing" across the land with his herd. Though beautiful and good-hearted, "Open Range" is ultimately bland, bloody and sentimental.
National Catholic Reporter, September 19, 2003