Issue Date: September 19, 2003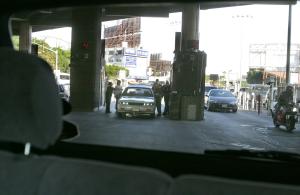 At the entry point to the United States, border patrol agents apprehend a driver, a passenger and the women they had hidden in the trunk to smuggle them into the country.
-- Rick Reinhard/Impact Digitals
Seeing is believing on the U.S.-Mexico border
By ARTHUR JONES
We had sat in line for two hours, inching forward toward reentering the United States from Mexico. Looking out the car window one had to wonder, as the constant stream of peddlers tapped on the glass and tipped their heads in inquiry, if there really is that much demand in the North for plaster casts of the Last Supper, miniature banjos and electric household fans.
At the back of my mind, after yet another Tijuana trip, I was wondering how I'd write yet another story about death. The image still was of the Tijuana airport fence, the 2,300 crosses stretching into infinity toward the desert where most of the border crossing deaths occur.
I had stood there reading the names. Photographer Rick Reinhard was lined up on three that said, "No identificado." There are plenty of those. I walked on, reading as I went, Antonio Morelos, 21, Puebla; Felipe Rodriguez Lopez, 27, Sinaloa; Wilfredo Alvarado, 31, Santiago; Irma Estrada Gutierrez, 16, Morelos; No Identificado, Zacatecas; Child, age 7, El Salvador …
Much of the time I have a hide like Naugahyde. It's part of the armor essential to a job that has forced me to view poverty as a spectator on behalf of others from Manila to Mogadishu to Morocco to the Mississippi Delta. But today I had no hide to hide behind. I wiped my eyes.
Sometimes I can't keep my distance.
Once, a long time ago, NCR had a sort of trainee reporter named, I believe, Nick Kill. I sent him out on a story on the migrant stream. And he wrote in it that as he talked to the people -- they were poorest of poor farm workers somewhere -- he cried. I asked him, he was a caring soul, if he really thought reporting was what he wanted to do. And I believe he became a registered nurse, to care in a different way. God bless you, Nick.
I'm far too grumpy and hasty and old for full-time bedside nursing. Bedtime stories I can manage.
In the car, not three vehicles away now from passing through the border -- drivers licenses out, fixed "We're Americans" smiles at the ready to ease us through -- I pondered the pressures that drove people to cross. I'd been to Morelos, where dead, 16-year-old Irma came from. And written in NCR about its poor people being driven off the land.
I knew why they came.
And in the Casa del Migrante, the haunting faxed photos from the mothers and wives and sweethearts and daughters and sons asking has anyone seen their missing kin. And the deported men in the casa determined to return North. They'd talked about how hiding in the car trunk was still the safest method.
Right up to the agent now, Joe and Peggy Santos were explaining how the car's license plate had already been run through the computer, how the conversations inside the cars were being monitored in the approaches.
We were at the checkpoint. In the next lane, a border patrol female officer popped that car's trunk. Nestled in it, like two spoons, were two immigrant females. The agent slammed the trunk down, waved for more agents, and we were motioned through, ordered out of the way. Rick Reinhard swung around in his seat and caught the action in the shadows.
Some things one doesn't truly believe until one sees them.
Those of us who don't usually see these poor souls huddled in car trunks, or dead of excruciating thirst in the desert, have major obligations we can't avoid.
And some days seem inadequate to meet.
Arthur Jones is NCR editor-at-large. His e-mail address is arthurjones@comcast.net.
National Catholic Reporter, September 19, 2003