Issue Date: September 19, 2003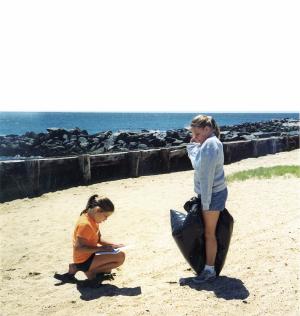 Students participate in a beach cleanup sponsored by Waterspirit, a ministry of the Sisters of St. Joseph of Peace in New Jersey.
-- Waterspirit
Protecting the planet
'Green nuns' put land ethic into action
By PATRICIA LEFEVERE
Princeton, N.J.
A growing number of sisters in the greater New Jersey-New York area and beyond are rolling up their sleeves and getting their hands dirty to preserve the land on which they live, the water in their rivers and along their coasts and the animals and plant species abounding in their locales.
Although they're not recent converts of Ralph Nader, they are often called "the green nuns." Several green nuns attended a conference on environmental justice here in late April and shared their experiences.
Some belong to ROAR -- short for Religious Organizations Along the (Hudson) River. Thirteen orders of sisters, as well as two congregations of priests and brothers, and the Grail, the Peter Maurin Catholic Worker Farm, and the nonprofit group Global Education Associates, sat down in 1996 to reflect on their connections to the earth. The group comprises a few hundred religious who own a few thousand acres of property along the Hudson or not far from its banks.
Living in convents and monasteries inherited from their foremothers and forefathers, they wanted to develop a "land ethic" that would honor and protect their ancestral homes. With the graying of religious and the decline in newcomers, congregations are finding that caring for large and small properties is often burdensome.
"We knew that decisions by congregation about their land would affect the Hudson region deeply," said Dorothy Cavalini, who is associated with the Little Sisters of the Assumption in Walden, N.Y. ROAR, through its affiliation with the National Association of Treasurers of Religious Institutes in Silver Spring, Md., is preparing guidelines about land trust and conservation easement -- issues that affect all the communities.
"We are not a PAC [political action committee], but a network that educates and motivates," Cavalini said during a workshop at the conference.
Many members are involved with the cleanup of PCBs in the Hudson. Others like the Sisters of St. Ursula in Rhinebeck, N.Y., run "eco-retreats" and eco-spirituality weekends that focus on humankind's shared kinship with nature and on the responsibility for ecologically sound care and stewardship of creation.
During Holy Weeks some Dominican members of ROAR held a "Passion of the Earth" retreat in Massachusetts during which they cut up newspaper headlines about war and fed them to worms who could transform the cuttings into food to nourish the soil.
ROAR exists to serve the leadership of its members, many of whom have to take crash courses in finances, canon law and nursing care for the elderly when elected, Sister of St. Ursula Kathleen Donnelly told NCR. A core group of 12 to 15 activists -- all women -- meets quarterly at the home of different orders to educate themselves on the river and on issues affecting their lands. "We wouldn't miss a session. We rearrange our schedules to attend," Donnelly said, adding that ROAR is not the primary ministry of any of the sisters. "But there's so much energy in the group."
A second group of sisters belong to ROW. Religious on Water claims an address on Ocean Avenue, at the Stella Maris Retreat Center in Elberon, on New Jersey's shore. The center is home to Waterspirit, a ministry of the Sisters of St. Joseph of Peace, which tries to foster awareness of the significance and sacredness of water. Six other New Jersey, New York and Philadelphia orders, representing about 5,000 sisters, are in ROW.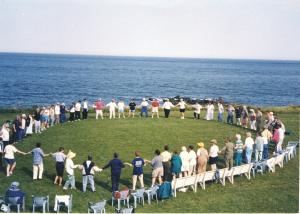 At a Waterspirit gathering, participants join a circle dance on a bluff overlooking the Atlantic Ocean.
-- Regina O'Connell, CSJP
The group's focus is on 19,000 square miles of the Atlantic Ocean that the Gulf Stream has formed into a triangular mini sea off New York and New Jersey. The mini-sea is officially called the New York-New Jersey Bight.
Some 300 species of fish and a rich diversity of plant and animal life claim the bight as their home. The area is also a major migratory path for butterflies, birds and fish. More than 400 species of birds have been observed in the bight region.
But because the bight borders the nation's most densely populated area and one of its oldest industrialized zones, its waters continue to be threatened by a deluge of sediment, pesticides, petroleum and sewage, by offshore gas and oil exploration and by industrial strip mining that permanently extracts offshore sand. With eight ocean dumpsites, "the bight has become the dumping capital of the world," said St. Joseph Sr. Kathleen Coll.
Coll, of Philadelphia, along with other green nuns, has joined the Clean Ocean Action. The group worked to have the dumpsites closed in the 1990s. The campaign continues to raise awareness of the importance of the bight for the 26 million people in New Jersey and New York. Through prayer, education and advocacy for the campaign, the sisters hope to broaden understanding of water as sacred, life-giving and life-sustaining.
Dominican Sr. Miriam Therese MacGillis brought home the urgency of doing ecological works of mercy as the planet comes to the end of a period of geological and biological development, known as the Cenozoic Era. What people have not understood, or have taken for granted, is that "we have had nothing to do with generating the web of life" that has sustained us, plants, animals, even the air itself for the last 65 million years, she said.
But humans with their chemicals have totally altered the atmosphere and the biosphere, MacGillis said. The crisis is "enormous," she said, yet the major world institutions -- government, law, academia and the church -- are "blind to it or unable to address it."
The Dominican found "a radical disconnect" in how political and economic systems treat the planet, "seeing its land and wetlands as having no worth of their own, but only the value that can be transferred into capital development." By enshrining that all humans have a right to private property, we ensure that "mountains, rivers and forests have no voice in our democracy," she said.
MacGillis, a student of the renowned cosmologist Fr. Thomas Berry since 1977, founded Genesis Farm in Blairstown, N.J., in 1980. The 140-acre farm of rolling hills, woodlands, marshes and a community-supported biodynamic garden and orchard, also offers immersion programs in how to understand the universe story and its implications for living an ecologically responsible life. Many of the green nuns are its graduates and its tillers.
Is MacGillis pessimistic as she observes that the Earth's temperature is changing, its immune system getting weaker? Sometimes the knowledge of what is happening is "almost unbearable," she told NCR, "But I have great hope. The Earth is fundamentally cooperative."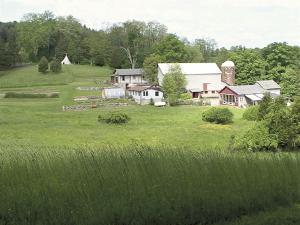 Genesis Farm in Blairstown, N.J.
-- Lou Niznik
Franciscan Sr. Frances Cardillo has long wished to cooperate with the Earth. For 27 years she taught marketing at Manhattan College in Riverdale, N.Y. "I was always interested in the environment, but I couldn't impart it to my students," said Cardillo, who now manages a 10-acre-farm in Allegany, N.Y., 70 miles south of Buffalo.
Now in its third growing season, with three and a half acres under cultivation, the farm began because the Franciscans supported it, funding purchase of the land and seeds as well as a series of talks on community-supported agriculture. At a time when small farms are disappearing, Canticle Farm has proved popular, she told NCR.
Support for the farm, which includes a spirituality center, comes from grants, private donations and from shareholders who buy a full or half share and collect a weekly return of vegetables, herbs and flowers. Twenty percent of the produce goes to the needy.
"We could emulate Francis," Cardillo said. "He constantly praised God, saw him in all creation and was very conscious of being brother and sister to all, and enemy to none."
Patricia Lefevere is an NCR special report writer.
National Catholic Reporter, September 19, 2003