Issue Date: September 19, 2003
Lay-run parishes point to future
In Appalachia, more Catholics are getting a preview of lay pastoral leadership
By MARGARET GABRIEL
Eastern Kentucky and Southwest Virginia may prove to be on the cutting edge of a new Catholic phenomenon: parishes pastored by lay people. Both states, considered mission territory by some Catholic church standards, have long-established patterns of lay leadership in small "country" parishes. And these models are now spreading their rural roots to large, suburban parishes that have typically had only priests as pastors.
And at least in some circles, that's not perceived as a negative.
"Lay ministry is a growing phenomenon and it will continue to grow," said Jay Gilchrist, a member of the board of directors of the National Association for Lay Ministry (NALM). The presence of pastoral coordinators -- called variously pastoral directors, parish administrators or pastoral leaders -- depends largely on the openness of the bishop, Gilchrist said, "but nearly all realize the church is enriched because of lay ministry."
NALM is a Washington-based professional organization that supports, educates and advocates for lay ministers and promotes the development of lay ministry in the Catholic church. In collaboration with several other ministry associations, the organization has received a grant from the Lilly Foundation to promote excellence in ministry. The five-year process will culminate in a ministry summit conference that will celebrate collaboration and examine what makes ministry excellent at the parish level, Gilchrist said.
According to its Web site, NALM "has chosen to address the knowledge and skills needed by the pastoral minister, pastoral associate and parish life coordinator. These ministries now account for over 27 percent of parish ministries and show every sign of continuing to develop as significant parish realities."
In response to the Second Vatican Council, Catholics are living out the instruction that "all are called to ministry." As a result, lay people are hearing the call to step into roles shaped by their baptismal call. This call results in a new look for parish leadership, according to Sr. Helen Garvey, a Sister of Charity of the Blessed Virgin Mary who directs pastoral services in the diocese of Lexington, Ky.
"[Diocesan administrators] looked at our options," Garvey said. "One of those was closing parishes, which was not what our bishop wanted to do."
Closing parishes might be a viable option in urban areas with churches only a few blocks apart, but in the Lexington diocese, as in other mission dioceses, the scarcity of Catholic churches could mean that many people would be facing a drive of 25 miles or more to the nearest Catholic church.
The diocese also discussed -- and quickly discarded -- the idea of assigning one priest to as many as five or six parishes. "It seemed like a recipe for a heart attack," Garvey said.
Finally, she said, they considered the use of pastoral directors.
While canon law specifies that in the case of a priest shortage staffing of deacons or lay people as pastoral leaders is permissible, there remains the question of suitability to leadership, both temporal and spiritual. The tradition of the Catholic church places leadership squarely and exclusively on the shoulders of those who have received the sacrament of holy orders. The question of parish administration -- parish finances, personnel issues and record-keeping -- is easily transferred to people who are gifted in business and organizational skills, but a pastoral director also assumes the responsibility for helping parishioners with their spiritual journey.
Spiritual leadership
"There are a large number of [lay] people with good counseling skills and good spiritual direction skills," said Gilchrist. In addition to his work with NALM, Gilchrist is the associate director of the Pastoral Coordinator Program of the Glenmary Home Missioners, a society of priests and brothers who, along with lay and religious coworkers, serve the spiritual and material needs of communities in Appalachia, the rural South and the Southwest. Before assuming that position, Gilchrist was a Glenmary pastoral coordinator who called together and led for eight years a new Catholic church in Monroe County in the diocese of Knoxville, Tenn.
"Glenmary has pioneered work in establishing parishes from scratch with lay leaders, as well as in helping parishes make the transition to lay leadership," said Gilchrist. "It must be a process of celebrating what's been, coping with the loss of what we're used to and appreciating the viability of lay leadership. We're helping people to realize that they are the church." Glenmary currently has nine pastoral coordinators who are responsible for 11 mission parishes.

Christine Ramirez
--[Photos by Glenmary Home Missioners]
One of those pastoral coordinators, Christine Ramirez, told NCR of recognizing her call to parish ministry after raising three children. At the age of 50, she obtained a bachelor's degree in sociology, then a master's degree in pastoral theology from Loyola Marymount University in Los Angeles. She went on to serve as a lay minister, providing spiritual guidance to parishes in Iowa and Indiana. Then an ad in the National Catholic Reporter caught her eye. A Glenmary mission of 28 families in Clintwood, Va., was seeking a minister for this small parish -- "trained in social justice," the ad said -- where everyone was involved in outreach of some kind. She applied, was hired and moved to the southwest corner of the Richmond diocese. "I love being part of a church that is church," Ramirez said. "This has been a tremendous time of ministry for me."
Glenmary Fr. Bob Rademacher, the last priest-pastor of the Virginia mission, still lives in the area and serves as sacramental minister. Ramirez described their relationship as a "collaborative ministry."
"There were challenges," Rademacher said. "For instance, we needed to encourage the people to look to Christine for spiritual guidance and pastoral care. Now they call on both of us." After three years in her position, Ramirez is recognized as the spiritual leader of the community.
In the late 1980s, Glenmary implemented a plan called "Establishing Mission Churches with Lay Leaders," partly in response to the dwindling number of new vocations to the priesthood and partly in response to the scope of the home mission challenge. (Today, according to data from the Glenmary Research Center, there are 173 counties in the southern United States without a Catholic church community, and another 196 counties without a resident pastoral minister, i.e., a priest, deacon, brother, sister or lay professional minister.)
The first three dioceses to receive the services of these lay leaders trained by Glenmary were Knoxville, Tenn.; Jackson, Miss.; and Birmingham, Ala. All had two things in common: Each had rural counties with no effective Catholic presence and each had a bishop willing to welcome lay pastoral coordinators.
Trained and professional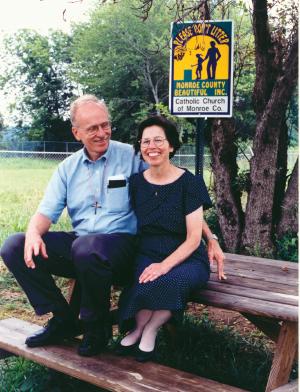 Paul and Ginny Witte
Paul and Ginny Witte, a married couple with grown children, were trained and placed by Glenmary in 1999 in the Tennessee mission parish established by Gilchrist.
Their work at St. Joseph the Worker in Madisonville, Tenn., from 1999 to 2003 was difficult at times, Paul Witte said. There were parishioners who made no secret of the fact that they would rather have the parish in the hands of a priest -- despite the fact that there had never been a resident priest at the parish. In spite of the difficulties, though, Witte says that during his time in the parish, he felt his call to ministry grow stronger.
"Lay people are often not given the chance to develop a call [to pastoral ministry] because we've always assumed that church leaders had to be priests," he said. "Most of us want to work within the system because that's where we feel affirmed."
Just after Vatican II the Wittes began to look for a role as lay ministers, "but we didn't fit any category in the Catholic church," Paul said. A charismatic Catholic group they discovered in the mid-'70s was communal and ecumenical, but did not fill the Wittes' desire for missionary outreach. They ended up spending 19 years in South America with Wycliffe Bible Translators, a group Witte describes as "conservative, but open" to them as Catholics. Unlike other Protestant groups, Wycliffe prohibits proselytizing, and asked workers to serve only as linguists and translators of the Bible.
The Glenmary model of pastoral coordinator fit well into the Wittes' desire to work as lay ministers back in the United States. During their first four years in the Glenmary mission in Madisonville, the church community grew, moved from its original storefront to a new church building, and in June 2003 was returned to the Knoxville diocese for continued care.
"To use the term 'lay' ministry can be a bit confusing," Gilchrist said. "The word implies to some that you're not professional or not an expert, but we're talking about people who have been highly trained." Glenmary pastoral coordinators, for example, must have a master's degree in theology and three years of parish ministry experience.
Garvey said that as Lexington began its planning process for implementing the new ministry plan, "the critical issue we examined was the need to bring Eucharist to the people. We asked ourselves, 'What is the most practical way to assure that people have the Eucharist while respecting the ordained priesthood and lay ministry?' Everything we did flowed from that."
Some people fear the move in the direction of increased dependence on lay ministry, Gilchrist said. "They think if we develop lay ministry, we'll neglect developing priestly vocations." Catholics need to pray for vocations to leadership, he said -- all kind of vocations: priests, men and women religious and lay pastoral leaders. "The church won't survive without it."
Margaret Gabriel is a freelance writer in Lexington, Ky.
National Catholic Reporter, September 19, 2003