Issue Date: September 19, 2003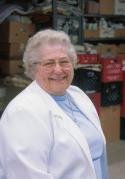 Mary Larson
-- CNS
Minnesota grandmother wins top missionary honor
By CATHOLIC NEWS SERVICE
Chicago
For the past 30 years, Mary Larsen has been saying yes to anyone who is hungry, sick or just in need. Her We Care project -- which she operates out of her four-car garage -- provides nearly 20,000 pounds of food to more than 150 families each month.
"We never say no to anyone," said the 76-year-old grandmother from Morgan, Minn. "If they are hungry, we don't care what color they are, or what religion. It makes no difference."
Larsen is the 2003 recipient of the Lumen Christi Award, a national award presented by Chicago-based Catholic Extension for outstanding missionary work in America. Catholic Extension is the leading supporter of missionary work in poor and remote parts of the United States.
Bishop William R. Houck, president of Catholic Extension, is scheduled to present the award to Larsen Sept. 27 at her church, St. Michael's in Morgan, in the New Ulm diocese. The honor includes gifts of $10,000 to Larsen and $25,000 to her diocese.
"Mary Larsen is a shining example of what it means to live the faith," said Houck, retired head of the Jackson, Miss., diocese.
"For 30 years she has put others before herself," he added. "This is not a job she was elected to do, nor is it one for which she draws a paycheck. Mary provides this invaluable service in her community simply because she cares."
The We Care project actually began more than 40 years ago when Larsen and her family provided food and necessities for the migrant workers on her parents' farm.
A widow, mother of 11 and grandmother of 37, Larsen continues the tradition of generosity with the help of her son, Joe; her sister, Benedictine Sr. Magdalen Schwab; and Franciscan Sr. Gladys Meindl.
Through grants and donations, We Care serves more than 9,000 individuals in a 13-county radius. It provides for the sick, victims of disasters, and, more recently, has been called on by families hit by the economic downturn.
"Some days it tears your heart out to see such need," said Larsen, who plans to run We Care for as long as she is able. "I like to keep active in life," she said.
New Ulm Bishop John C. Nienstedt nominated Larsen for this year's Lumen Christi Award.
"Mary is truly a reflection of the light of Christ in our midst," he said. "Her faithful witness to Christ's presence in the poor gives glory to God. Mary's worthy efforts have brought this added honor to her and to this diocese."
This year marks the 26th annual Lumen Christi award given by Catholic Extension. Nominations, made by U.S. bishops, are judged by a prestigious panel.
This year's panel included Bishop Wilton D. Gregory of Belleville, Ill., president of the U.S. Conference of Catholic Bishops; "7th Heaven" actress Catherine Hicks; Chicago radio legend Wally Phillips; retired Bishop Joseph L. Howze of Biloxi, Miss.; and J. Roberto Gutierrez, vice president of public affairs and communication at the University of Notre Dame and founder of the Hispanic Telecommunications Network.
National Catholic Reporter, September 19, 2003