National Catholic Reporter
Subscribers only section
September 19, 2003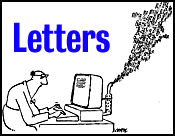 Peter Steinfels' book
The Aug. 29 issue devoted two pages to Peter Steinfels and his new book. Being a master of obfuscation, his works are elliptical treatises written for the pseudo-intellectual who would rather bask in words than understand. Those Catholics who are immersed in pain know that the Roman Catholic church is weaving a new rope. It has lost its appeal to those who forged new meanings in the past 40 years. The veteran Catholic has translated the sacraments into the many forms of everyday life, and without clergy or edifice. The authoritarian church has cut them loose and is cultivating select ethnic groups for its new cornerstone. NCR needs to observe more closely what is actually happening.
DON CUDDIHEE
Greer, S.C.
---
I read the letter to the editor titled "Slap in the face" by Michael Antonello (NCR, Aug. 15). It was a slap in the face to read the nasty article about Bishop Gerald M. Barbarito.
Scripture says, "Stop judging and you will not be judged. Stop condemning and you will not be condemned. For the measure with which you measure will in return be measured out to you" (Luke 7: 37-38).
The bishop is a beautiful person. Everybody in the North Country (the Ogdensburg, N.Y., diocese) loves him. His love for the sinner, the sick and the poor was great. He did what he had to do when things got messy, but in a Christ-like way. He took the bull by the horns. Jesus says, "I am the good shepherd. My people know my voice and I know theirs." Bishop Barbarito was a good shepherd. He was good to God's people here. He tried to know them by name and he showed love and concern for all, not just certain ones.
Any time you don't want the bishop, you send him back here and we the people of the North Country will receive him with open arms.
MARIE SCALES
Watertown, N.Y.
---
The consummate nerve of the Vatican is sadly not beyond belief! The document "Considerations regarding proposals to give legal recognition to unions between homosexual persons" (NCR, Aug. 15) states in part: "As experience has shown, the absence of sexual complementarity in these unions creates obstacles in the normal development of children who would be placed in the care of such persons. They would be deprived of the experience of either fatherhood or motherhood.
"Allowing children to be adopted by persons living in such unions would actually mean doing violence to these children, in the sense that their condition of dependency would be used to place them in an environment that is not conducive to their full human development. This is gravely immoral."
Once again the Vatican speaks from both sides of its mouth. In the organization Good Tidings we are currently helping women who have the children of Roman Catholic priests fight for the rights of those very children to know and be cared for by their fathers, to know their heritage and their family medical history -- only to be told by church superiors that women wishing to keep their children are being selfish, and that the priest is not responsible, either because he is vowed to poverty (clinging to that far more than chastity or celibacy), or he just refuses to be responsible. Where is the Vatican's respect for children when they hide deadbeat priest-dads? This corrupt hierarchy has no respect for children whatsoever, nor do they respect adults involved in any form of human loving relationship. Once again they prove they are only concerned with power over the sex lives of others -- the ultimate gratification for their vicarious sexual domination, while touting celibacy.
How dare they speak of morality, particularly concerning children? Once again, this is a smokescreen making homosexuals and lesbians the scapegoats, rather than putting the focus on and healing the lack of healthy sexual morality, which shames the clerical house of cards. Shame on them!
CÁIT FINNEGAN
Canadensis, Penn.
---
We are responding to David Zizik's recently published commentary headlined "Voice of the Faithful misleads the laity" (NCR, Aug. 29). We specifically would like to comment on the third point he raised:
"Voice of the Faithful should abandon its negative, anti-bishop agenda, and instead work with the bishops to encourage and foster lay evangelization and faith formation, increased participation in the sacramental life of the church, parish development, and the pursuit of social justice and responsible stewardship."
We invite Zizik to learn about the efforts of the Northern New Jersey affiliate of Voice of the Faithful, formed after the July 20, 2002, conference in Boston. We are founding members of the affiliate and are proud to share some information about our outreach with the bishops of Paterson, Newark and Metuchen, N.J. We have sent numerous letters and prayers to our bishops. We have invited them to our meetings. We even sent a videotape of a meeting to them because we are anxious to have them know us. We've called and we've e-mailed. We responded to one bishop's public criticism and the banning of our group by inviting the author he quoted in his criticism, Mr. Deal Hudson, to be a guest speaker at one of our meetings.
In addition, our members are overwhelmingly involved in the sacramental life of the church, parish development and social justice issues. In a recent survey, 68 percent of the members of Voice of the Faithful of Northern New Jersey returned a questionnaire asking about their involvement in ministries. Forty-eight percent are eucharistic ministers, 38 percent are religious education teachers and 30 percent are lectors. Other active ministries for those responding included: social concerns and justice; choir; pastoral council; soup kitchen/homeless; bereavement; and catecumenate.
We would be delighted to work with our bishops to do all the good things Mr. Zizik suggests in his article. But, we need to start small; we need our bishops to dialogue with us. We don't pretend to have all the answers. We would love some help. We're open to suggestions.
MARIA CLEARY
ANN ZOUVELEKIS
Parsipanny, N.J.
* * *
David W. Zizik seems more critical of Voice of the Faithful than the American bishops, only eight or nine of whom reject the organization (and one of them has changed his view). Mr. Zizik's main objection to Voice of the Faithful seems to be its attitude to authority. The group does, indeed, look for structural change in church authority because the clerical sexual abuse scandal was a product of failed church authority. For decades the abuse of children by priests continued because the authorities either did not know what to do or assumed that their episcopal charism validated what they did do. We now know that they were wrong in what they did and what they failed to do. They are now doing what is right, but only because the laity called them to account.
Zizik's citation of Vatican II is painfully ironic: "The Sacred Council teaches that the bishops by divine institution have succeeded to the place of the apostles, as shepherds of the church, and he who hears them, hears Christ, and he who rejects them, rejects Christ and him who sent Christ." But the shepherds turned out to be strangers, and we did not recognize Christ in the voice of the stranger. Only a critical response from the sheep put the church back on track. A change in structures of authority is not a rejection of bishops but recognition that the Spirit can be stifled, and a call for serious accountability to the people of God. Finally, I hope Voice of the Faithful never becomes too well organized. Institutionalization tends to ossification.
PETER FARLEY
Freeport, N.Y.
---
Group is committed to collaboration
As an active member of Voice of the Faithful and chair of its national Structural Change Working Group, I am saddened and disappointed at David Zizik's condemnation of our organization published in your Aug 29 issue. I have known David since I traveled with my husband and three of my children to Rome with Cardinal Bernard Law for a pilgrimage during the jubilee year. David was also on that trip, and he and I have spoken about how our personal knowledge of the cardinal, gained during that pilgrimage, affected our respective responses to the tragic disclosures of the last year and a half. I therefore feel compelled to correct at least a few of the inaccuracies in David's article.
Because of my work with Voice of the Faithful, I am often called upon to respond to questions from Catholic lay people across the country about how the organization proposes to work toward changes in the way our church acts. This need for change is a response to the tragic mistakes that have come to light. I know that many people express concern about this issue, and David's words play heavily on those concerns. Catholic lay people are reluctant to become involved with any group that might damage our precious heritage of faith, even as they acknowledge that the events of the past year have revealed profound flaws in the human institutional life of our church.
I assure these concerned Catholics that, like other lay groups such as the Society of St. Vincent DePaul, the missions and goals of Voice of the Faithful are not at odds with those of the church. I explain that Voice of the Faithful seeks to enhance lay involvement in the life of our church, and is working to empower active, collaborative, effective and representative pastoral councils, finance councils, and safety committees in every parish in the United States. Our goals and our approach are in full accord with canon law, and we are committed to collaboration with our pastors. Joining Voice of the Faithful is not a break with the church but a commitment to strengthen and renew it.
I have met with David personally to explain our approach to him, and he knows that Voice of the Faithful wishes to work through these existing lay groups. We supported his efforts through the parish leadership forum to bring members of parish pastoral councils together to discuss common interests and best practices. We support any practical actions that will strengthen parish pastoral and finance councils.
Voice of the Faithful has reached out to every bishop in the United States, and is seeking meaningful dialogue with the bishop in every diocese in which we have affiliates (more than 60 across the country). We do so because we have great respect for the authority of our bishops and are anxious for true communion with them. David accuses Voice of the Faithful of refusing to support interim Bishop Richard Lennon's 2003 Lenten Prayer Initiative in the Boston archdiocese. This accusation is categorically untrue and has no basis in fact. Our group's president, Jim Post, simply stated that prayer is "necessary but not sufficient." I attended Bishop Lennon's prayer service in our West region of the archdiocese April 8 of this year, along with a large number of members of Voice of the Faithful. Prayer has always been at the heart of our organization and everything we have done. At the same time, anyone grounded in reality must recognize that prayer and action must go hand in hand in order to repair our wounded church.
MARGARET ROYLANCE
Newton, Mass.
---
In "Selling orthodoxy to Washington power brokers" (NCR, Sept. 5) Joe Feuerherd reports that Fr. C. John McCloskey when asked, "What options are available to Catholic couples who use artificial contraception?" replied that such couples should not receive Communion at Sunday liturgy. McCloskey also added that because such couples disagree with a "fundamental teaching of the Catholic church, which is not going to change," they should "go somewhere else."
This advice is completely misguided and is based on a false theology of the authority of papal (not Catholic) teaching on artificial contraception and is in violation of formal church teaching on the role of conscience.
When Humanae Vitae was issued in 1968, it was dissented from by numerous Catholic couples, by priest confessors, theologians and some bishops' conferences.
The position endorsed by those who dissented was stated well by the Belgian bishops, who said: "If someone competent in the matter and capable of forming a well-founded judgment -- which necessarily supposes sufficient information -- after serious investigation, before God, reaches different conclusions on certain points, he has the right to follow his convictions in this matter, provided that he remains disposed to continue his investigation."
Since Pope Paul VI's teaching in Humanae Vitae was not infallible, this assertion of the rights of conscience is appropriate and has never been impugned by the Vatican.
Fr. McCloskey is also wrong in saying categorically that "abortion is homicide, murder, whatever you want to call it." The Catholic moral tradition does not so condemn indirect abortions which are indicated when a mother's life is at stake as, for example, in cases of uterine cancer or ectopic pregnancy.
Even Judge Robert Bork, Sen. Sam Brownback, commentator Robert Novak and other illustrious conservatives deserve better than this.
PAUL SURLIS
Crofton, Md.
---
As is painfully evident, the U.S. and British forces on guard duty or patrol are easy targets for Iraqi and foreign fighters. What is amazing is that even though the U.S. troops do not know who is attacking them, the United States can confidently blame remnants of forces loyal to Saddam and, more recently, foreigners, especially al-Qaeda, for the attacks. This is a desperate public relations move because neither the United States nor the British forces have sufficient intelligence to say who is responsible for any attack. It is unfortunate that U.S. and British troops must die for the arrogant miscalculations of the Bush and Blair administrations that ignored expert opinion and instead thought that the Iraqis would welcome them as liberators and not as occupiers.
FRANK P. BELCASTRO
Dubuque, Iowa
---
It is probably true that involving the United Nations in peacekeeping in Iraq would be for the best. If the United States actually does request this, however, the United Nations should only accept under these non-negotiable conditions:
1) All troops operating in Iraq, those from the United States as well as all others, are subject to U.N. jurisdiction, including its international court.
2) After a certain transition period, say one year, both civilian administration and military command passes to someone from a nation that was not involved in the original invasion.
3) The countries involved in the original invasion accept all financial responsibility for repairing war damage. Financial liability of other nations is limited to items not directly related to the war, such as police work and humanitarian aid.
That these conditions will not be palatable to the U.S. administration is not the United Nations' problem. What definitely is the United Nations' problem is to re-establish its own credibility as an independent actor rather than an extension of U.S. ambitions. The world will be a better place if the United Nations succeeds in this, even at the risk that the United States will prolong the Iraq mess rather than accept these conditions.
ALFRED KRACHER
Ames, Iowa
---
Letters to the editor should be limited to 250 words and preferably typed. If a letter refers to a previous issue of NCR, please give us that issue's date. We reserve the right to edit all letters. Letters, National Catholic Reporter, P.O. Box 419281, Kansas City, MO 64141. Fax: (816) 968-2280. E-mail: letters@natcath.org Please be sure to include your street address, city, state, zip and daytime telephone number.
National Catholic Reporter, September 19, 2003