Issue Date: September 26, 2003
WORLD
Edited by Dennis Coday
U.N. plans East Timor pullout
BRISBANE, Australia -- The Catholic Justice and Peace Commission of Brisbane is concerned that the United Nations' planned withdrawal from East Timor this year will leave the fledging country without a secure and stable environment. "The United Nations is already reducing its commitment in East Timor in an effort to cut costs," said the commission's executive officer, Peter Arndt.
"Contact we have had with people in East Timor suggests that East Timorese leaders are concerned that their police and military may not be ready to ensure security in the absence of the U.N.," he said. "They are also concerned that having to put more emphasis on policing and security will reduce the government's capacity to deal with crucial economic and governance issues at this time," he said.
Arndt told NCR that a member of the commission is lobbying the Australian Catholic Social Justice Council and Caritas Australia to persuade them to join the call for greater international attention to East Timor.
Arndt said East Timor needs the support as it approaches the U.N. Security Council in October to keep security forces in the country.
Cuban bishops seek dialogue
HAVANA -- The Cuban bishops have criticized government repression of dissidents and asked for a national dialogue based on the hopes and realities of the people rather than on "Marxist-Leninist ideology."
A 14-page statement asked for clemency for the 75 dissidents who were given long prison sentences earlier this year and rebuked the government for executing three people after summary trials. The three had hijacked a boat in an effort to flee Cuba.
The bishops also asked for greater religious freedom, including freedom to establish a school system, access to government-controlled media and greater participation by Catholic laity in public life. The statement was made public Sept. 9 and dated Sept. 8, the feast of Our Lady of Charity of Cobre, Cuba's patroness.
Although the statement criticized the government, the document steered clear of supporting dissident groups or programs. It said the church has a right to participate in discussion of political issues to promote human and civil rights while remaining neutral in partisan politics.
Trade meeting collapses
MEXICO CITY -- The collapse of international trade talks was a "lost opportunity," said Catholic groups at the World Trade Organization's fifth ministerial conference, held in Cancun, Mexico. The conference ended Sept. 14 without any agreement. Developed nations refused to make substantial reductions in agricultural subsidies, and developing nations refused to accept new rules on foreign investment.
"There has been unsatisfactory progress in the areas of trade for the poorest countries. Bold and decisive action is needed that will have positive implications for development," said Msgr. Frank Dewane, undersecretary of the Pontifical Council for Justice and Peace.
While farm subsidies were a bone of contention throughout the meeting, the final stumbling block came when the European Union insisted on the so-called Singapore issues -- the writing of four new sets of trade laws. Developing nations said the rules encroached on their freedom to decide their economic policy.
"It was a bad deal for poor countries. It is logical that they refused to accept it," said Paul Cliché of the Canadian Catholic Organization for Development and Peace.
---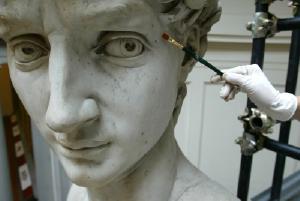 Cleaning David
Italian restorer Cinzia Parnigoni cleans Michelangelo's David at the Galleria dell'Accademia in Florence, Italy, Sept. 15. The renowned work was undergoing a cleaning for the first time since the massive marble statue was relocated to the gallery in 1873.
-- CNS/Reuters
---
13 convicted for murders in India
NEW DELHI -- A court in Khurda in the state of Orissa convicted 13 men of murder, conspiracy, arson and unlawful assembly for the 1999 deaths of Australian missionary Graham Stuart Staines and his two sons, Philip, 9, and Timothy, 7. Staines and his two sons were burned alive by a mob of suspected Hindu militants while they slept in their station wagon outside a church in Keonjhar, Orissa on Jan. 22, 1999.
Sentencing was expected to come Sept. 22. The convicted could be sentenced to death or life imprisonment. The defendants are expected to appeal.
Staines ran a leprosy hospital in Orissa state and worked among tribals in Manoharpur village, where he was killed. The murder sparked national and international outrage and forced the federal government to set up a judicial commission to probe the case.
Staines' wife, Gladys, and brother John said that they had forgiven the accused and hoped that they would be spared the death penalty. Archbishop Vincent M. Concessao of Delhi said, "In these times when Christians and other minorities are under attack, at least the courts are giving us reason to feel secure."
Archbishop praises faith schools
LONDON -- "Faith" schools -- and not just Christian schools -- strengthen the cohesiveness and openness of the society in which they operate, the Archbishop of Canterbury Rowan Williams said in an address to the Association of Anglican Secondary School Heads.
Williams noted the tension in educational thinking between those whose concern was primarily and almost exclusively with imparting skills and those who understood education as something that formed the habits of living in a group and making possible cooperation and conversation. He said educational institutions cannot be neutral.
"If you think you are being neutral about the moral or spiritual ethos of a school, you are in fact generating an ethos of individualism, functionalism and ultimately fragmentation," he said. "It is the same kind of thinking that imagines you can encourage intense competitiveness in certain areas of life without reinforcing habits of insensitivity in relations between persons generally."
Williams added, "All this is of intense practical concern not only to Christians but to followers of minority faiths, who … will often prefer a school of a religious tradition other than their own to one that has no such link."
Ailing Cardinal Sin resigns
VATICAN CITY -- Pope John Paul II has accepted the resignation of Cardinal Jaime Sin of Manila Sept. 15. A longtime defender of democracy in the Philippines, Sin helped to fell strongman Ferdinand Marcos in the 1980s and President Joseph Estrada, ousted on corruption charges in 2001. The pope named Archbishop Gaudencio Rosales of Lipa to succeed Sin as archbishop of Manila. The appointment made Rosales, 71, a strong candidate to become a cardinal at the consistory John Paul is expected to call next February.
Sin, in failing health in recent years, submitted his resignation on reaching the retirement age of 75 on Aug. 31. He has undergone dialysis for a kidney ailment for several years and suffered a heart attack in March. His role as church leader in Asia's only predominantly Catholic country gave Sin great political clout at home and at the Vatican.
Catholics laud withdrawal of law
HONG KONG -- Hong Kong Bishop Joseph Zen Ze-kiun has applauded the withdrawal of a proposed national security law that he and hundreds of thousands of Hong Kong residents took to the streets to oppose in July. But he also counseled vigilance, because the territory's chief executive Tung Chee-hwa seemed to suggest that the legislative process was to be put on hold for one year.
The proposed law would have regulated and set penalties for treason, secession, sedition or subversion against China's central government or theft of national secrets. It also would prohibit foreign political organizations from engaging in political activities in Hong Kong and forbids Hong Kong political organizations from establishing ties with foreign political organizations.
The bill was withdrawn Sept. 5. Lina Chan Lai-na, executive secretary of the Hong Kong Catholic Peace and Justice Commission, said her commission welcomes the withdrawal of the bill but wonders if it is a strategy to boost the pro-government political parties in upcoming elections.
Zen released a statement in the Sept. 14 issues of the Chinese and English diocesan weeklies, Kung Kao Po and Sunday Examiner.
USA
Immigration reformers target sanctuary laws of U.S. cities
WASHINGTON -- Using letter writing campaigns and threats of court action, groups pushing to curb immigration have mounted a highly organized national campaign against local "sanctuary" laws that typically direct police to refrain from checking on subjects' immigration status.
Many cities adopted sanctuary policies in the 1980s to foster trust between police and immigrants, whose fear of being deported made them avoid contact with police even when they were victims or witnesses to crimes.
The Washington-based Friends of Immigration Law Enforcement, or FILE, has found an effective legal strategy of informing cities that they are vulnerable to legal action because of sanctuary laws. The group works with like-minded organizations such as Project USA and American Border Patrol organizing petitions and write-in campaigns.
FILE claims credit for pressuring New York City Mayor Mike Bloomberg to revoke the city's 1989 sanctuary ordinance and replacing it with a weaker policy. The group has an active campaign in Houston. San Francisco is thought to be FILE's next target.
Sanctuary opponents also gained allies in Congress, among legislators who believe the ordinances weaken domestic security against terrorism. Rep. Tom Tancredo, R-Colo., in July attempted to cut off Justice Department funding for sanctuary cities, but failed.
Ave Maria buys Forest of Peace
NOTRE DAME, Ind. -- Ave Maria Press, a 138-year-old Catholic book publisher based in Notre Dame, is purchasing Forest of Peace Publishing of Leavenworth, Kan., as well as the Thomas More and Christian Classics imprints of RCL Enterprises of Allen, Texas.
Ave Maria Press will offer the work of such authors as Joyce Rupp, Henri Nouwen, Catherine de Hueck Doherty, Thomas Green, Robert Wicks and William Barry.
Forest of Peace will remain an active imprint with its publisher, Thomas Turkle, staying on as a consultant during and after the transition. Christian Classics will also become an active imprint, and Thomas More books will be integrated into the existing Ave Maria Press and Sorin Books lists. The acquisitions will bring the combined list of Ave Maria Press and its imprints to more than 550 titles, an increase of 50 percent.
Dental school cancels Masses
MILWAUKEE -- On the advice of lawyers, Jesuit-run Marquette University has halted a weekly Mass at its new dental school, because the $35 million school was constructed with $15 million in state funds and $5 million from the federal government. University attorneys said continuing the worship service could lead to a church-state separation controversy.
The school received the public dollars for the building because it educates the majority of Wisconsin's dentists and is the only dental school in the state.
"Obviously, at Marquette we have places that have Mass on campus. The distinction here is that we've decided it's not appropriate to have it in this particular building because of the issues involved in public funding," said Ben Tracy, a university spokesman. "This is simply about the building."
Priests' group defends celibacy
WASHINGTON -- The Confraternity of Catholic Clergy, a conservative priests' group that claims 600 members in the United States and Canada, told the nation's top bishop that ending mandatory celibacy will "do nothing" to boost the numbers of U.S. priests.
Allowing priests to marry is not "the answer to the current problems facing the universal and local church," the group's president Fr. John Trigilio said in a letter to bishops' conference president Bishop Wilton Gregory.
The group was responding to an Aug. 18 letter from 163 Milwaukee priests asking Gregory for a discussion on celibacy. Priests' groups in Boston, Chicago, New York and southern Illinois have said they may circulate similar letters. Gregory, in a recent letter to Milwaukee Archbishop Timothy Dolan, said celibacy is not up for discussion.
Trigilio's Aug. 29 letter blamed the recent clergy sex abuse scandal on "bad theology, bad liturgy and bad morality." At the confraternity's convention in Chicago last summer, members called for gay men to be banned from seminaries and the priesthood.
Dalai Lama meets political leaders
WASHINGTON -- The Dalai Lama said he sensed "genuine interest and sympathy" at meetings with President George Bush and Secretary of State Colin Powell as he continues his campaign to create an autonomous Tibet.
"My main concern is the preservation of Tibetan culture ... because I believe the Tibetan Buddhist culture, spirituality, is something useful and something really worthwhile to preserve," the Dalai Lama told reporters as he departed the White House Sept. 10. He visited Powell at the State Department the previous day.
He said he considers contact he made with China last September to be "a good start," but he thinks more serious discussions will take a "longer time."
"So far our main effort is to build confidence because there's ... so much ... suspicion," the Dalai Lama said.
The exiled leader fled Tibet in 1959 after a Communist Chinese invasion and heads a government-in-exile based in India. The Tibetan Buddhist leader's multi-city tour has been criticized as "meddling" by the People's Republic of China, which has occupied his native land since the 1950s.
Rising housing costs show crisis
WASHINGTON -- As housing costs increase faster than wages -- leaving modest housing out of reach for millions of working Americans -- the nation faces a crisis of values, according to the National Low Income Housing Coalition, an advocacy group for low-income housing supported by religious and other nonprofit groups.
A new study by the coalition shows that, on average, a full-time worker would need to earn $15.21 an hour to afford two-bedroom housing in 2003 -- a 37 percent increase from the $11.08 needed in 1999, and almost three times the federal minimum wage of $5.15 an hour.
According to the report, the pinch of increasing housing costs, which are rising more quickly than wages and the cost of other goods, is felt particularly hard by low-income working families and those with fixed incomes, such as the elderly and disabled.
"It is appalling that here in America, the richest country in the world, we have millions of people working full-time, plus seniors and people with disabilities, who cannot afford decent, modest rental housing," said Sheila Crowley, the coalition's president.
'Catholic' group faces lawsuit
ATLANTA -- The Atlanta archdiocese is preparing to file a lawsuit against "Capilla de la Fe," a network of nine churches in north Georgia that the archdiocese says falsely claims to be associated with the Roman Catholic church and misleads members by conducting services that imitate the Catholic liturgy.
Archdiocesan attorney David Brown said the archdiocese planned to file an injunction to stop the churches from continuing to mislead the public and to "require that they advise the public that they are not associated with the Roman Catholic church."
"We've attempted to work with their attorney on a cooperative basis. That has been unsuccessful so we're going to court," he said.
Capilla de la Fe, or Chapel of Faith identifies itself as a "Catholic mission" and as a "Catholic charismatic" church. According to Leonardo Jaramillo, archdiocesan minister for Hispanic youth and young adults, 90 percent of the participants at the services of Capilla de la Fe are Hispanic.
L.A. anti-gang group extends work to El Salvador
LOS ANGELES -- Homies Unidos, a Los Angeles-based organization composed mostly of ex-gang members, is working to break the cycle of gang membership that extends from California to El Salvador.
Homies Unidos (loosely translated as "the brotherhood") connects gang members deported to El Salvador with its office in the capital, San Salvador. There they can find a supportive environment meant to help them avoid gang life.
Police estimate El Salvador has 17,000 gang members, but youth workers estimate twice that. The burgeoning gang crisis is rooted in Los Angeles, because during El Salvador's civil war in the 1980s and early 1990s hundreds of thousands of Salvadoran refugees fled to California.
Now, Salvadoran immigrants who join gangs and commit felonies are deported. Back in El Salvador, they reconstitute their rivalries in the tiny Central American country of 6 million and recruit among the local youth.
In Los Angeles, Homies Unidos volunteers and staff give gang prevention talks in schools, and help rebellious youths and frustrated parents improve communications skills. The group offers a tattoo removal service and works to develop truces between rival gangs. Group members also organize classes in photography, clay modeling, ceramics and painting.
COMPILED FROM NEWS SERVICES, CORRESPONDENTS AND STAFF
National Catholic Reporter, September 26, 2003